Francis Bacon painting auctioned for more than $142 million, breaks record
November 26, 2013 -- Updated 1313 GMT (2113 HKT)
STORY HIGHLIGHTS
"Three Studies of Lucian Freud," painted in 1969, sold for $142,405,000
Christie's says it's the most money ever paid for a piece of artwork at an auction
The previous record for a work of art sold at an auction was Edvard Munch's "The Scream"
The sale was part of an auction with the highest sale total in history
(CNN) -- A painting by artist Francis Bacon sold for $142,405,000 on Tuesday, breaking the record as the most expensive piece of art ever auctioned, according to a statement from the auction house.
"Three Studies of Lucian Freud" was sold after six minutes of bidding in the room and on the phone at Christie's in New York City, according to spokeswoman Elizabeth Van Bergen.
Painted in 1969, it is known as one of Bacon's most iconic works, as it features Lucian Freud at the apex of his relationship with Bacon, according to the auction house's statement.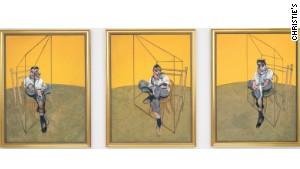 "Three Studies of Lucian Freud" was painted by Francis Bacon in 1969.
The triptych, a three-panel piece of art, features Freud sitting on a wooden chair in varied positions, the statement said.
The painting was part of a record-breaking auction that grossed $691,583,000, the highest total for an auction sale in art market history, according to Christie's.
The sale of Post-War and Contemporary Art broke 10 auction records with three pieces sold for more than $50 million, 11 for over $20 million and 16 for over $10 million.
Painting bought in $46 lot worth $390,000
Jeff Koons's "Balloon Dog" fetched $58.4 million, a record for any piece of art sold at auction by a living artist.
The previous record for a work of art sold at an auction was Edvard Munch's "The Scream," painted in 1895. It sold for more than $119 million dollars in 2012 at Sotheby's New York, according to the statement.
Bacon's previous record for his work was more than $86 million for another triptych painted in 1976 and sold in 2008 at Sotheby's New York, according to the statement.
Chinese artist's 'Last Supper' sets record for Asian contemporary art
Salvador Dali art donated to Goodwill, auctioned online

Today's five most popular stories
Part of complete coverage on
CNN Style
December 19, 2014 -- Updated 1602 GMT (0002 HKT)

After surviving Vichy prisons and Nazi concentration camps, Brian Stonehouse became one of the most prominent fashion illustrators of his age.
December 16, 2014 -- Updated 2203 GMT (0603 HKT)

Award-winning photographer Phil Stern captured everything from the battlefield to Hollywood Boulevard. These are his most iconic images.
December 16, 2014 -- Updated 0216 GMT (1016 HKT)

The Sony World Photography Awards has released a collection of some of the competition's most beautiful entrants.
December 15, 2014 -- Updated 2242 GMT (0642 HKT)

Are sports stadiums modern-day cathedrals? Leading architects say arenas will soon become our most important social spaces.
December 9, 2014 -- Updated 1104 GMT (1904 HKT)

Whether you think stuffed animals are cool, beautiful, or downright disturbing, this is taxidermy like you've never seen it before.
December 4, 2014 -- Updated 1434 GMT (2234 HKT)

Studio 54 has become synonymous with the glamor and excess of the late Seventies. These rare images capture its debauched side.
December 3, 2014 -- Updated 1325 GMT (2125 HKT)

It's official: London's getting another landmark. This time it's a stunning plant-covered bridge partly inspired by Leonardo DiCaprio.
December 3, 2014 -- Updated 0747 GMT (1547 HKT)

For fans of Ferrari, Maserati, Lamborghini and Pagani, this corner of Europe is a petrol-powered promised land.
December 3, 2014 -- Updated 1013 GMT (1813 HKT)

Victoria Beckham and Emma Watson were among the designers, models and taste-makers recognized at this year's British Fashion Awards.
December 2, 2014 -- Updated 1648 GMT (0048 HKT)

Duncan Campbell's It For Others, which features a dance inspired by Karl Marx and examines African art, has won the prestigious art prize.
December 1, 2014 -- Updated 1633 GMT (0033 HKT)

Simon Beck decorates snow-covered lakes and mountainsides with massive geometric designs using his footsteps as his implement.
November 25, 2014 -- Updated 1524 GMT (2324 HKT)

Houses that melt, float and flip upside down? Alex Chinneck's playful architecture sparks the imagination and begs for a photo-op.