Francis Bacon painting auctioned for more than $142 million, breaks record
November 26, 2013 -- Updated 1313 GMT (2113 HKT)
STORY HIGHLIGHTS
"Three Studies of Lucian Freud," painted in 1969, sold for $142,405,000
Christie's says it's the most money ever paid for a piece of artwork at an auction
The previous record for a work of art sold at an auction was Edvard Munch's "The Scream"
The sale was part of an auction with the highest sale total in history
(CNN) -- A painting by artist Francis Bacon sold for $142,405,000 on Tuesday, breaking the record as the most expensive piece of art ever auctioned, according to a statement from the auction house.
"Three Studies of Lucian Freud" was sold after six minutes of bidding in the room and on the phone at Christie's in New York City, according to spokeswoman Elizabeth Van Bergen.
Painted in 1969, it is known as one of Bacon's most iconic works, as it features Lucian Freud at the apex of his relationship with Bacon, according to the auction house's statement.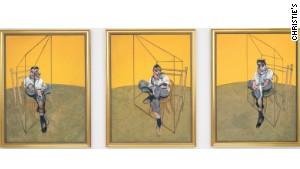 "Three Studies of Lucian Freud" was painted by Francis Bacon in 1969.
The triptych, a three-panel piece of art, features Freud sitting on a wooden chair in varied positions, the statement said.
The painting was part of a record-breaking auction that grossed $691,583,000, the highest total for an auction sale in art market history, according to Christie's.
The sale of Post-War and Contemporary Art broke 10 auction records with three pieces sold for more than $50 million, 11 for over $20 million and 16 for over $10 million.
Painting bought in $46 lot worth $390,000
Jeff Koons's "Balloon Dog" fetched $58.4 million, a record for any piece of art sold at auction by a living artist.
The previous record for a work of art sold at an auction was Edvard Munch's "The Scream," painted in 1895. It sold for more than $119 million dollars in 2012 at Sotheby's New York, according to the statement.
Bacon's previous record for his work was more than $86 million for another triptych painted in 1976 and sold in 2008 at Sotheby's New York, according to the statement.
Chinese artist's 'Last Supper' sets record for Asian contemporary art
Salvador Dali art donated to Goodwill, auctioned online

Today's five most popular stories
Part of complete coverage on
CNN Style
October 17, 2014 -- Updated 0939 GMT (1739 HKT)

In spite of all the sexier pictures around us, the titillating pin-ups of the early 20th century are still in demand.
October 9, 2014 -- Updated 1150 GMT (1950 HKT)

Iris has autism and cannot speak, but her stunning paintings sell for thousands of dollars.
October 8, 2014 -- Updated 1055 GMT (1855 HKT)

Here's a look at the world's finest feats of facial hair, from sculpted sideburns to manicured mustaches.
October 6, 2014 -- Updated 1517 GMT (2317 HKT)

Rare, striking photographs of black Britons in the late 19th and early 20th century are being shown to the public for the first time.
October 6, 2014 -- Updated 1502 GMT (2302 HKT)

The finest buildings in the world have been named at the World Architecture Festival in Singapore.
October 1, 2014 -- Updated 2332 GMT (0732 HKT)

For some, these beautiful train stations are part of the everyday commute. For others, they're must-see travel destinations.
October 1, 2014 -- Updated 1343 GMT (2143 HKT)

As the Turner Prize turns 30 years old, we look at the formula for controversy and what the work we hate says about our society.
September 29, 2014 -- Updated 1249 GMT (2049 HKT)

From the most controversial to the most iconic, these are the book covers that have defined our times
September 29, 2014 -- Updated 0917 GMT (1717 HKT)

The pools of Hollywood A-listers include infinity-edge marvels and oceanfront stunners from the likes of Ralh Lauren and Cindy Crawford.
September 26, 2014 -- Updated 1028 GMT (1828 HKT)

Artist reveals the endless artistic possibilities of the humble plastic brick to stunning effect.
September 24, 2014 -- Updated 1540 GMT (2340 HKT)

Lukas Feireiss, editor of Imagine Architecture, spotlights the surreal architecture you wish existed.
September 23, 2014 -- Updated 1501 GMT (2301 HKT)

For one weekend Londoners peek inside the most prestigious private residences in the capital.