Francis Bacon painting auctioned for more than $142 million, breaks record
November 26, 2013 -- Updated 1313 GMT (2113 HKT)
STORY HIGHLIGHTS
"Three Studies of Lucian Freud," painted in 1969, sold for $142,405,000
Christie's says it's the most money ever paid for a piece of artwork at an auction
The previous record for a work of art sold at an auction was Edvard Munch's "The Scream"
The sale was part of an auction with the highest sale total in history
(CNN) -- A painting by artist Francis Bacon sold for $142,405,000 on Tuesday, breaking the record as the most expensive piece of art ever auctioned, according to a statement from the auction house.
"Three Studies of Lucian Freud" was sold after six minutes of bidding in the room and on the phone at Christie's in New York City, according to spokeswoman Elizabeth Van Bergen.
Painted in 1969, it is known as one of Bacon's most iconic works, as it features Lucian Freud at the apex of his relationship with Bacon, according to the auction house's statement.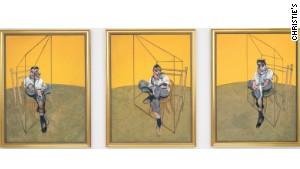 "Three Studies of Lucian Freud" was painted by Francis Bacon in 1969.
The triptych, a three-panel piece of art, features Freud sitting on a wooden chair in varied positions, the statement said.
The painting was part of a record-breaking auction that grossed $691,583,000, the highest total for an auction sale in art market history, according to Christie's.
The sale of Post-War and Contemporary Art broke 10 auction records with three pieces sold for more than $50 million, 11 for over $20 million and 16 for over $10 million.
Painting bought in $46 lot worth $390,000
Jeff Koons's "Balloon Dog" fetched $58.4 million, a record for any piece of art sold at auction by a living artist.
The previous record for a work of art sold at an auction was Edvard Munch's "The Scream," painted in 1895. It sold for more than $119 million dollars in 2012 at Sotheby's New York, according to the statement.
Bacon's previous record for his work was more than $86 million for another triptych painted in 1976 and sold in 2008 at Sotheby's New York, according to the statement.
Chinese artist's 'Last Supper' sets record for Asian contemporary art
Salvador Dali art donated to Goodwill, auctioned online

Part of complete coverage on
CNN Style
March 4, 2014 -- Updated 1410 GMT (2210 HKT)

Every spring, revelers descend on Piazza San Marco during the world' s most famous masquerade party, showing off extravagant costumes.
March 3, 2014 -- Updated 0953 GMT (1753 HKT)

Take a whirlwind tour of venues which are as pretty on the eyes, as they are dramatic on the ears.
February 17, 2014 -- Updated 1501 GMT (2301 HKT)

Legendary photographer Terry O'Neill looks back on 50 years of capturing the world's most famous women and men.
February 14, 2014 -- Updated 1754 GMT (0154 HKT)

Known as "Sapeurs," these dapper dressers are part of a Congolese subculture devoted to the cult of style.
February 20, 2014 -- Updated 1613 GMT (0013 HKT)

From a floating school in Nigeria to Kate Moss' favorite app and a Lego calendar, CNN takes you on a tour of this year's shortlist highlights.
February 25, 2014 -- Updated 1231 GMT (2031 HKT)

Venezuelan artist uses principles of trigonometry to create beautiful, precise drawings that echo those of Leonardo da Vinci.
February 19, 2014 -- Updated 0502 GMT (1302 HKT)

If your university days were spent in austere classrooms, you will be astounded by these spectacular temples of learning.
February 5, 2014 -- Updated 1411 GMT (2211 HKT)

Step into the eerie, fantastical world of aquascaping, where every fish-tank is a masterpiece which takes months to create.
February 25, 2014 -- Updated 1259 GMT (2059 HKT)

A New York artist recreated 17th century Dutch Masters paintings using pushpins and test-tubes.
February 3, 2014 -- Updated 1428 GMT (2228 HKT)

Corporations believe that creatively designed offices boost productivity, so we look at some of the most outlandish company HQs in the world.
February 18, 2014 -- Updated 1524 GMT (2324 HKT)

Take a worldwide tour of the most extraordinary structures set to be completed this year, including an "invisible" tower, and a vertical city in the sky.
January 22, 2014 -- Updated 1535 GMT (2335 HKT)

Throughout history artists have suffered from mental illness, and scientists now think they have found a link between madness and creativity.
Today's five most popular stories