Francis Bacon painting auctioned for more than $142 million, breaks record
November 26, 2013 -- Updated 1313 GMT (2113 HKT)
STORY HIGHLIGHTS
"Three Studies of Lucian Freud," painted in 1969, sold for $142,405,000
Christie's says it's the most money ever paid for a piece of artwork at an auction
The previous record for a work of art sold at an auction was Edvard Munch's "The Scream"
The sale was part of an auction with the highest sale total in history
(CNN) -- A painting by artist Francis Bacon sold for $142,405,000 on Tuesday, breaking the record as the most expensive piece of art ever auctioned, according to a statement from the auction house.
"Three Studies of Lucian Freud" was sold after six minutes of bidding in the room and on the phone at Christie's in New York City, according to spokeswoman Elizabeth Van Bergen.
Painted in 1969, it is known as one of Bacon's most iconic works, as it features Lucian Freud at the apex of his relationship with Bacon, according to the auction house's statement.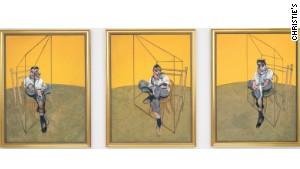 "Three Studies of Lucian Freud" was painted by Francis Bacon in 1969.
The triptych, a three-panel piece of art, features Freud sitting on a wooden chair in varied positions, the statement said.
The painting was part of a record-breaking auction that grossed $691,583,000, the highest total for an auction sale in art market history, according to Christie's.
The sale of Post-War and Contemporary Art broke 10 auction records with three pieces sold for more than $50 million, 11 for over $20 million and 16 for over $10 million.
Painting bought in $46 lot worth $390,000
Jeff Koons's "Balloon Dog" fetched $58.4 million, a record for any piece of art sold at auction by a living artist.
The previous record for a work of art sold at an auction was Edvard Munch's "The Scream," painted in 1895. It sold for more than $119 million dollars in 2012 at Sotheby's New York, according to the statement.
Bacon's previous record for his work was more than $86 million for another triptych painted in 1976 and sold in 2008 at Sotheby's New York, according to the statement.
Chinese artist's 'Last Supper' sets record for Asian contemporary art
Salvador Dali art donated to Goodwill, auctioned online

Part of complete coverage on
CNN Style
August 18, 2014 -- Updated 1009 GMT (1809 HKT)

Imagine watching the northern lights through the transparent roof of your own glass igloo. CNN takes a look at the most awe-inspiring hideouts.
August 19, 2014 -- Updated 1001 GMT (1801 HKT)

Photographer Romain Jacquet-Lagrѐze captures the giant skyscrapers swamping Hong Kong
August 13, 2014 -- Updated 2048 GMT (0448 HKT)

It's largely devoid of human life -- the Arctic is surely the worst possible destination for an arts festival.
August 11, 2014 -- Updated 1039 GMT (1839 HKT)

Beauty with purpose - these impressive clocks stun with their intricacy, history and grandeur.
August 6, 2014 -- Updated 0722 GMT (1522 HKT)

Opening in December 2016, The Krystall Hotel might melt hearts as guests check into this giant floating snowflake
August 5, 2014 -- Updated 1337 GMT (2137 HKT)

Wim Noorduin, a Harvard scientist, creates delicate micro-sculptures of flowers using a chemical reaction.
July 30, 2014 -- Updated 1235 GMT (2035 HKT)

Designer Justin Plunkett layers photos and computer-generated illustration to create Mad Max-like images of post-apocalyptic architecture.
July 24, 2014 -- Updated 2054 GMT (0454 HKT)

CNN went to the International Talent Support contest in Trieste, Italy, to find out who will be the next big name in fashion design.
July 28, 2014 -- Updated 1303 GMT (2103 HKT)

Patrycja Makowska's enigmatic images show crumbling palaces with ornate ballrooms, swirling staircases, and grand rooms strewn with rubble.
July 30, 2014 -- Updated 0556 GMT (1356 HKT)

From Maastricht to Melbourne, CNN brings you the most extraordinary and beautifully designed bookshops in the world.
July 25, 2014 -- Updated 1510 GMT (2310 HKT)

Photographer Joan Fontcuberta plays with reality and fiction, giving goats wings, and adorning monkeys with unicorn horns.
July 17, 2014 -- Updated 1046 GMT (1846 HKT)

L.A. artist Christine McConnell styles herself as a glamorous pin-up, but her sumptuous cakes evoke the Tim Burton-esque realm of fantasy.
Today's five most popular stories