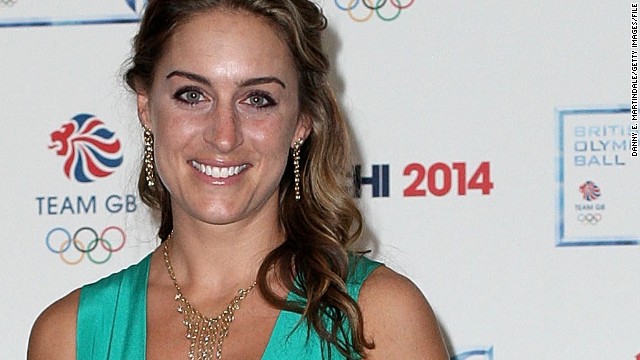 Amy Williams will not be defending her skeleton title at Sochi 2014, but she will be present at Russia's first Winter Olympics as a media pundit -- a sideline to her new adrenaline rush.
The 31-year-old has donned racing overalls to obtain a license to compete as a co-driver in the final round of the World Rally Championships in Wales. It is a far cry from the Briton's days competing in skeleton, in which competitors throw themselves headfirst down a bobsled track.
Williams had to complete a number of rallies throughout Britain to qualify for the final round of the WRC, which takes place this week. She is co-driving for Tony Jardine, a former rally driver turned broadcaster and Formula One pundit.
The role of the co-driver is to relay precise instructions to the driver. To prepare, a co-driver must memorize the rally route and communicate exact details of where the driver can expect tight turns.
Rallies are point-to-point races on public and private roads. Trees, walls and spectators can line the route, so danger is never far away.
Williams' career in skeleton was also nerve-shredding. She competed for Great Britain at the 2010 Winter Games in Vancouver, where she was one of the favorites for gold heading into the competition.
Williams duly delivered in Canada, bringing home Britain's first individual gold medal at the Winter Games in 30 years.
Williams poses with her gold medal in front of the Olympic rings. Four years earlier she had missed out on a spot at the Turin Games to compatriot Shelley Rudman, who won a silver medal in Italy.
On her return to her hometown of Bath, Williams received a hero's welcome and embarked on an open-top bus tour of the city.
New career
Looking the part
In at the deep end
Twists and turns
Point-to-point
Slippery slope
Golden girl
Strike a pose
Hero's welcome
STORY HIGHLIGHTS
Amy Williams has swapped skeleton racing for rally driving
The Briton will co-driver at the final round of the World Rally Championship
Williams won Britain's first individual Winter Games gold medal at Vancouver 2010
The 31-year-old has set her sights on sailing around the world in inflatable vessel
(CNN) -- Pain, pain and more pain. Amy Williams is an expert in discomfort.
Plagued by a chronic knee complaint, the 31-year-old has had numerous epidural injections to soothe three swollen vertebrae and she suffers almost constant sciatica.
Not to mention the degenerative disc in her neck.
These injuries are legacy of a death-defying decade in skeleton racing -- 10 years of hurling herself headfirst down an icy track in pursuit of golden glory has come at a cost.
"I'm pretty much broken between my back and my knees," says the Briton, who won gold at the Vancouver 2010 Winter Games.
"I got to the point where I was so blinkered and obsessed by winning a medal that I put all of the physical pain to one side.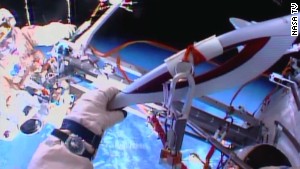 Sochi Olympic torch takes a spacewalk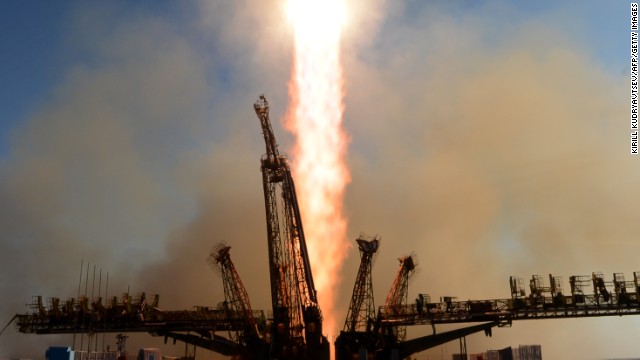 The Olympic torch has left Earth as part of its 123-day journey across Russia, which will end at the Black Sea resort of Sochi -- host venue for the 2014 Winter Games. The rocket was launched at 8:14 a.m. local time Thursday November 7 at the Baikonur Cosmodrome in Kazakhstan, which is a Russian-leased facility.
"This feat underlines incredible human capabilities and will symbolize the aspirations of all athletes from around the world to reach new heights in sports," Sochi 2014 organizing committee president Dmitry Chernyshenko said in a statement.
Cosmonaut Mikhail Tyurin will hand the torch to Oleg Kotov and Sergey Ryazansky, who will take it on an historic spacewalk on November 9. The torch, along with the cosmonauts, will spend a total of four hours in outer space. Kotov and Ryazansky have already been in low Earth orbit for more than a month.
This NASA photo, a two-minute exposure, shows the early moments of the torch's journey into outer space. The Sochi 2014 torch is the third to do so, after the Atlanta 1996 and Sydney 2000 Summer Games, but is the first to go on a spacewalk.
Earlier Thursday, the Soyuz-FG rocket and Soyuz-TMA capsule sat in wait at the Baikonur Cosmodrome ahead of the torch's journey to the International Space Station (ISS).
Japanese astronaut Koichi Wakata bid farewell to his family prior to liftoff. Wakata, Russian commander Tyurin and U.S. astronaut Rick Mastracchio accompanied the torch on its journey.
Russian cosmonaut Tyurin holds the torch aloft before boarding the rocket. For safety reasons, the torch will stay unlit aboard the rocket and the ISS. If lit, the torch would burn up precious oxygen.
A view of the Soyuz rocket, which is emblazoned with the Olympic logo and Sochi 2014 livery.
A crowd of hundreds of people watched the launch in Tokyo, Japan. The country's astronaut Koichi Wakata became the first Japanese commander of the ISS on this trip.
Once it has completed its spacewalk, the torch will return to Earth and continue a journey which will end with the lighting of the Sochi 2014 Olympic cauldron on February 7. It is scheduled to return to Earth on November 11 before continuing its 65,000-kilometer trip, which will include a voyage underwater in Lake Baikal and a climb to the top of Europe's highest peak, Mount Eblrus. Last month, it went to the North Pole.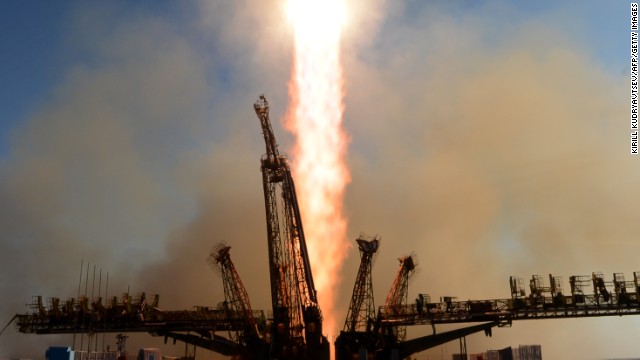 Sochi 2014: Olympic torch goes into space
"After winning gold suddenly that pain that had been with me for years and years became too much.
"I thought, 'That's enough now.' "
Images: Olympic torch leaves Earth
Nearly four years after that career-defining success, and despite physical complaints which would halt even the most relentless athlete, Williams is back in search of a new adrenaline rush as she pushes against the pain barrier.
Instead of being in a final buildup to February's Winter Olympics in Sochi, she's now in the passenger seat of a Mitsubishi rally car, preparing for a new white-knuckle ride.
Williams will co-drive for veteran compatriot Tony Jardine at this weekend's final round of the World Rally Championships in Wales.
"I've enjoyed getting in the car and the thrill you get from it, it's definitely replaced something I've lost since retiring from skeleton," she told CNN.
"It's physically not the same demands on your body, so that suits me."
Rallying is a discipline in which competitors traverse public and private roads at breakneck speeds.
While the driver is straining to keep the car on course, the co-driver navigates from point-to-point along a route littered with twists and turns.
There are spectators in close proximity and the threat of a high-speed collision is never far away.
"I've surprised myself not being more nervous," confessed Williams. "Certainly the skills I had in skeleton and being a world-class athlete has definitely transferred into the rallying."
Jardine is a rally veteran who has enjoyed a career as a respected motorsport broadcaster and television pundit.
It was TV which prompted him to contact Williams when the 61-year-old saw her co-driving during an appearance on a British comedy show.
Not that her new role is one to be taken lightly.
The co-driver, as well as being an unofficial team manager and timekeeper, is responsible for memorizing the route and relaying exact instructions.
The driver must trust his partner implicitly.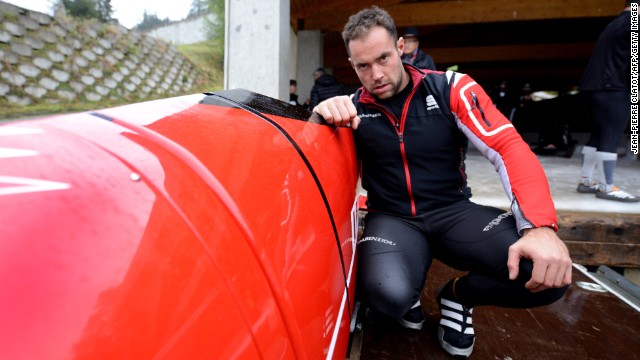 Italian bobsledder Simone Bertazzo inspects the sled he hopes will carry him and his teammates to gold at Sochi 2014. Its red livery is the hallmark of its designers, the legendary automotive manufacturer Ferrari.
Ferrari's partnership with the Italian Olympic Committee (CONI) dates back to 2006. A Ferrari-designed bobsled was used at the Vancouver Winter Olympics in 2010 and helped Italy win gold at the 2012 Youth Olympics in Innsbruck, Austria.
Bertazzo slides into the cockpit of his sled while his teammate sprints to power it from the start line.
Bertazzo will lead the Italian bobsled team at the Sochi 2014 Winter Games. The 31-year-old won bronze in the two-man event at the 2007 World Championships in St. Moritz.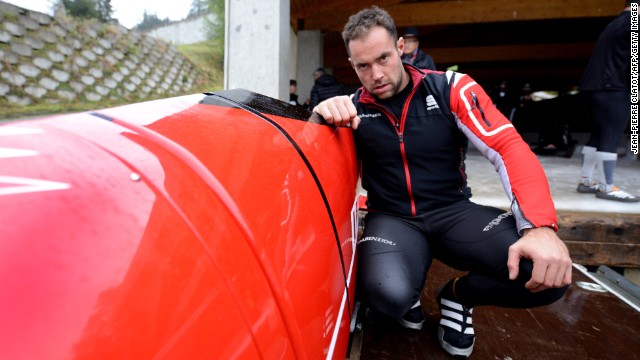 Ferrari... On ice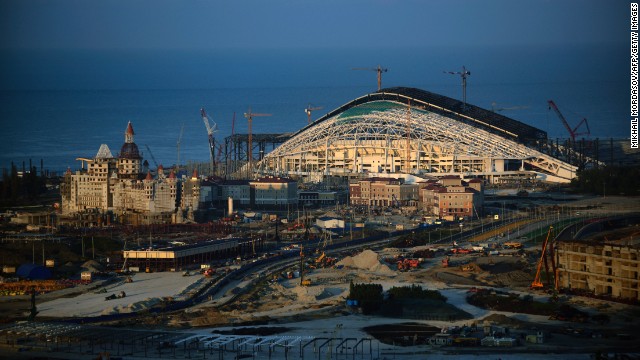 The main 40,000 all-seater Olympic Stadium, which has been nicknamed 'the fish' will host the opening and closing ceremonies.
The 12,000 Bolshoi Dome will host the highly-anticipated ice hockey final where the host nation will be hoping to challenge for the gold medal.
Located in the center of the Olympic Park, the Adler Arena will allow up to 8,000 spectators to watch the world's top speed skaters battle it out to claim sporting immortality.
The snowboarding and freestyle competitions will take place at the "Rosa Khutor" Extreme Park in the Mountain Cluster. The venue has already been used for World Cup events and is considered one of the top facilities in the world.
Russian ice dancer, World and Olympic champion, Tatiana Navka, performed with her partner at a ceremony celebrating the one year countdown to the Winter Games.
Australia's Heath Spence took part in a Men's Bobsleigh training run at the Sanki Sliding Centre, one of the 2014 Winter Olympics venues which is located at Rzhanaya Polyana, 60 kilometers northeast of Sochi.
Russia's President Vladimir Putin has taken a keen interest in the Games, visiting Sochi to ensure the project is finished in time. He visited the Olympic Village with Dmitry Chernyshenko, the CEO of the organizing committee.
With the Games set to start on February 7, the city faces a race against time to be ready. Workmen are up against tight deadlines with construction still to be completed.
The world's top ski jumpers will be hoping to fly through the air and onto the podium at the RusSki Gork center.
The view from 2,300 meters above sea level around Sochi. This photo was taken from Rosa Khutor resort, which will host the Alpine events.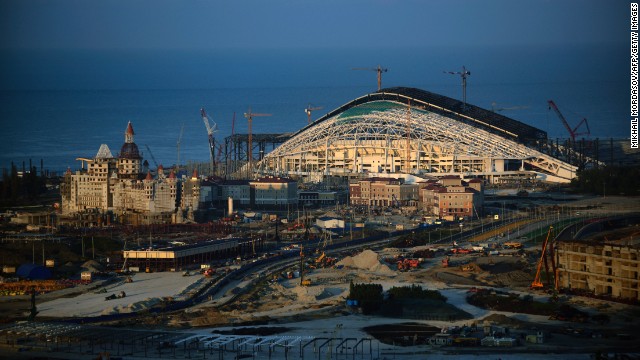 Sochi gets ready to put on a show
"I've been thrown in at the deep end," continued Williams, who only obtained her license to compete this weekend after completing a series of minor rallies across the UK.
"It's quite a mind-boggling amount of information I'm being given each rally. So it's been really tough, a lot tougher than I thought, physical and mentally.
"I've been very lucky that I've not been anxious or worried or put off by the speed of the car, whereas I guess most people would be.
"Tony has put a lot into me and you feel a pressure to perform. We've given ourselves a big challenge to complete in Wales."
Read: Science friction -- the art of curling
Compared to other divisions of motorsport such as Formula One and MotoGP, rallying can appear lacking in glamor.
Think muddy puddles rather than perfectly preened pit girls.
And while the likes of F1 champion Sebastian Vettel and MotoGP prodigy Marc Marquez bask in the limelight, rallying's stars rarely occupy back-page column inches.
This disparity irks Williams, especially when WRC boasts a champion as dominant as Sebastian Loeb -- the French master who has won the title in each of the last nine years.
"Rallying is not a sport you see on the back pages all of the time but they're such skilled drivers," she said.
"The teamwork between the co-driver and the driver is incredible. I really admire that and I think it's a shame it's not out there as something everyone knows of."
Skeleton is another sport which rarely commands media attention, but, between 2002 and 2010, it demanded Williams' complete concentration.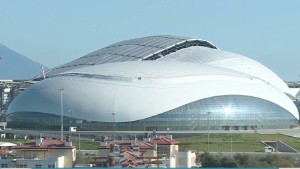 Is Sochi ready?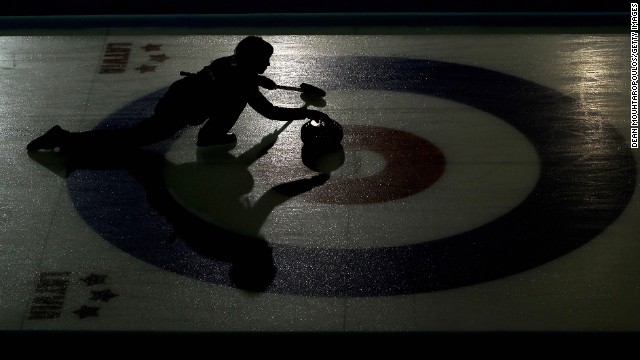 There is more science behind the world of curling than first meets the eye, a sport that may be played out on a rink of 30 meters in length but that is often decided by mere fractions and centimeters .
The curling stone is made of Scottish granite and slid along the ice, usually with one to three rotations in its trajectory to curve it past what are known as guarding stones as teams battle for position.
When margins of victory are so tight, scientific researchers from both Sweden and Scotland have argued their research can fractionally help but also give players greater logic in grasping their natural instincts.
The purpose of sweeping is done to create friction on the ice, the motion of sweeping both harder and faster extending the journey of the stone, which can be as much as one meter with the use of sweeping.
Eve Muirhead's British team is among the favorites to win Olympic curling gold at Sochi next year, in what will be her second Games leading out her side having previously failed to make it into medal contention in Vancouver.
Much of the play is dictated by the skip. Here Great Britain's Muirhead is in action as her side take on Sweden in a battle of skill and science judging by the two nations' research.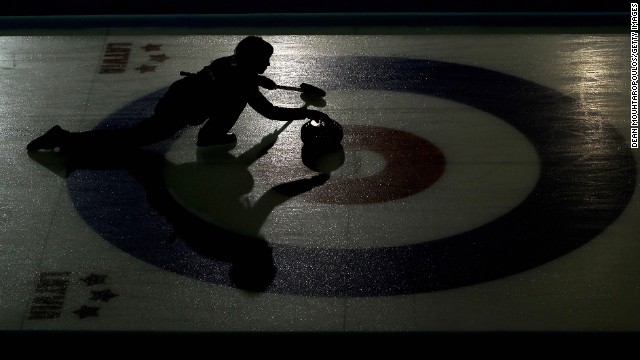 The science and skill of curling
And eight years after first attempting the event at a push-start facility in Bath, England, Williams was stood at the top of the podium.
Not that her journey was all smooth sliding.
Williams missed out on a spot at the 2006 Winter Games in Turin to compatriot Shelley Rudman, who went on to clinch a silver medal.
Four years of fierce dedication followed and the result was a gold medal for which her body is still paying the price.
While she is pleased to be heading to Russia's first Winter Games as a broadcaster, Williams fully expects to feel pangs of regret once the Olympic cauldron is officially lit.
"Emotionally I might find going to Sochi very tough," she said.
"There is still a big part of me that would love to compete. I still feel that I could definitely get another Olympic medal, but I had to listen to what my body was telling me.
"I listened to the sports doctors and they were telling me to retire years ago. So that's why I've stopped."
So for now, rallying has sated Williams' competitive appetite.
In the future, however, she might have to take to the high seas to quench her thirst for adventure.
"I've agreed to try to break the record for going around the world in a RIB (Rigid Inflatable Boat)," said Williams.
RIBs are most commonly used a rescue vessels and military boats.
"We've got a lot of money to raise by the end of this year. If we get the correct amount of money, we'll be setting sail in spring 2015."
After conquering ice and land, mastering the world's oceans would complete an impressive hat-trick for Williams.