Jockey pips Kofi Annan to portrait prize
November 14, 2013 -- Updated 1428 GMT (2228 HKT)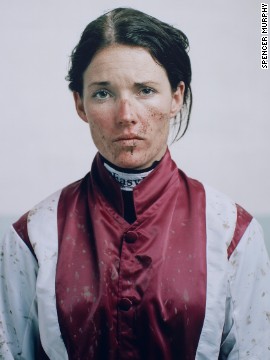 Spencer Murphy won the $19,000 Taylor Wessing Photographic Portrait Prize for this photograph of Katie Walsh, which shows the Irish jockey in the colors of the racehorse Seabass.
In second place was this picture of Mamta Dubey, who was on a pilgrimage to the Kumbh Mela festival in India. Photographer Giles Price took the shot in a pop-up studio outside of a hospital.
The photograph of former United Nations secretary general Kofi Annan by Iranian Anoush Abrar was awarded third place.
"The twins" was taken by German Dorothee Deiss and it shows two sisters she visited at their home. "I took a lot of more conventional portraits of them," said Deiss, "but when I found the bathrobe in a corner, perfectly fitting to the bedspread, that was when I knew I had the picture."
Katie Walsh by Spencer Murphy
Kumbh Mela pilgrim by Giles Price
Kofi Annan by Anoush Abrar
The twins by Dorothee Deiss
STORY HIGHLIGHTS
A portrait of jockey Katie Walsh has won a prestigious photography prize
Briton Spencer Murphy received a $19,000 check for the shot of the Irishwoman
Walsh is pictured in the colors of the racehorse Seabass
A picture of former UN secretary general Kofi Annan was awarded third place
(CNN) -- The life of a jockey is far from glamorous -- a world away from the confines of the rarefied, hushed atmosphere of London's National Portrait Gallery.
It's a life of blood, sweat and mud-splattered silks and it's also a hazardous profession, with jockeys at frequent risk of serious injury.
That gritty reality has been key to a photograph of jockey Katie Walsh winning a prestigious portrait competition featuring esteemed subjects like former United Nations secretary general Kofi Annan.
British photographer Spencer Murphy took the award-winning picture of Walsh -- sister of famed Irish jockey Ruby Walsh and the daughter of trainer Ted Walsh -- during a promotional shoot at Kempton racehorse.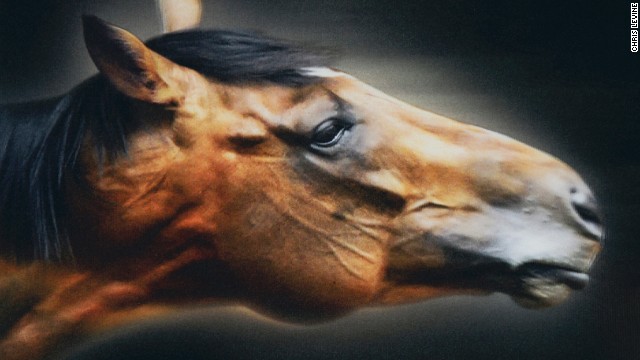 Chris Levine's "Frankel the Great," is a portrait of arguably the world's finest racehorse which will be officially unveiled at Ascot Racecourse this weekend. The stallion finished its career undefeated, winning all 14 of its races.
Levine produced this 3D image of Queen Elizabeth II in 2004. The portrait was commissioned to celebrate 800 years of the island of Jersey's association with the British monarchy.
Her majesty isn't the only iconic woman Levine has trained his lens on. He shot supermodel Kate Moss for this portrait called "She's Light (Pure)."
Model turned pop diva Grace Jones has also posed for Levine, with this piece called "Stillness at the Speed of Light."
Jones and Levine first met in 2008 and have enjoyed a successful collaboration. Levine created original laser displays for Jones' tour, while also publishing a number of photographs, including "Superstar" which is displayed here.
Frankel's energy and effervescence made him a difficult subject, with Levine eventually having to shoot the horse inside the stables. He used multiple cameras to capture a complete image of the super stallion.
Levine wanted to shoot Frankel in direct sunlight to show off the gleam of his coat. But predictable cloudy British weather meant he had to wait six days in order to shoot the horse.
Levine isn't the first artist to draw inspiration from Frankel. Michael Kirkbride's painting, "Armchair Ride," was inspired by a poem about Frankel demolishing the field in last year's 2000 Guineas race.
Champion thoroughbred Black Caviar appeared on the December issue of Vogue Australia. It was the first time in the 53-year history of the magazine that a horse had featured on the front.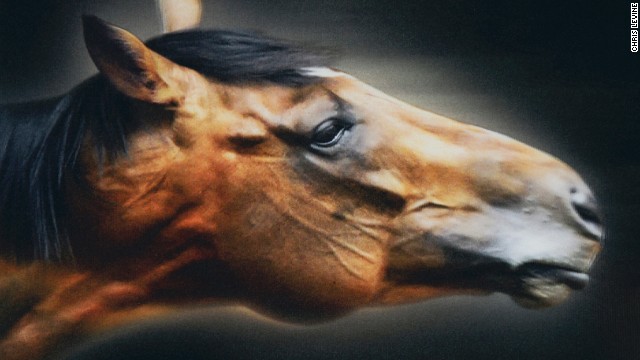 Frankel and Queen Elizabeth II: Capturing greatness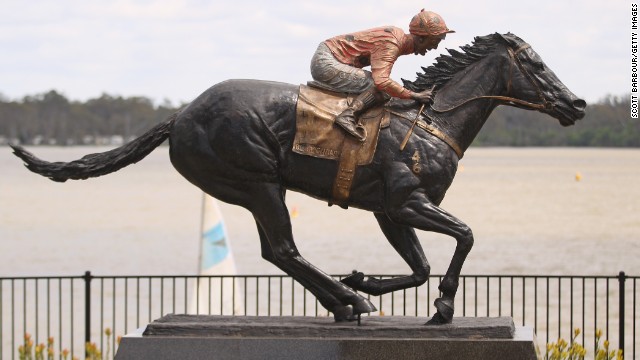 Champion racehorse Black Caviar has been immortalized in bronze in its hometown of Nagambie in the Australian state of Victoria. The mare retired following a stellar racing career in which it won all 25 of its races.
The sculpture, by artist Mitch Mitchell, is lifesize, right down to the horses famous rump.
Black Caviar's exploits on the racetrack earned it a legion of loyal fans in Australia, many of whom turned up for the unveiling.
The crowd, sporting the iconic salmon pink and black polka dots which adorned jockey Luke Nolen's silks, were delighted to learn that Black Caviar is pregnant. The sire is stallion Exceed and Excel.
Nolen stands alongside the sculpture of the horse which he rode to 22 of her 25 victories.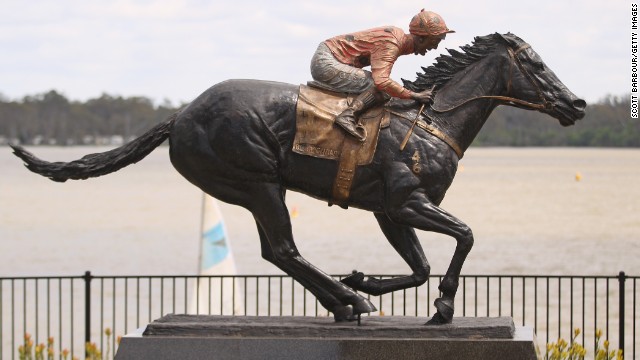 Black Caviar statue unveiled
Read: Frankel -- capturing greatness
Walsh is pictured in the colors of the racehorse Seabass, who she rode to third in the 2012 Grand National steeplechase at Aintree.
"I wanted to show both her femininity and the toughness of spirit she requires to compete against the best riders in one of the most demanding disciplines in horse racing," Murphy, 35, said in a statement after picking up the $19,000 Taylor Wessing Photographic Portrait Prize.
"I chose to shoot the series on large format film, to give the images a depth and timelessness that I think would have been hard to achieve on a digital camera."
Read: Black Caviar statue unveiled
It was a sweet success for Murphy, who was awarded third place in last year's competition.
A black-and-white shot of Annan captured by Iranian photographer Anoush Abrar was in third place this time around.
"In my mind it was clear what I wanted to do," said Abrar, who had previous experience of photographing Annan, "and this portrait took literally three minutes!"
Runner-up was Giles Price for a portrait of a pilgrim and her baby at India's Kumbh Mela festival.
The award ceremony took place at London's National Portrait Gallery, where a selection of the 5,410 entries will be on display until February.