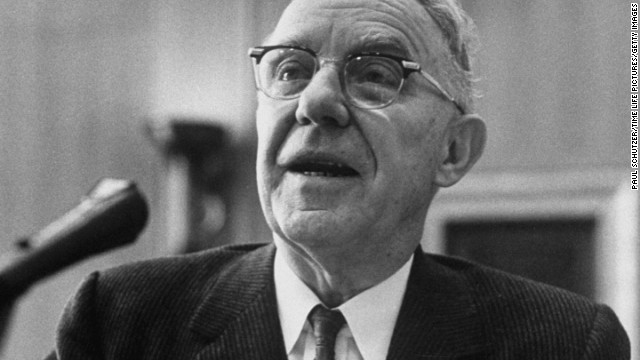 William B. Hartsfield, who served six terms as mayor of Atlanta from 1937 to 1962, was instrumental in developing the city's airport: first by helping to select the landing field and, later, leading the way for a new terminal. The Atlanta airport is now the busiest airport in the world.
One of Hartsfield's mayoral successors, Mayor Maynard Jackson, built on Hartsfield's legacy with an even bigger $500 million terminal that opened in 1980. The new international terminal is named solely after Jackson.
A World War II hero, Edward "Butch" O'Hare received the U.S. Medal of Honor in 1942 for his exploits as a naval pilot. He died a year later when his plane was shot down by Japanese bombers. At the suggestion of Chicago Tribune Publisher Robert McCormick, what was then called Orchard Depot Airport (hence O'Hare's airport code, ORD) was named after O'Hare in 1949.
Pat McCarran was a U.S. senator from Nevada from 1933 to 1954. The politician was a sponsor of the Civil Aeronautics Act (1938) and Federal Airport Act (1945). He was also a staunch anti-Communist and sponsored tough anti-immigration laws. The airport was named for him in 1948.
New Orleans' international airport was originally named Moisant, after an aviator who died in 1910. (The airport's code, MSY, is derived from Moisant Stock Yards, from when the area was an agricultural center.) In 2001, the city decided to honor one of its most famous natives, Louis Armstrong (1901-71), the great trumpeter who rose to fame in the city's clubs and helped shape jazz and popular music.
Gen. William "Billy" Mitchell, a Milwaukee native, was instrumental in establishing the Army air division during World War I and remained a staunch advocate of aviation after the war ended, to the point of being court-martialed for his criticism of his superiors. Milwaukee named its airport after him in 1941, five years after his death.
Civil rights leader and pastor Fred Shuttlesworth was one of the founders of the Southern Christian Leadership Conference with the Rev. Martin Luther King Jr. and several others. The Birmingham, Alabama, airport was named for him in 2008, three years before he died.
Albert Lambert was a noted aviator, businessman and golfer: He participated in both the 1900 and 1904 Olympics, which featured the sport. (He trained in airplanes with Orville Wright.) In 1925, he purchased the land on which the airport stands and constructed its first buildings. The city bought it from him in 1928.
"Silicon Valley's Airport" added the name of Norman Mineta, a Cabinet official in the Clinton and George W. Bush administrations, in 2001. Mineta, a San Jose native, was mayor of the city from 1971 to 1975 and served 20 years in the House of Representatives.
Houston's oldest airport, now the secondary counterpart to George H.W. Bush International, was named for William P. Hobby, a former Texas governor, in 1967. At one time, it had been called Howard R. Hughes Airport after the famous billionaire and aviator but for the most part was known as Houston Municipal Airport.
Lt. Gen. Edward Lawrence Logan was a veteran of the Spanish-American War and World War I. He later was a judge, a state representative, a state senator, president of the National Guard Association and head of the state American Legion. Boston's airport, once known as Jeffery Field, was named for Logan in 1943.
The Texas airport is named after Amarillo-born Rick Husband, one of the NASA astronauts who lost his life in the 2003 Columbia space shuttle tragedy.
Ben Elbert Douglas was mayor of Charlotte from 1935 to 1941. In Charlotte, he may be just as well known as the founder of Douglas Furs, one of the city's leading furriers. Charlotte's airport was named for him in 1954 and renamed Charlotte Douglas in 1982.
Washington's more suburban airport is named for John Foster Dulles, Dwight Eisenhower's secretary of state. The much-traveled Dulles, who died in 1959, was widely admired in the nation's capital. When the airport opened in in 1962, it was named for him, though there was some mild griping from locals -- and more came when a suggestion was floated to rename the airport after Eisenhower in the early '90s.
The "Little Flower," Fiorello LaGuardia, is considered the best mayor in New York's history, having overseen the city from 1934 to 1945. The airport that bears his name was once an amusement park and then a private airfield. New York City took it over in 1937, expanded it and named it New York Municipal Airport-LaGuardia Field in 1939. It became LaGuardia Airport in 1952.
No, Love Field isn't named for the warm fuzzies you get when you fly. It's actually named in honor of 1st Lt. Moss L. Love, who died in an air crash in 1913 in San Diego. The Army gave his name to its Dallas-area air base in 1917. Love Field became a civilian airport when the city bought it in 1927. The first flights took off in 1929. Though the much-larger Dallas-Fort Worth International serves the majority of local flights, Dallas Love Field is still the headquarters for Southwest Airlines.
Bradley has its roots as a U.S. Army airfield acquired in 1941. The army named it Bradley Field after Lt. Eugene M. Bradley, an Oklahoma native who died in a crash at the base on August 21, 1941. The Army turned the base over for civilian use in 1947, and the name remained.
William R. Hopkins, right, was Cleveland, Ohio's city manager in the 1920s. In 1925, at a time when commercial aviation was almost unknown in the United States, he proposed building an airport 10 miles south of the lakefront Ohio city. Twenty-seven years later, the airport was named for him on his 82nd birthday. Hopkins died in 1961.
Hartsfield-Jackson Atlanta International
Hartsfield-Jackson Atlanta International
Chicago O'Hare International
McCarran International (Las Vegas)
Louis Armstrong International (New Orleans)
General Mitchell International (Milwaukee)
Birmingham-Shuttlesworth International
Lambert-St. Louis International
Norman Y. Mineta San Jose International
William P. Hobby (Houston)
Logan International Airport (Boston)
Rick Husband Amarillo International
Charlotte Douglas International
Dulles International (Washington suburbs)
LaGuardia (New York)
Dallas Love Field
Bradley International (Hartford)
Cleveland Hopkins International Airport