In photos: 3,000 Korean housewives, 250 tons of kimchi
November 15, 2013 -- Updated 1343 GMT (2143 HKT)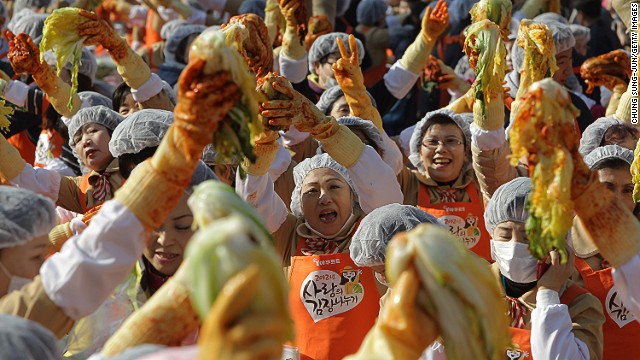 If you thought one Korean ajumma (older Korean woman with a curly perm and a 'tude) was scary, try 3,000 in one place. Just kidding. These housewives are Seoul's warmest-hearted -- they gathered on Wednesday to make kimchi for poor households who can't make their own.
Travelers staying at The Plaza hotel (top right) were treated to an unusual sight: Seoul housewives filled the 13,207-square-meter Seoul City Plaza for the largest kimchi-making event to date.
Making kimchi is a labor-intensive process involving salting cabbage, mixing in pureed chili mixture and adding fish sauce and shrimp sauce. Rubber gloves are necessary to prevent chili burn.
When making kimchi, timing is key -- it takes around five to six hours for the cabbage to get properly rubbery, and only then is it ready to be stuffed with the complicated marinade.
A total of 61,700 cabbages were used this year to make 250 tons of everyone's favorite fermented side dish.
Given how complicated the process is, more and more households in South Korea are opting to buy pre-made kimchi in stores. According to a survey by research institute Gallup Korea last month, 67% of Korean households are making their own kimchi, compared to 95% of households in 1994.
According to the same survey, 71% of households responded that kimchi was "absolutely necessary" for every meal. That's a decrease from 85% in 2003.
To a Korean, this salted, choked-with-anchovy-sauce-and-pepper-powder slab of cabbage looks absolutely delicious.
It's the kimchi brigade!
City center
Complicated cooking
Stuff that cabbage
Tons and tons
Say "kimchi"
Kimchi or die
There's a beauty
STORY HIGHLIGHTS
It's kimchi season in South Korea
A record number of housewives turned out for the country's largest kimchi charity event
250 tons of kimchi are being donated to poor households
(CNN) -- Kimchi-making season is upon South Korea, with grocery stores besieged with housewives snapping up buckets of giant cabbages, salt and red pepper powder -- or more often these days buying pre-made kimchi so they don't have to go to the trouble.
In one of Seoul's more unusual sights, 3,000 housewives marked the start of the period in which the ingredients are at their freshest, with the country's biggest kimchi-making event to date in front of Seoul's City Plaza on Wednesday.
Armed with aprons, rubber gloves and sanitary shower caps, the women stuffed and spiced a whopping 61,700 cabbages to provide 25,000 families with their essential side dish -- that's 250 tons of fermented spicy cabbage.
The mayor of Seoul presided over the festival, which was a charity event started by a Busan Yakult saleswoman in 2001 to provide kimchi to poorer households, and evolved into an annual national event in 2008, according to Korean daily Joongang Ilbo.
The numbers are so large, organizers announced they're approaching Guinness to establish a new World Record category.
CNN Travel's series often carries sponsorship originating from the countries and regions we profile. However CNN retains full editorial control over all of its reports. Read the policy.
Read: Food map: Eat your way around Korea

Today's five most popular stories
Part of complete coverage on
October 28, 2014 -- Updated 0149 GMT (0949 HKT)

Luxury Action will turn your travel scripts into reality and film them. As long as you're willing to travel to this country ...
October 27, 2014 -- Updated 0913 GMT (1713 HKT)

As entertainment capital of the world, Los Angeles draws some of the best comic talent on the planet. Here's where to see it live.
October 27, 2014 -- Updated 0342 GMT (1142 HKT)

Not many people choose flights based on the quality of an airline's catering -- but those who do should check out Saveur's Culinary Travel Awards.
October 27, 2014 -- Updated 0251 GMT (1051 HKT)

On the island of rice, curry, tropical fruit and fresh seafood, eating is an honor to the taste buds.
October 23, 2014 -- Updated 1558 GMT (2358 HKT)

Sparsely populated (by humans at least), this East Africa country offers so much more than just Mt. Kilimanjaro.
October 24, 2014 -- Updated 1432 GMT (2232 HKT)

It's crowded and outdated, but Berlin's hexagon-shaped Tegel air hub has won a place in the city's heart.
October 23, 2014 -- Updated 0847 GMT (1647 HKT)

Shrine to a dead cat and a homage to fromage among Dutch capital's eccentric exhibitions.
October 22, 2014 -- Updated 0603 GMT (1403 HKT)

Slovenian Kickstarter project encourages travelers to hop on their suitcase and cruise through terminals to connecting gates.
October 20, 2014 -- Updated 1808 GMT (0208 HKT)

The guidebook asked staff, contributors and authors for well-known and lesser-known recommendations.
October 20, 2014 -- Updated 1607 GMT (0007 HKT)

An airport in Asia has stolen the crown from Manila's Ninoy Aquino, voted 'world's worst' three years in a row.