Dominant Mikaela Shiffrin beats rivals to four-legged prize
November 17, 2013 -- Updated 0031 GMT (0831 HKT)
STORY HIGHLIGHTS
Mikaela Shiffrin wins season opening slalom in World Cup
Beats Maria Hoefl-Riesch and Tina Maze in Levi, Finland
U.S. teenage star presented with a reindeer as a prize
Names it Rudolph after her favorite song as a young child
(CNN) -- U.S. ski star Mikaela Shiffrin underlined her status as the best slalom racer on the World Cup circuit in Finland Saturday then landed the prize of her childhood dreams -- a reindeer!
Teenager Shiffrin was excited to relegate Maria Hoefl-Riesch and Tina Maze into the minor places, but absolutely thrilled to get an early Christmas present, whom she quickly named Rudolph.
"Who wouldn't want to get a reindeer? I remember being five years old and Rudolph the Red-Nosed Reindeer was my favorite song," she told the official World Cup skiing website.
"I think we will be getting along. I hope that when he get's older and trained I can go for a ride on a sledge with him," added Shiffrin.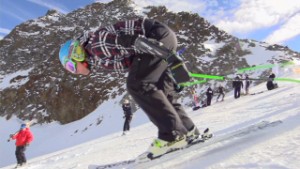 U.S. Ski Team's big expectations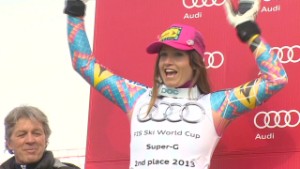 Secret of U.S. ski team's success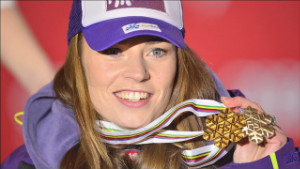 Maze on historic win, music career
She won't be taking the reindeer with her on her travels, but will meet Rudolph again when she returns to the Finnish ski resort of Levi for further races.
With Sochi 2014 looming, Shiffrin's performance laid down an early marker and reigning Olympic champion Hoefl-Riesch from Germany was 1.06 seconds behind after two runs, with Slovenia's Maze 1.61 seconds slower.
Maze was disappointed to be so far back and to miss out on a prize she also coveted. "I already was making room for a reindeer back home, but unfortunately it was not my turn to win it," she said with a smile.
Fellow skiing superstar Lindsey Vonn of the United States also claimed a four-legged prize after winning a race in Val d'Isere in France, opting for a cow rather than the prize money.
A cow was also presented to Roger Federer by grateful organizers when he returned to play the Swiss Open in Gstaad this year.
When he took part in the same event in 2003 after taking his first Wimbledon title he was also given a cow.
For Shiffrin, the reindeer was the icing on the cake after a superb performance, keeping the red World Cup leaders' bib she earned last season.
"There's definitely some relief there...one of my goals is to keep my slalom standings, and it's nice to know I'm not that far off," she said before going off to place a picture of herself with the reindeer on her Facebook page.

Today's five most popular stories
March 31, 2014 -- Updated 1318 GMT (2118 HKT)

Football has its 18-carat-gold World Cup trophy, and ice hockey the silver and nickel Stanley Cup, but skiing's globes are something else...
March 24, 2014 -- Updated 1822 GMT (0222 HKT)

Austrian skiers Anna Fenninger and Marcel Hirscher reflect on their World Cup triumphs.
October 24, 2014 -- Updated 0945 GMT (1745 HKT)

Christina Macfarlane explores how skiing's coveted Crystal Globe is made.
February 20, 2014 -- Updated 1404 GMT (2204 HKT)

The ghostly lights wind up from the base of the mountain. Heart rates are also rising. This race is held on a notorious downhill ski course -- but in reverse.
January 29, 2014 -- Updated 1846 GMT (0246 HKT)

CNN's Christina Macfarlane looks back at the history of Austria's Kitzbuhel ski race.
January 29, 2014 -- Updated 1849 GMT (0249 HKT)

CNN's Christina Macfarlane explores a new technology that customizes the entire boot to your foot.
February 4, 2014 -- Updated 0515 GMT (1315 HKT)

If you're scared of heights, then this is not for you -- a glass cube perched at the top of a 12,600-foot peak in the French Alps.
December 16, 2013 -- Updated 1127 GMT (1927 HKT)

CNN's Christina Macfarlane goes on patrol with a a seasoned ski rescue team in the French Alps.
December 16, 2013 -- Updated 1125 GMT (1925 HKT)

CNN's Christina Macfarlane meets Giant Slalom world champion Tessa Worley in Lyon, France.
December 13, 2013 -- Updated 1556 GMT (2356 HKT)

From GoPro cameras to avalanche airbags. CNN's Christina MacFarlane puts the latest skiing gadgets to the test.
December 2, 2013 -- Updated 1659 GMT (0059 HKT)

CNN's Christina MacFarlane talks to teenage skiing sensation Mikaela Shiffrin.
December 2, 2013 -- Updated 1659 GMT (0059 HKT)

CNN's Christina Macfarlane finds out how designers and engineers made Beaver Creek race course from scratch.