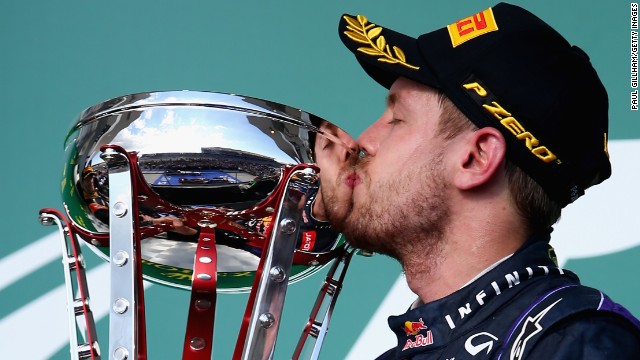 Sebastian Vettel extends his winning habit to eight straight with a peerless victory in the United States Grand Prix.
Vettel is a study of concentration before racing off from pole in the United States Grand Prix.
A Circuit of America's grid girl holds the board assigned to four-time champion and eventual race winner Sebastian Vettel.
Red Bull teammates Vettel and Mark Webber are wheel to wheel at the start of the United States Grand Prix.
Vettel in splendid isolation in his Red Bull as he takes charge of the United States Grand Prix in Texas.
Made in the United States. The staging of F1 at the Circuit of Americas in Austin, Texas has proved a big success.
Record breaker
Race preparation
Plum job
Battling teammates
Dominant Vettel
Patriotic pride
STORY HIGHLIGHTS
Sebastian Vettel wins eighth Grand Prix in a row and 12th of year
New record for straight wins in the same season
Four-time champion Vettel led from the start in Texas
Romain Grosjean finishes in second place for Lotus
(CNN) -- There are dissenters and boo boys who complain that Red Bull and Sebastian Vettel's domination is making Formula One boring.
But the man inside the cockpit of the car that has powered him to four world championships insisted, after another historic win in the United States Grand Prix, that he is far from fed up.
"It's not that I'm getting bored," Vettel told CNN after the race outside the city of Austin.
"I've still got quite a lot to do, looking at the gaps and managing the pace.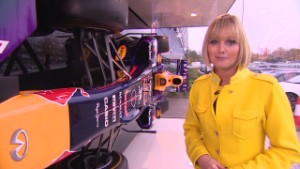 Celebrations at the Red Bull F1 Factory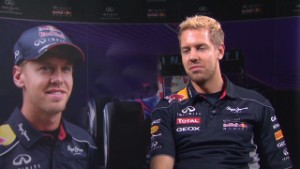 Formula One champ on 4th title hopes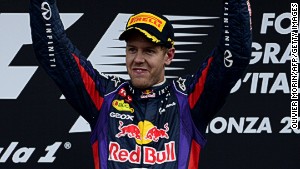 What's behind Vettel's winning streak?
"It is a Sunday afternoon's drive -- but not in that regard," he added with a smile.
Nonetheless, Red Bull's four time world champion was the lone star in the state of Texas.
He may have won the race by a modest 6.2 seconds in comparison to his recent margins of victory but he was still in a league of his own as he raced to a maiden victory at the Circuit of the Americas.
Read: Grid girl power in Texas:
It was Vettel's eighth straight victory -- a new record for consecutive wins in a single season.
"It's incredible," he said. "It's one of those records that you never expect to be beaten, so it's very difficult to find the right words.
"What makes me jump into the car is not a certain number, but when you realize that you've done it, it makes you very proud.
"One day we might look back and talk about our time as a team. I said it on the team radio; this period is fantastic.
"The mind-set that we have going in [to each race], trying to give it everything we have and not miss a single step. People tend to forget that every single weekend is a challenge on its own.
"It's not eight weekends as a whole so to have such an incredible run is very difficult."
In truth, it was another easy win for Vettel, who peeled off into the lead from pole position under blue skies and sultry Texan temperatures.
Read::Vettel snatches pole in Austin
The appearance of the safety car -- to mop up debris after Adrian Sutil took his Force India into the barriers on the opening lap -- was nothing more than a mere blip for the German.
Vettel soon ticked off fastest lap after fastest lap -- a trick that earned him a telling off from his Red Bull race engineer Guillaume Rocquelin, who warned him on the pit to car radio: "Going as far as we can is more important than going as fast as we can. Distance not speed."
From then on, his charge ran a controlled race, stopping only once at the end of lap 27 for a mandatory switch to hard tires, before taking the checkered flag in Austin.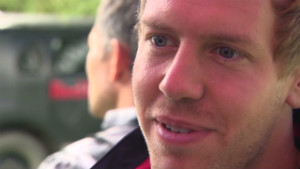 CNN Greatest F1 Driver: Day One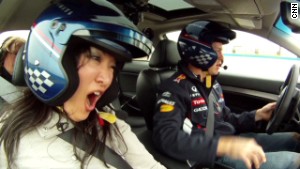 Take a ride with F1 champ Vettel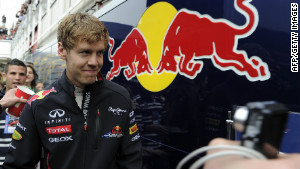 Sebastian Vettel 'hungry' for success
Romain Grosjean continued to polish off his improved 2013 season with second place for Lotus.
The Frenchman -- the team's de facto number one driver in the absence Kimi Raikkonen who is recovering from back surgery -- passed Mark Webber's Red Bull off the line to claim his place as Vettel's closest rival.
Read: Vettel claims Abu Dhabi victory
"I'm glad to be on the podium here in the United States," he beamed afterwards, donning a beige Stetson.
"I like this country and I always look forward to this beautiful track. Myabe next year I will go one better."
Heikki Kovalainen, whose F1 career was given a two-race lease of life when he was chosen as Raikkonen's replacement at Lotus for the final races of 2013, finished 15th after a difficult race.
His race had been affected when loose rubber on the track lodged in the front wing of his car.
Webber, driving in the penultimate race of his Formula One career, re-passed the Mercedes of Lewis Hamilton to fill the final podium spot.
Read: CNN's F1 interactive for all the results
"Pole position yesterday was where the fight was going to be," said the sanguine Australian.
"I did what I could, the performance and pace was very strong but yesterday was when the victory was made easier for Seb."
The F1 community now moves on to Brazil for the season final next weekend.
At Sao Paulo's Interlagos track, the peerless Vettel has a chance to equal Italian Alberto Ascari's record number of nine consecutive race wins across two seasons that has stood unmatched in the sport's record books since he achieved the feat for Ferrari in 1952 and 1953.
He can also match compatriot Michael Schumacher's record of 13 race wins in a season set in 2004 for Ferrari.
Despite his dominance the four-time F1 champion is not making any predictions just yet.
"We are not jumping into the car to win certain records," Vettel added. "And we do not expect them to last forever.
"I spoke to him [Schumacher] a couple of weeks ago and he is very happy with what he achieved and seemed fairly relaxed."