Sleeping with the fish: Underwater hotel room opens on remote African island
November 26, 2013 -- Updated 1339 GMT (2139 HKT)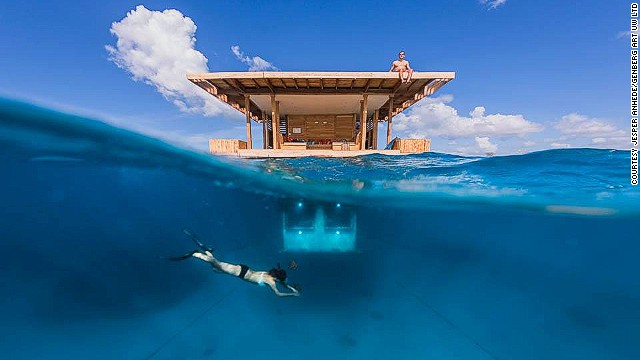 The Manta Resort on Pemba Island, off Tanzania, opened a new Swedish-designed underwater bedroom this month. The resort says six guests have stayed in the new digs so far.
The daytime view is of shoals of reef fish such as bat fish and trumpet fish.
At night, spotlights outside the bedroom windows attract and illuminate the shy crowd.
The company behind this design also launched The Utter Room in 2000, another underwater room in the middle of a lake in Sweden.
The three-level floating structure has a sky deck on the roof, and incredible views of the stars at night.
Well, not quite middle of the ocean. The underwater room is located 250 meters off shore.
The room floats above The Blue Hole, which resort representatives say is an anomaly in the coral reef -- "A perfectly protected spot" that's a circular hole inhabited by large coral heads and vibrant marine life.
The rest of the resort is located on the coast of Pemba Island. The recipient of only a few dozen foreign visitors annually, the island has a population of 300,000 and is the world's largest producer of cloves. In addition to cloves, mangoes, coconuts and other fruit are grown on plantations on the island.
Bedroom under the sea
Moving wallpaper
Night vision
Swedish inspiration
Sky deck
Middle of the ocean
The Blue Hole
Back at the island
STORY HIGHLIGHTS
New underwater room opened on Pemba Island, Tanzania
Floating three-level structure was designed by Swedish company
(CNN) -- Notch this up to Swedes and another ridiculously cool, innovative design.
This latest effort can be found off an African island and straightaway is placed high on that list of 'amazing hotels I wish i could get to' many travelers have.
Just off the coast of Tanzania, The Manta Resort on Pemba Island has added a beautiful, other-worldly underwater bedroom to their original 16-room offering.
The new 'digs' opened for business this month, designed by Swedish company Genberg Underwater Hotels.
They are the brains behind the The Utter Inn, an underwater room in the middle of a Swedish lake which was also one of our 15 unusual places to spend the night.
Lying approximately 250 meters offshore, the latest underwater structure is a three-story affair, with a rooftop deck, a bathroom and a lounge area at sea level and finally the bedroom downstairs, with the fish.
At night, spotlights under the windows attract and illuminate squid and octopus -- a more reclusive crowd than the daytime sea life.
The resort is popular with divers owing to the coral reef around the island.
Underwater Room, The Manta Resort, Pemba Island, Tanzania; +255 776 718 852; $1500 per night for a two-person stay, $900 per night for singles

Today's five most popular stories
Part of complete coverage on
September 23, 2014 -- Updated 1007 GMT (1807 HKT)

Which cities provide the most memorable party times? A self-proclaimed "nightlife connoisseur" names his top 10.
September 22, 2014 -- Updated 0344 GMT (1144 HKT)

Whether you're looking for a post-meeting pint or a wild night out, creativity is on the menu at these hot Hong Kong venues.
September 23, 2014 -- Updated 1028 GMT (1828 HKT)

Artists and migrants are moving out as a once-crumbling neighborhood goes upscale.
September 20, 2014 -- Updated 0502 GMT (1302 HKT)

They irrigate our farms, are an important means of transport and a source of eco-friendly power.
September 19, 2014 -- Updated 0828 GMT (1628 HKT)

Open House festivals allow snooping in homes and landmarks normally closed to public
September 19, 2014 -- Updated 0422 GMT (1222 HKT)

Ancient competitions held and yurt town set up to rejuvenate nomadic cultures.
September 19, 2014 -- Updated 0102 GMT (0902 HKT)

Playful sea lions, fearless boobies and the only ocean-going lizards in the world -- these islands offer amazing experiences for naturalists and tourists alike.
September 18, 2014 -- Updated 1200 GMT (2000 HKT)

A foreign language can be the best aphrodisiac, so we traveled the world in search of the hottest accents.
September 23, 2014 -- Updated 0657 GMT (1457 HKT)

Hidden from the rest of the world for decades, Myanmar's Lethwei boxing is experiencing a revival globally.
September 17, 2014 -- Updated 1117 GMT (1917 HKT)

This aging cargo work whale makes more than 60 flights each week, carrying parts for all of the Airbus programs.
September 15, 2014 -- Updated 0026 GMT (0826 HKT)

Former brothels, public toilets and war bunkers now provide eccentric watering holes for those willing to drink deep.
September 12, 2014 -- Updated 0338 GMT (1138 HKT)

Whether filled with electric blue sulfur flames or hissing lava, these mega mountains offer incredible vistas.