Sleeping with the fish: Underwater hotel room opens on remote African island
November 26, 2013 -- Updated 1339 GMT (2139 HKT)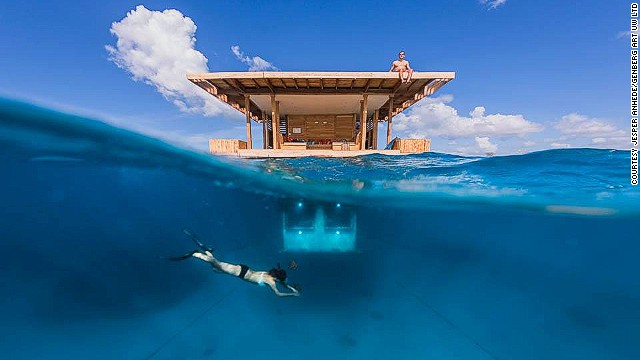 The Manta Resort on Pemba Island, off Tanzania, opened a new Swedish-designed underwater bedroom this month. The resort says six guests have stayed in the new digs so far.
The daytime view is of shoals of reef fish such as bat fish and trumpet fish.
At night, spotlights outside the bedroom windows attract and illuminate the shy crowd.
The company behind this design also launched The Utter Room in 2000, another underwater room in the middle of a lake in Sweden.
The three-level floating structure has a sky deck on the roof, and incredible views of the stars at night.
Well, not quite middle of the ocean. The underwater room is located 250 meters off shore.
The room floats above The Blue Hole, which resort representatives say is an anomaly in the coral reef -- "A perfectly protected spot" that's a circular hole inhabited by large coral heads and vibrant marine life.
The rest of the resort is located on the coast of Pemba Island. The recipient of only a few dozen foreign visitors annually, the island has a population of 300,000 and is the world's largest producer of cloves. In addition to cloves, mangoes, coconuts and other fruit are grown on plantations on the island.
Bedroom under the sea
Moving wallpaper
Night vision
Swedish inspiration
Sky deck
Middle of the ocean
The Blue Hole
Back at the island
STORY HIGHLIGHTS
New underwater room opened on Pemba Island, Tanzania
Floating three-level structure was designed by Swedish company
(CNN) -- Notch this up to Swedes and another ridiculously cool, innovative design.
This latest effort can be found off an African island and straightaway is placed high on that list of 'amazing hotels I wish i could get to' many travelers have.
Just off the coast of Tanzania, The Manta Resort on Pemba Island has added a beautiful, other-worldly underwater bedroom to their original 16-room offering.
The new 'digs' opened for business this month, designed by Swedish company Genberg Underwater Hotels.
They are the brains behind the The Utter Inn, an underwater room in the middle of a Swedish lake which was also one of our 15 unusual places to spend the night.
Lying approximately 250 meters offshore, the latest underwater structure is a three-story affair, with a rooftop deck, a bathroom and a lounge area at sea level and finally the bedroom downstairs, with the fish.
At night, spotlights under the windows attract and illuminate squid and octopus -- a more reclusive crowd than the daytime sea life.
The resort is popular with divers owing to the coral reef around the island.
Underwater Room, The Manta Resort, Pemba Island, Tanzania; +255 776 718 852; $1500 per night for a two-person stay, $900 per night for singles