Futuristic London airport proposed for island in middle of Thames
November 26, 2013 -- Updated 1341 GMT (2141 HKT)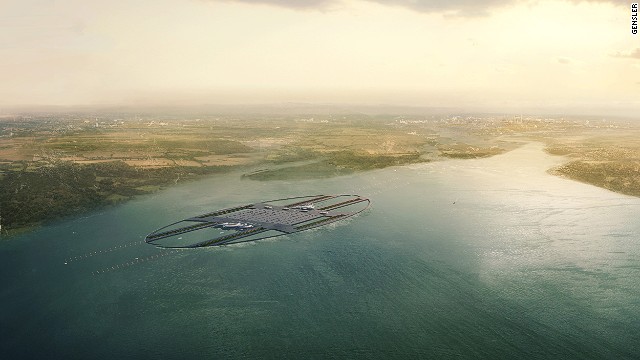 The proposed airport on an artificial island in the Thames estuary would increase London's stretched passenger capacity while adding little noise pollution, planners say.
The airport's futuristic design incorporates flying saucer-like translucent pods over passenger areas.
Natural light to fill the terminals, allowing trees and lawn to grow -- and giving passengers more to look at than retail franchises.
Heathrow, Europe's busiest airport, is already running at almost full capacity. It would close if London Britannia Airport went ahead, the consortium behind the proposal says.
Runways in the river
Space-age design
Natural light
Heathrow terminal?
STORY HIGHLIGHTS
Airport would sit on artificial Thames island
Estimated $76 billion project is forecast to take seven years
Transparent hubs filled with trees would form passenger terminals
Heathrow "to close" if project realized
London (CNN) -- Many visitors to London will be used to flying over the Thames before they land.
Within less than 10 years, they could be touching down at an island airport in the middle of the river itself.
A futuristic-looking, six-runway airport on an artificial island has been proposed at a location off the Isle of Sheppey, around 80 kilometers from the center of the city.
The plan from a consortium formed by the mayor of London, Boris Johnson, has been projected to cost £47 billion ($76 billion) and to take seven years.
With Heathrow running at 99% capacity, the capital needs more runways, the consortium, Testrad, says.
The mid-river location is intended to avoid adding to the aviation noise pollution already bedeviling London -- the source of long-running campaigns from residents beneath that approach into Heathrow that passengers so enjoy.
New beginnings at the world's busiest airport
Trees growing in terminal
A visualization of the proposed London Britannia Airport shows an oval-shaped stucture bisected by runways, sitting in the Thames where the river widens to form an estuary.
Interlinked, translucent hemispherical pods cover the concourse and other passenger areas -- the light they admit allowing trees and other vegetation to grow within.
Heathrow Airport, currently the busiest in Europe by passenger traffic and the third busiest in the world, would close if Britannia Airport went ahead, Gensler, its designers, said.
Passenger numbers to all London's airports are expected to more than double by 2031, to 300 million from 127 million a year in 2010, according to the Greater London Authority.
More: Viagra among best cures for jet lag?

Today's five most popular stories
Part of complete coverage on
October 24, 2014 -- Updated 1432 GMT (2232 HKT)

It's crowded and outdated, but Berlin's hexagon-shaped Tegel air hub has won a place in the city's heart.
October 20, 2014 -- Updated 1607 GMT (0007 HKT)

Good news for air travelers passing through Manila: the city's international airport isn't quite as bad as it used to be.
October 20, 2014 -- Updated 1407 GMT (2207 HKT)

The Mitsubishi Regional Jet, aka the MRJ, is Japan's first new commercial jet in over 50 years
October 9, 2014 -- Updated 1620 GMT (0020 HKT)

Air racing is just as fast as NASCAR, IndyCars and Formula One. But the added vertical dimension seriously amps the action up.
October 13, 2014 -- Updated 1301 GMT (2101 HKT)

Thomson Airways' face-to-face seating plans could help parents or deprive them of movie-watching marathons.
October 7, 2014 -- Updated 1311 GMT (2111 HKT)

When it comes to air travel, courtesy and common sense are often the first two things to fly out the departure gates.
October 2, 2014 -- Updated 0839 GMT (1639 HKT)

Around a dozen of the iconic B-17 bombers are still able to fly. But how comfortable is a flight in the 70-year-old plane?
October 31, 2014 -- Updated 1738 GMT (0138 HKT)

This aging cargo work whale makes more than 60 flights each week, carrying parts for all of the Airbus programs.
September 17, 2014 -- Updated 1555 GMT (2355 HKT)

From a three-room apartment to a Michelin-starred meal, many airlines are offering services you won't even get in some top hotels.
September 16, 2014 -- Updated 1446 GMT (2246 HKT)

Airbus patent proposes using special headsets to control in-flight sights, sounds and smells.
October 3, 2014 -- Updated 1443 GMT (2243 HKT)

Bear on the tail and heart on the underside -- it's been a big week for makeovers in the world of aviation.