Futuristic London airport proposed for island in middle of Thames
November 26, 2013 -- Updated 1341 GMT (2141 HKT)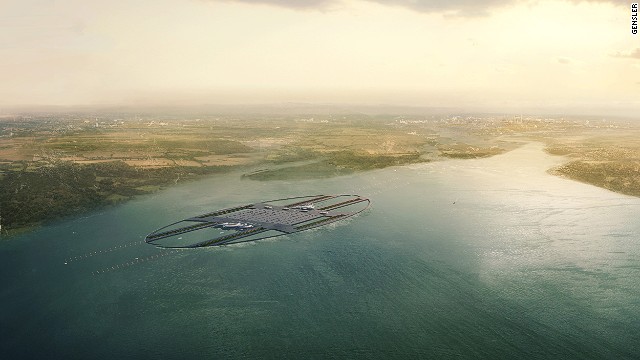 The proposed airport on an artificial island in the Thames estuary would increase London's stretched passenger capacity while adding little noise pollution, planners say.
The airport's futuristic design incorporates flying saucer-like translucent pods over passenger areas.
Natural light to fill the terminals, allowing trees and lawn to grow -- and giving passengers more to look at than retail franchises.
Heathrow, Europe's busiest airport, is already running at almost full capacity. It would close if London Britannia Airport went ahead, the consortium behind the proposal says.
Runways in the river
Space-age design
Natural light
Heathrow terminal?
STORY HIGHLIGHTS
Airport would sit on artificial Thames island
Estimated $76 billion project is forecast to take seven years
Transparent hubs filled with trees would form passenger terminals
Heathrow "to close" if project realized
London (CNN) -- Many visitors to London will be used to flying over the Thames before they land.
Within less than 10 years, they could be touching down at an island airport in the middle of the river itself.
A futuristic-looking, six-runway airport on an artificial island has been proposed at a location off the Isle of Sheppey, around 80 kilometers from the center of the city.
The plan from a consortium formed by the mayor of London, Boris Johnson, has been projected to cost £47 billion ($76 billion) and to take seven years.
With Heathrow running at 99% capacity, the capital needs more runways, the consortium, Testrad, says.
The mid-river location is intended to avoid adding to the aviation noise pollution already bedeviling London -- the source of long-running campaigns from residents beneath that approach into Heathrow that passengers so enjoy.
New beginnings at the world's busiest airport
Trees growing in terminal
A visualization of the proposed London Britannia Airport shows an oval-shaped stucture bisected by runways, sitting in the Thames where the river widens to form an estuary.
Interlinked, translucent hemispherical pods cover the concourse and other passenger areas -- the light they admit allowing trees and other vegetation to grow within.
Heathrow Airport, currently the busiest in Europe by passenger traffic and the third busiest in the world, would close if Britannia Airport went ahead, Gensler, its designers, said.
Passenger numbers to all London's airports are expected to more than double by 2031, to 300 million from 127 million a year in 2010, according to the Greater London Authority.
More: Viagra among best cures for jet lag?

Part of complete coverage on
February 12, 2014 -- Updated 2304 GMT (0704 HKT)

Viral hit uses bikini-clad Sports Illustrated models to convey on-board safety messages.
February 13, 2014 -- Updated 0457 GMT (1257 HKT)

Trillions worth of new airplanes will be bought in Asia over the next 20 years according to one estimate -- Boeing and Airbus both want to be front of mind.
February 10, 2014 -- Updated 0203 GMT (1003 HKT)

On a long flight, there is something tortuously satisfying about making frequent check-ins to the route map.
January 22, 2014 -- Updated 2315 GMT (0715 HKT)

If you ever find yourself in the French city of Toulouse, you might just see one of the oddest-looking aircraft in the world.
January 9, 2014 -- Updated 1915 GMT (0315 HKT)

Flight-phobics, relax -- a list of the world's safest airlines has just been released.
January 22, 2014 -- Updated 0322 GMT (1122 HKT)

Give a designer and aviation geek some time and a pencil, and you might just get something great.
December 19, 2013 -- Updated 1002 GMT (1802 HKT)

The holiday travel crush is upon us.
October 18, 2013 -- Updated 0857 GMT (1657 HKT)

Hairy airstrips ranging from the wildly remote to the shockingly short.

For 24 hours, we made the world's busiest airport our destination and found a world unto its own. Join us on our journey. What you see will surprise you.
November 26, 2013 -- Updated 1341 GMT (2141 HKT)

Futuristic $76 billion project, including terminal filled with trees, "would spell end for Heathrow."
November 11, 2013 -- Updated 0751 GMT (1551 HKT)

First chance to fly the latest Dreamliner will come courtesy Air New Zealand in October 2014.
September 5, 2013 -- Updated 0724 GMT (1524 HKT)

Furniture, hotels and private homes. What visionaries are making with dead airplanes.

Today's five most popular stories