STORY HIGHLIGHTS
One of U.S. Navy's largest vessels, USS George Washington, is leading typhoon relief effort
As an expression of soft-power, the Nimitz-class aircraft carrier is finding its influence in Asia
U.S. links with Philippines as former colony means the relief effort has a special resonance
Criticism has been leveled at China for its handling of its relief contribution
(CNN) -- As an expression of hard power, they don't come bigger or more fearsome than the USS George Washington.
The U.S. Navy's nuclear-powered aircraft carrier can base as many as 75 warplanes, has a combat load of 97,000 tons and is manned by 6,250 battle-ready crew.
But as an expression of soft-power, the Nimitz-class carrier is finding its influence in its Asian theater of operations goes far beyond the range of its fearsome arsenal as it assists the Typhoon Haiyan relief operation -- known as Operation Damayan -- in the Philippines.
Equipped with everything from a 51-bed hospital ward and an operating theater to dentists' surgeries, according to Jane's Defense, the USS George Washington is leading a flotilla of U.S. Navy support vessels in support of the effort.
The projection of U.S. power on the world stage, especially in the context of a humanitarian disaster such as Haiyan, represents a public relations goldmine for the U.S. military, at a time when the U.S. is perceived as losing influence in the region to China.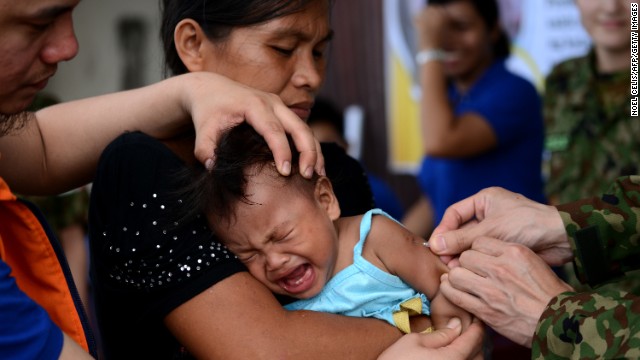 A baby receives a measles vaccine in Tacloban, Leyte province, on Wednesday, November 27. Haiyan, one of the strongest storms in history, has affected 4.3 million people in the Philippines, and many of them rely on emergency relief for food and water. See how you can help.
Members of the Japanese Self-Defense Force carry boxes of medicine to be distributed to survivors of typhoon Haiyan in Tacloban on Monday, November 25.
Philippines Air Force helicopter crewmen on Saturday, November 23, look at the damage to the town of Tacloban caused by Typhoon Haiyan.
An aerial view on November 23, shows Typhoon Haiyan victims running and waving at a Philippine Air Force helicopter bringing food to La Paz.
Approximately 400 Tacloban residents displaced by Typhoon Haiyan fill the cargo hold of a C-17 Globemaster military cargo plane on Friday, November 22, 2013. Joint Task Force 505 personnel are conducting search and rescue, supply drops and personnel airlifts as part of relief efforts.
A sick elderly man is wheeled onto a Philippines military cargo aircraft as he and fellow survivors of the typhoon are evacuated from Tacloban to Manila on November 23.
A Philippine Air Force crew member loads aid onto a helicopter at the airport in Tacloban, Philippines, on Friday, November 22.
U.S. servicemen unload relief supplies from an Osprey aircraft Thursday, November 21, in Guiuan, Philippines.
Typhoon survivors in Tolosa, Philippines, rush toward a Philippine Air Force helicopter delivering goods on November 21.
Typhoon survivors watch as a U.S. helicopter lands to deliver relief goods in Tanauan, Philippines, on Wednesday, November 20.
A crew member aboard a U.S. Navy helicopter looks out over Lawan, Philippines, before dropping relief goods November 20.
Crew members of the USS George Washington await the arrival of an Osprey aircraft November 20.
U.S. troops load relief supplies onto a helicopter in Tacloban, Philippines, on Tuesday, November 19.
Typhoon survivors wait for an evacuation flight as a U.S. Navy helicopter takes off at the Tacloban airport Sunday, November 17.
Stranded villagers scramble for aid supplies in Tanauan on November 17.
People wait in line for drinking water November 17 in Palo, Philippines.
An emergency team from Spain unloads relief supplies November 17 in Tacloban.
U.S. Navy personnel and other volunteers push a Russian cargo plane off the tarmac to make way for other aircraft November 17 in Tacloban.
Trapped residents protect themselves from dust as a U.S. Navy helicopter takes off Saturday, November 16, on the Philippines' Manicani Island.
Trapped residents prepare to unload relief supplies from a U.S. Navy helicopter November 16.
A U.S. Army Ranger unloads aid from an Osprey aircraft November 16 in Balangiga, Philippines.
Survivors appeal for U.S. help November 16 in Tacloban.
U.S. servicemen load emergency supplies onto a helicopter November 16 at the airport in Tacloban.
Evacuees wait to board military aircraft while a U.S. Navy helicopter takes off November 16 in Tacloban.
Typhoon victims in Salcedo, Philippines, hold onto a box of relief goods received November 16 from a U.S. Navy helicopter.
A U.S. aircraft flies above the Tacloban airport as a U.S. Marine watches November 16.
Villagers isolated by the typhoon scramble for relief goods being dropped by the Philippine Air Force on Friday, November 15, in La Paz.
A Philippine soldier guards U.S. aid at the Tacloban airport on November 15.
Volunteers in Manila, Philippines, prepare relief goods for typhoon survivors on Thursday, November 14.
Stranded passengers board a plane in Tacloban on Wednesday, November 13.
Soldiers transport a sick survivor November 13 in Tacloban.
Relief supplies are loaded onto an airplane in Germany on November 13.
Soldiers load relief goods onto a truck in Tacloban on November 13.
People in Leyte, Philippines, wait in line to receive relief goods Tuesday, November 12.
Evacuees send e-mails to their family members and relatives November 12 at a free Internet cafe in Tacloban set up by the Philippine government.
Aid workers arrive in Leyte on November 12.
People wait at a bus stop November 12 in Tacloban.
People board a U.S. military plane to evacuate Tacloban on November 12.
People carry sacks of goods November 12 in Tacloban.
A member of the Japanese Disaster Relief Team carries goods in Tacloban on November 12.
Rescuers in Guigang City, China, search a flooded road by boat on November 12. China and Vietnam were also hit hard by the typhoon.
Residents line up to receive treatment and supplies at the Tacloban airport on Monday, November 11.
Staff load a Hercules airplane with equipment November 11 at the Orebro airport in central Sweden. The Swedish Civil Contingencies Agency, together with its humanitarian partners, sent equipment to support the United Nations' relief work in the Philippines.
Philippine troops load boxes of water at Villamor Air Force Base in Manila on November 11.
A man seeking aid paints a message on a basketball court November 11 in Anibong, Philippines.
Villagers in Hernani, Philippines, run toward government officials hoping for food November 11.
A military helicopter delivering food prepares to land at the airport in Guiuan on November 11.
Emily Ortega rests on November 11 after giving birth to Bea Joy at an improvised clinic at the Tacloban airport.
Typhoon survivors line up at the Tacloban airport on November 11 to board a U.S. military plane bound for Manila.
Philippine Air Force personnel prepare to load relief supplies at the Tacloban airport on November 11.
Philippine police commandos prepare to board a military plane in Manila on Sunday, November 10.
A Tacloban resident carries boxes of milk November 10 as he passes by ships washed ashore by the powerful storm.
Residents carry relief goods along the bay in Tacloban on November 10.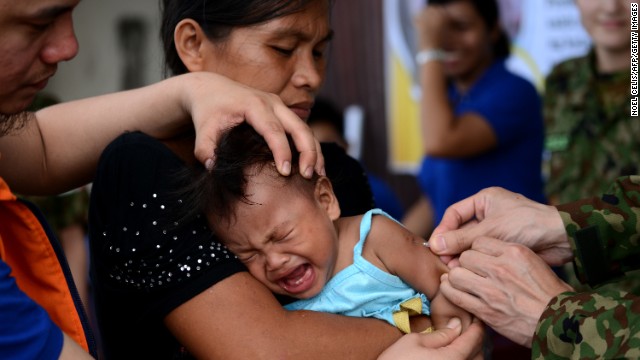 Photos: Typhoon Haiyan relief efforts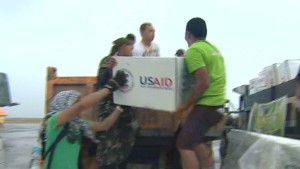 Tacloban relief effort continues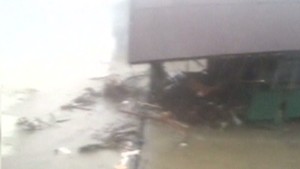 Video shows moment typhoon hit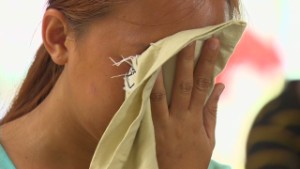 Mother: Not sure if kids died in typhoon
It may not be the only navy helping in the aftermath of the disaster -- Britain and Australia have both committed vessels to the relief effort -- but considering the Washington's traditional links with the Philippines as a former colony (and for many decades one of its most important strategic bases) the relief effort has a special resonance.
"The U.S. extending its soft power in the region as well as directing the relief operation are not contradictory objectives," Philippine political analyst Ramon Casiple told CNN. "The Philippines and the U.S., of course, have a long history so there is an expectation that they would help because they've helped in previous chapters in our history."
He said even the region that is the focus of the relief effort -- eastern Leyte province -- has special meaning for the U.S.-Philippines relationship.
"This is the area where General MacArthur's forces landed during World War II when he fulfilled the promise of returning to the Philippines after ousting the Japanese.
"But while there's an expectation, there is also a gratefulness for this help."
Criticism has been leveled at China for its ham-fisted handling of its relief contribution, initially pledging $100,000 in humanitarian support. Although it later raised the amount to $1.6 million, analysts have said that it has allowed its spat with the Philippines over the Spratly Islands -- claimed severally by Malaysia, the Philippines, China, Taiwan and Vietnam -- to cloud its judgment.
The donation, which does not meet even that of furniture store, Ikea, which has pledged $2.7 million through its charitable foundations, has dented its global image at a time when American influence is seen as declining in the region as China steps into the breach.
Analysts say China has missed an opportunity to win hearts and minds though non-traditional forms of diplomacy of which the supply of emergency assistance can form a crucial component.
The U.S. extending its soft power in the region as well as directing the relief operation are not contradictory objectives
Ramon Casiple
"One reason China's efforts to develop its soft power have failed is the utilitarian way Beijing approaches the rest of the world. Instead of using culture, adept diplomacy and trashy movies to seduce other countries, China hands out cold, hard cash," said analyst William Pesek in a recent Bloomberg View.
"All the investment poured into railways in Indonesia, tunnels in Brazil, power grids in Cambodia, hydroelectric projects in Laos, bridges in Vietnam, roads in Zambia, factories in Malaysia, airports in Myanmar, and mining rigs in Uzbekistan comes with a high cost. In return, China demands complete docility. That's the message being sent to the Philippines now."
Meanwhile, the victims of Haiyan are happy to find help where they can.
"If you are talking of those western allies aligned with the US then you have the same level of commitment to humanitarian aid," Casiple said. "The others, meaning these countries not so aligned to the Philippines or those such as China that have issues with the Philippines, are a bit more reticent.
"But the main thing to remember is that they are giving aid."
READ: In Philippines, world scrambles to deliver 'the basics' as one mother despairs
READ: A baby born in wreckage clings to life
READ: Philippines typhoon aftermath: Religion as solace