Spam, spam, spam or Monty Python reunion?
November 19, 2013 -- Updated 2323 GMT (0723 HKT)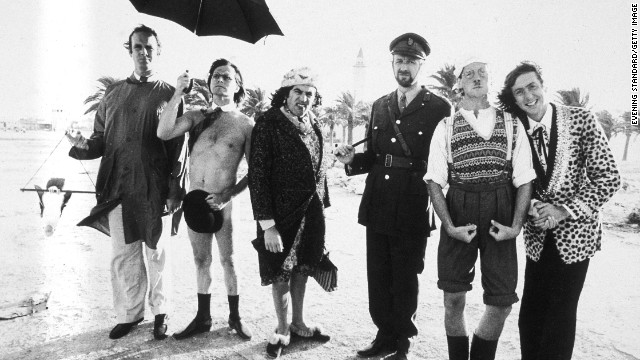 In honor of fans worldwide who were able to enjoy a historic reunion of the surviving Monty Python members
,
we take a look at what the troupe achieved outside of Python:
John Cleese, now 74, created and starred in the immortal TV show "Fawlty Towers" in the 1970s and co-founded Video Arts, a company that makes training films. Younger viewers may know him best for his roles in the "Shrek" films (as King Harold), a pair of James Bond films (as Q) and the Harry Potter series (as Nearly Headless Nick). His most recent film role was in "Planes."
Terry Gilliam, 73, became a noted film director, best known for "Brazil" (1985), "The Fisher King" (1991) and "Twelve Monkeys" (1995). J.K. Rowling wanted him to direct the first Harry Potter film, but the studio didn't want the famously independent Gilliam. His latest film, "The Zero Theorem," is due for U.S. release this summer.
which he opposed
. With songwriter Jim Steinman, he's been working on a rock version of "The Nutcracker."
Terry Jones, 72, has created TV shows about the Middle Ages, an era on which he's an expert. (He's written two books about Geoffrey Chaucer.) He's also written several children's books and was a regular contributor to UK newspapers during the Iraq war,
Michael Palin, 71, has probably spent as much time traveling in the past 25 years as he has acting. Among his projects: "Pole to Pole," "Full Circle" and "Michael Palin's New Europe." His most recent venture was "Brazil with Michael Palin," which came out in 2012.
Eric Idle, 71, has probably done the most to maintain the Python tradition. He engaged in "The Greedy Bastard Tour" in 2003, which included performances of Python material, and turned "Monty Python and the Holy Grail" into "Spamalot," which won the Tony for best musical in 2005. He also helped create the Rutles, perhaps the sharpest Beatles parody. And he sang his song "Always Look on the Bright Side of Life" at the 2012 Olympics closing ceremony.
Graham Chapman died in 1989. Before then, he performed material at several colleges and appeared in an Iron Maiden video. Since his death, at least one of his plays, "O Happy Day," has been performed. The Pythons haven't forgotten their colleague: They did a wonderfully uncomfortable routine with Chapman's "ashes" at the Aspen Comedy Festival in 1998, and in 2012, all the Pythons except Idle lent their voices to a film based on Chapman's memoirs.
'Monty Python': Where are they now?
'Monty Python': Where are they now?
'Monty Python': Where are they now?
'Monty Python': Where are they now?
'Monty Python': Where are they now?
'Monty Python': Where are they now?
'Monty Python': Where are they now?
STORY HIGHLIGHTS
NEW: Terry Jones tells the BBC that a reunion is happening
The comedy group Monty Python's Flying Circus was formed in October 1969
They produced 45 TV episodes for the BBC and five feature films before separating in 1983
Ex-Python Eric Idle has tweeted that there will be "a big forthcoming news event"
(CNN) -- A series of cryptic tweets and the announcement of a news conference sparked speculation that the five surviving members of British comedy troupe Monty Python may be about to reunite.
And one of the members appears to have let the cat out of the bag, telling the BBC that a reunion is indeed happening.
"We're getting together and putting on a show -- it's real," Terry Jones told the BBC, adding: "I'm quite excited about it. I hope it makes us a lot of money. I hope to be able to pay off my mortgage!"
The news conference will be in London on Thursday.
Member Eric Idle tweeted Tuesday that there was a "Python meeting this morning," after tweeting Monday: "Only three days to go till the Python press conference. Make sure Python fans are alerted to the big forthcoming news event."
The public relations agency that sent out the invitations to the news conference declined to confirm it was to announce a reunion, saying: "All will be revealed on Thursday."
Michael Palin, John Cleese, Terry Gilliam, Terry Jones, Eric Idle and the late Graham Chapman became comedic legends with the creation of Monty Python's Flying Circus in October 1969.
Read more: What is Monty Python?
They produced 45 TV episodes for the BBC and five feature films together before going their separate ways in 1983.
The shows mostly consisted of a string of barely coherent sketches, often lacking conventional punch lines and loosely tied together by Gilliam's stream of consciousness animations.
The group dressed as old ladies, dressed as transvestite lumberjacks, performed sketches about pompous middle class men, used catchphrases such as "And now for something completely different," and sang amusing ditties such as "Spam, spam, spam, spam, spam, spam, spam, spam ..."
Read more: 40 years of silliness
Although the TV show ran for only four seasons, it proved a massive cult hit when it was shown in the United States beginning in 1974 -- just as the show was winding up on the other side of the Atlantic.
That success spawned a series of spin-off productions, including the films "Monty Python and the Holy Grail," the Bible-baiting "Monty Python's Life of Brian" and "Monty Python's The Meaning of Life" as well as "Live at the Hollywood Bowl."
Many of today's comedians cite Python as a key influence, and its influence can be seen in comedy shows including "The Daily Show" and "The Simpsons."
Read more: Gilliam reveals world of Monty Python art

Part of complete coverage on

This looks like a ghost ship, but it's actually the site of a tense international standoff between the Philippines and China.
July 26, 2014 -- Updated 1555 GMT (2355 HKT)

The reported firing of artillery from Russian territory is a sign Vladimir Putin has escalated the Ukraine battle, says CNN's military analyst Rick Francona.
July 27, 2014 -- Updated 0846 GMT (1646 HKT)

The young boy stops, stares, throws ammunition casings at the reporter's feet without a word.
July 27, 2014 -- Updated 1237 GMT (2037 HKT)

The worst ebola outbreak in history spreads out of control in West Africa. CNN's Michael Holmes reports.
July 26, 2014 -- Updated 0048 GMT (0848 HKT)

Sure, Fido is a brown Lab. But inside, he may also be a little green.
July 24, 2014 -- Updated 2006 GMT (0406 HKT)

ITN's Dan Rivers reports from the hospital where those injured by an attack in Gaza were being treated.
July 28, 2014 -- Updated 1303 GMT (2103 HKT)

Patrycja Makowska likes to give enigmatic names to the extraordinarily beautiful photographs she shoots of crumbling palaces.
July 23, 2014 -- Updated 0804 GMT (1604 HKT)

When the Costa Concordia and its salvage convoy finally depart Giglio, the residents will breathe a sigh of relief -- and shed a tear.
July 25, 2014 -- Updated 1808 GMT (0208 HKT)

Flight attendants are wearing black ribbons to show solidarity with fallen colleagues in "a tribute to those who never made it home."

CNN joins the fight to end modern-day slavery by shining a spotlight on its horrors and highlighting success stories.

Browse through images from CNN teams around the world that you don't always see on news reports.

Today's five most popular stories