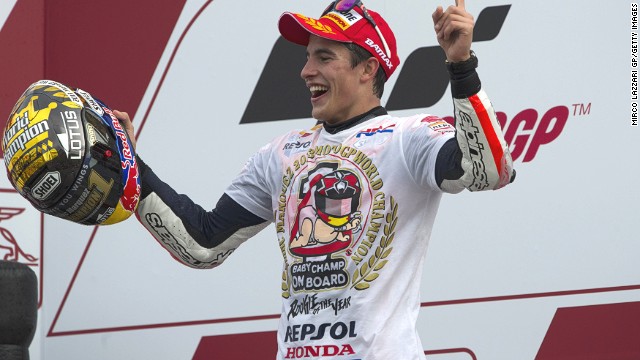 Marc Marquez was a breath of fresh air for motorcycling this year, but the feats of MotoGP's youngest world champion have only reinforced the dominance of the sport's two leading teams.
Yamaha's Jorge Lorenzo, denied a third world title by his 20-year-old compatriot, won eight of the 18 races.
Marquez claimed six victories, while his Repsol Honda teammate Dani Pedrosa (pictured) topped the podium on three occasions.
Seven-time world champion Valentino Rossi was generally off the leading pace, but the Italian picked up one win -- at Assen -- on his return to Yamaha after two seasons at Ducati.
Ducati, the only other factory team in MotoGP, has signed British rider Cal Crutchlow from the Monster Yamaha Tech 3 satellite outfit in a bid to restore its ailing fortunes.
Crutchlow stepped up to the elite division after riding in the World Superbike championship in 2010, finishing fifth overall.
Crutchlow's compatriot James Toseland struggled in two years of MotoGP racing, and dropped back to Superbikes -- where he had previously won two world titles.
Toseland told CNN that motorcycling's profile has dropped since the days when the likes of Barry Sheene (pictured in the 1970s) would socialize with Formula One peers such as James Hunt.
Carmelo Ezpeleta, left, is CEO of Dorna -- the commercial rights holder of MotoGP and, since late 2012, World Superbikes. He is pictured with Vito Ippolito, president of motorcycling's governing body FIM.
New blood
Lorenzo's law
Honda heroes
'Doctor' in waiting room
Italian team's savior?
Bridging the gap
Briton's battles
A rich history
Power brokers
STORY HIGHLIGHTS
Motorcycling's elite division was dominated by three riders in the 2013 season
Two teams, Honda and Yamaha, won all 18 races on the calendar
Ruling body is bringing in a new measure to make more teams competitive
Ducati team is expected to improve with investment from new owner
(CNN) -- On one hand, it was the first MotoGP championship to go to the final race of the season since 2006 -- and it was won by one of motorcycling's hottest new stars.
On the other, three riders won 17 of the 18 races between them -- and they are all Spanish.
Marc Marquez has been hailed for his record-breaking rookie exploits in lifting the 2013 crown, and his bright and open media persona has delighted both fans and administrators of the sport.
But behind the headlines there are murmurs that the elite division, like Formula One, is becoming ... a bit boring.
The statistics make troubling reading: Two of the three remaining factory teams, Honda and Yamaha, cleaned up in every race. Marquez won six of them, while Honda teammate Dani Pedrosa claimed three victories.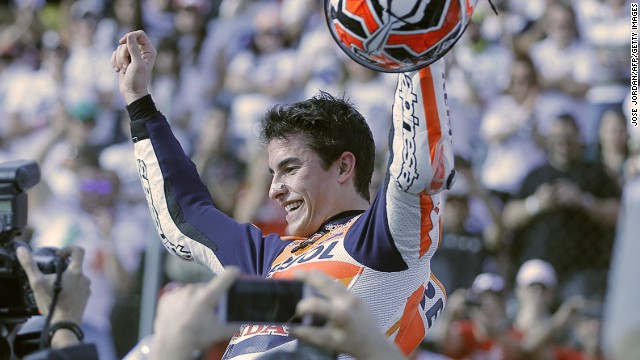 Marc Marquez is hoisted aloft after claiming the MotoGP title, finishing four points ahead of defending champion Jorge Lorenzo.
The 20-year-old Spaniard is the youngest rider to win motorcycling's top division, and the first rookie since American Kenny Roberts did it in 1978.
He finished third in the final race at Valencia, where Lorenzo did all he could to win a third world title by claiming his third successive race victory.
Only four riders won races in the 18 stops on the calendar this year -- Lorenzo (eight), Marquez (six), Dani Pedrosa (three) and Valentino Rossi (one).
Marquez finished on the podium 16 times, with one disqualification in Australia in October that kept the title race alive and a DNF after crashing at June's Italian Grand Prix.
As well as ending the reign of Yamaha rider Lorenzo, Marquez also overshadowed his Honda Repsol teamate Pedrosa -- who is still waiting for his first title after eight seasons in MotoGP.
Seven-time world champion Rossi was a distant fourth in the standings in his return to Yamaha after two seasons with Ducati.
The popularity of Marquez is forcing Lorenzo to soften his often spiky persona, says Monster Yamaha Tech 3 team boss Herve Poncharal.
Marquez has taken advantage of new tire technology to adopt an elbows-to-the-ground style that other riders have begun to follow, says former Superbikes champion James Toseland.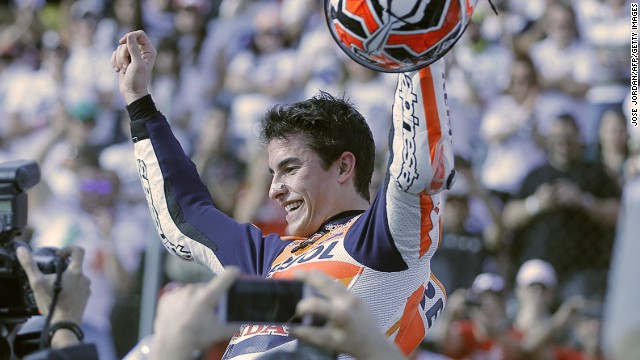 Spain's new motorcycling king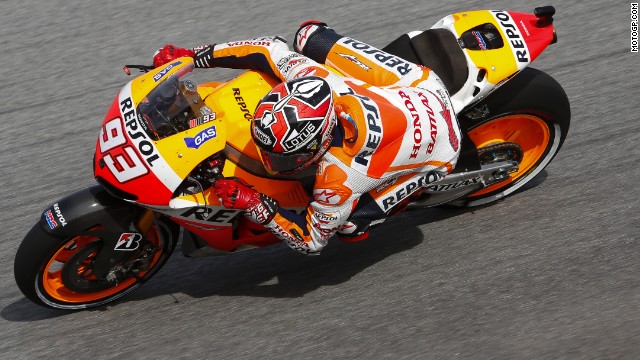 Marc Marquez is the Spanish rookie who is enjoying a dream first season at MotoGP level. The Honda rider leads the world championship heading into the final race of the year at Valencia, where he is bidding to become the first rookie to win the title since Kenny Roberts in 1978.
Hot on Marquez's heels is his compatriot Jorge Lorenzo, a two-time world champion who is 13 points behind Marquez in second place overall.
Marquez held a commanding 43-point lead over Lorenzo heading into the Australian Grand Prix, the 16th race of 18. However, he was disqualified after breaking an emergency rule requiring a mandatory bike change -- which was introduced due to tire safety concerns at the resurfaced Phillip Island circuit. Lorenzo took the checkered flag to blow the title race wide open.
Lorenzo continued his winning run at the Japanese Grand Prix on October 27, meaning his title defense would go down to the wire.
The last time the MotoGP title race went down to the last grand prix was in 2006, when Nicky Hayden trailed Valentino Rossi by eight points. The American was given a boost when the Italian crashed on lap five in Valencia, leaving Hayden to come home in third place and clinch the championship.
Marquez and Lorenzo have developed a fierce rivalry, while the young pretender has also been making enemies within the Honda camp. Teammate Dani Pedrosa, pictured, was on the receiving end of Marquez's aggressive style at the Aragon Grand Prix when the pair came together while battling for second place. Marquez was deducted one point and warned about his driving style.
James Toseland is a double Superbike world champion who switched to MotoGP in 2008 and is now focusing on a music career. "I've been amazed at how he pushes the bike to the limit consistently," Toseland told CNN when asked about Marquez.
Herve Poncharal is the owner of the Monster Yamaha Tech 3 team and a big admirer of both title contenders. "It's going to be incredibly tense -- 13 points is good to have, but it's not a lot," he told CNN.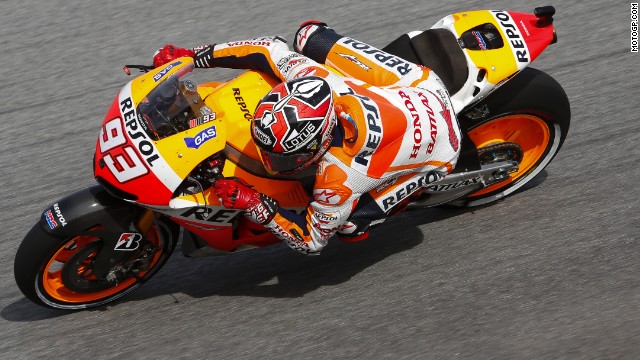 Marc Marquez's bid for MotoGP glory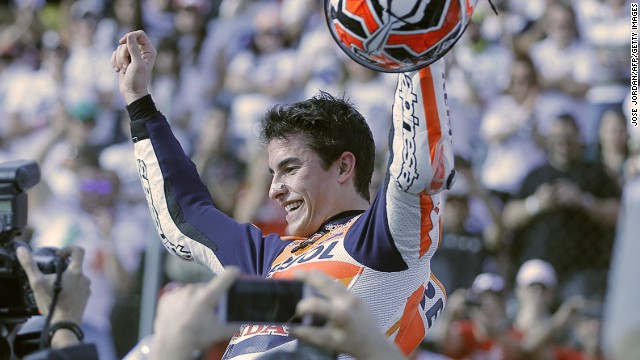 Marc Marquez is hoisted aloft after claiming the MotoGP title. The 20-year-old Spaniard is the youngest rider ever to win the world championship.
Marquez (right) made an immediate impression in MotoGP, finishing third in the opening race of the season. Jorge Lorenzo (center) won the race with Valentino Rossi finishing second.
Marquez stormed to victory in only the second race of season at GP Circuit of the Americas. At 20 years and 63 days old, Marquez became the youngest winner of a MotoGP race beating U.S. rider Freddie Spencer's record (20 years, 196 days).
Marquez has claimed nine pole positions, six wins and been on the podium in every race he has finished this season.
Marquez had won the previous four races before the British GP in September and was almost out of sight in the world championship standings. But reigning world champion Jorge Lorenzo reignited his title challenge with a stunning win over his young compatriot at Silverstone.
Race marshalls show Marquez the black flag at the Australian GP in October. The Honda rider was disqualified for exceeding the maximum number of laps allowed before a driver must complete a pit stop. Lorenzo took the checkered flag to keep his title chances alive.
Jorge Lorenzo secures a seventh win of the season in the penultimate race of the season at the Motegi Circuit in Japan.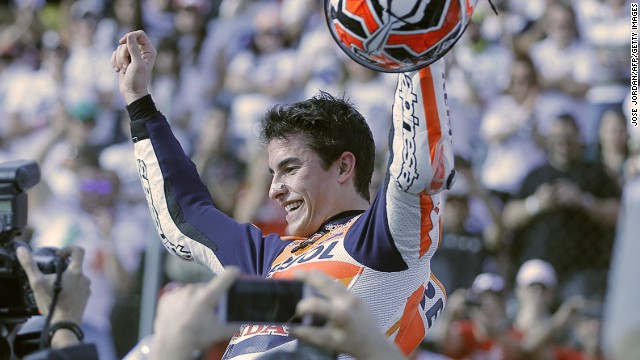 Marquez wins MotoGP title
Jorge Lorenzo, denied a third world title at Yamaha by a mere four points, triumphed in eight races -- including the last three. His Italian teammate, multiple world champion Valentino Rossi, added just one to his MotoGP career tally -- his 67th win since 2002. Rossi has won seven world championships in motorcycling's top class.
Spain's dominance has made the country's national anthem a permanent fixture at podium ceremonies throughout the calendar -- and at all levels of the sport.
As well as Marquez, Lorenzo and Pedrosa in the premier class, the likes of new Moto2 champion Pol Espargaro, Moto3 champion Maverick Viñales, Esteve Rabat, Luis Salom and Alex Rins have been vanquishing all-comers.
It is a concern for the sport's organizing body Dorna, which is keen to avoid MotoGP becoming a purely Iberian affair.
"The situation is not satisfying Dorna," says Herve Poncharal, principal of the Monster Yamaha Tech 3 team that has signed Espargaro for next season.
"They don't want MotoGP to be a Spanish championship. For sure they have looked after their national championship (in Spain) very well.
"They did what each national federation should do, but only Spain did it properly. They run the championship with almost the same level of organization and seriousness as the world championship."
Dorna CEO Carmelo Ezpeleta wants to see a wider range of nationalities winning races, but also points out that the sport has always seen periods of success for particular countries.
"For any promoter of any championship, the aim is to have different winners of every race and winners of the championship with very different nationalities," he told CNN.
"But in fact the history of motorcycling has been full of dominance for certain nations -- sometimes to be winning in the top class it has been necessary to be Australian or American, or Italian, or French or Spanish.
2013 championship standings

MotoGP - 1,000 cc engines

1. Marc Marquez (Spa)

2. Jorge Lorenzo (Spa)

3. Dani Pedrosa (Spa)



Moto2 - 600 cc

1. Pol Espargaro (Spa)

2. Scott Redding (GB)

3. Esteve Rabat (Spa)



Moto3 - 250 cc

1. Maverick Vinales (Spa)

2. Alex Rins (Spa)

3. Luis Salom (Spa)
"The Spanish federation has promoted one championship open for all nationalities, and right now 75% of the riders in that series are not Spanish.
"We try to help, we have programs like the Red Bull Rookies Cup to try to do that; we are following different riders from European countries to try to give them success and get them into MotoGP."
Poncharal's two riders this season were Britons Bradley Smith and Cal Crutchlow, but the latter is leaving to join Ducati.
"Yamaha didn't sign Pol Espargaro because he's Spanish, it's more a handicap than a help," the Frenchman said.
"We would have loved Espargaro to be German, or British or French or whatever, but Spanish? When you already have the top trio who are Spanish, plus Alvaro Bautista? It doesn't make any sense.
"Yamaha said they needed to take the best, and Espargaro was the only man who last year pushed Marquez (in Moto2). Marquez is not here because he's Spanish, it's because he's the best. Lorenzo was the best.
"Spain is dominant in football, is very strong in Formula One, in tennis, in basketball, handball, so many sports. Why is this nation so strong at the moment? I don't know. It's not only MotoGP, though."
Former MotoGP rider Toseland believes motorcycling's media profile in Spain is a key driver of its ongoing success.
"The power of any sport and any level of sponsorship comes from TV and news coverage, and in Spain motorcycling is up there with football as far as media coverage goes," said the two-time Superbike world champion, who retired due to injury in 2011.
"If you get that kind of coverage, all of a sudden companies want to advertise in it and put money into it, which can go on developing young riders. It really stems from TV."
He says Spain's situation contrasts to that of his native Britain.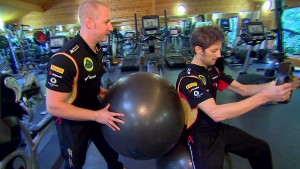 A crash course in F1 fitness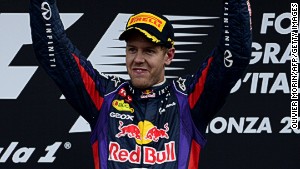 What's behind Vettel's winning streak?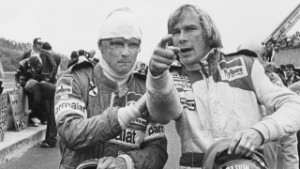 Niki Lauda on F1's most dangerous years
"In the UK, MotoGP is on terrestrial television, but you're lucky if you see the guys on the podium before it skips on to tennis or football or rugby, and there's nothing in the papers on a big scale unless someone does something incredible," the 33-year-old said.
"In Spain it's on the front and back pages if a Spanish rider does well."
While Italy begins its search for an heir to Rossi, having in 2011 tragically lost his most likely successor with the death of the charismatic and gifted Marco Simoncelli, Britain has had a glimpse of glory with the popular Crutchlow.
The Coventry-born rider's eye-catching third season at Tech 3 gave notice that he represents the UK's best hope of motorcyling regaining the profile it enjoyed in the '70s and '80s, when the late Barry Sheene was winning races while also gaining celebrity status off the track.
"Back in those days Barry Sheene used to hang around with James Hunt. Formula One drivers and MotoGP riders used to hang out together, and it looked on a similar level, but that's changed," Toseland said.
"Formula One has kept its profile in the media, but there's been a big lull. In Britain we only tend to be interested if a British rider is doing well, but I think Valentino Rossi, Lorenzo, Pedrosa, Marquez, they're all big enough stars to warrant us watching on a weekend.
"We'll watch Vettel, Webber and other foreigners in a Formula One race, and I think (with MotoGP) we need to be looking at the sport, rather than if a British rider is doing well."
Perhaps the biggest problem facing MotoGP is the dominance of Honda and Yamaha, especially with Suzuki, Kawasaki and Aprilia having withdrawn in recent years for financial reasons -- though Suzuki is returning in 2015.
It had been speculated Kawasaki might come back too, but the Japanese manufacturer said in March it would stay in Superbikes, which runs production street machines as opposed to MotoGP's elite models -- similar to the difference between touring cars and F1.
If you don't want Marquez, Lorenzo, Pedrosa to be in front, you have to cut off a leg or an arm
Herve Poncharal
"We need to reach a point where we have more open competition, at a lower cost, because clearly the economy has not yet recovered, and it will never recover like before," Poncharal said.
"We have lost tobacco sponsorship, and we are still far too expensive. Suzuki is coming back from 2015, Kawasaki is very much thinking of coming back, and also some European brands like BMW and others are also thinking of coming back, and that would be ideal -- having six, seven, eight manufacturers, machines that are a lot closer than they are now."
Another factor that has played into the Honda-Yamaha duopoly has been the decline of Italy's Ducati team.
Since former world champion Casey Stoner's departure in 2011, the Bologna-based factory side has fallen badly off the pace -- Rossi spent two difficult seasons there before returning to Yamaha this year.
However, Poncharal says the Italian team's owner, Germany's Volkswagen Audi Group, is expected to provide new investment following last year's acquisition, while it has also hired a new CEO in Gigi Dall'Igna -- who led Aprilia to two Superbike championships.
"At the moment they are struggling, but they are not five seconds behind, they are one second," Poncharal said. "One second is a lot, but also it's not so much."
He advised Crutchlow "as a friend" to take up Ducati's offer.
"With the new owner, the plans they have, the things they want to do, you cannot pass up that opportunity," he said. "Maybe he's coming to Ducati at the right time."
Next season will see the latest attempt by Dorna to engineer a more level playing field for smaller teams. The CRT or Claiming Rule Teams class -- which allowed its bikes to use more fuel, more engines, gain access to prototype technology from the other teams, but still use production chassis -- will be disbanded.
Replacing it will be the new "Open" class, which will still give non-factory teams concessions on fuel and engine numbers, while Dorna will provide one of the more costly elements of a bike -- the Electronic Control Unit (ECU) -- as a standard unit.
Toseland is among many who believe that more teams need help to get a better chance of success.
"The rules have to come back to where the teams without as much money can compete. It's always been the case, there's just a little bit more of a gap these days. The situation has got to change; you can't have only four bikes on the grid that can win."
Ezpeleta acknowledges the problem, and believes the new standard ECU can make a real difference.
"Today, unless it is a special race, there are four guys who can win, and in fact during the season there are only four guys who have been winning races in MotoGP," he said.
"If the number of competitive bikes is bigger then I'm sure other riders will at least have the chance to win, even if the same racers are winning.
"If we are able to demonstrate that we are keeping the electronics the same for everybody, with very competitive electronics for everybody, then this will reduce a lot of the cost and I'm sure will encourage other manufacturers to come back."
With new riders, bikes and rules, next season should present some interesting and fresh dynamics, but fans looking for change at the very top may have a longer wait -- regardless of the machinery.
"For me the grid next year is going to be a lot more competitive, the machines are going to be a lot closer," says Poncharal.
"But if you don't want Marquez, Lorenzo, Pedrosa to be in front, you have to cut off a leg or an arm."
Read: The new king of motorcycling?
Read: Marquez becomes MotoGP's youngest champion
Read: Motorcycling's Spanish civil war