World Toilet Day aims to improve sanitation for 2.5 billion
November 19, 2013 -- Updated 1645 GMT (0045 HKT)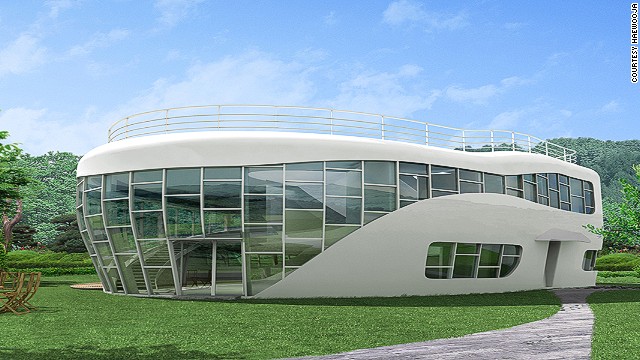 In honor of World Toilet Day on November 19, designated by the United Nations to raise awareness for 2.5 billion people who do not have access to sanitation and toilets, here's a look at some toilet-themed venues around the world. First up is the two-story toilet-shaped
Mr. Toilet House
in Suwon, South Korea. A museum devoted to toilets, it used to be the private home of former congressman and mayor of Suwon, who was known as "Mr. Toilet" for his interest in toilets and sanitation. He founded the World Toilet General Assembly and served as chairman. The museum showcases exhibits on the history of toilets and efforts to fund public bathrooms in underdeveloped countries.
Read more: Mr. Toilet House
The swirly patterns on the toilets at MoCa in Shanghai are actually scrawled tirades of obscenities about life. Conceived by Chinese artist Tsang Kin-Wah (曾建华) especially for Art Lab, the art is entitled "Pretty S**t -- Piss Pretty." As Tsang explains, "The s**t is everywhere, even at your most private moment and space ..."
Read more: Shanghai bathroom fashion statements
Where to celebrate World Toilet Day
'World's biggest toilet,' Ichihara, Japan
The Attendant cafe, London
Art Lab Museum of Contemporary Art (MoCA), Shanghai
Sulabh International Museum of Toilets, New Delhi, India
House of Poo restaurant, Beijing
The Leaning Dunny, Silverton, New South Wales, Australia
STORY HIGHLIGHTS
2.5 billion people do not have access to a toilet or sustainable sanitation
November 19, 2013 has been designated first World Toilet Day by United Nations
In many countries, girls stay home from school or drop out all together due to lack of a safe place to change and clean
(CNN) -- As many of the devastating stories and photos of typhoon-wrecked Philippines show, one of the most pressing problems of the Philippines crisis is the lack of toilets and the collapse of water systems.
Tacloban is currently facing a desperate lack of sustainable sanitation. UNICEF, among other organizations, has delivered portable toilets and hygiene supplies to Tacloban and is appealing for $34 million to help the four million children affected by Typhoon Haiyan, the estimated amount for six months of assistance.
The lack of sustainable sanitation that the Tacloban region is suddenly facing is part of daily life for an astonishingly high percentage of the world's population.
To throw a spotlight on the issue, the United Nations General Assembly declared this year would kick off the inaugural World Toilet Day on November 19.
"We must break the taboos and make sanitation for all a global development priority," said UN Secretary-General Ban Ki-Moon in an official statement in Singapore last July.
Some sobering facts about the world's lack of toilets, according to the United Nations:
2.5 billion people -- one in three people in the world -- do not have a toilet or access to sustainable sanitation
Diarrheal diseases are the second most common cause of death in young children in developing countries
They kill more than HIV/AIDS, malaria and measles combined
In many countries girls stay home during menstruation days because of the absence of a safe place to change and clean themselves, and many drop out altogether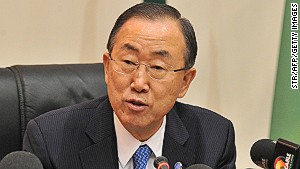 UN Secretary-General Ban Ki-Moon declared November 19 World Toilet Day.
Due to the unglamorous nature of the subject matter, toilets tend to take the back seat when it comes to awareness and fundraising.
"We aim to make these hugely important issues relevant and sexy," says Garvey Chui, the Asia representative for Toilet Hackers, a nonprofit organization trying to give access to "dignified sanitation" to those without.
"For many Westernized travelers -- particularly for many women travelers, no matter how well-seasoned -- sanitation and access to clean toilets becomes a serious consideration when traveling," says Chui.
"But for those without access to safe, clean and private toilets and sanitation, it is more than an inconvenience, it can be life or death," says the Toilet Hackers rep.
"One very dangerous time for a woman in a developing country, and one of the main times she may get sexually assaulted, is when she is going to the washroom. When there is no toilet to go to, she is vulnerable and exposed when she is going outdoors or in a public space, often late at night and away from people."
From the two-story toilet-shaped toilet museum (the former home of a toilet-obsessed congressman and mayor in South Korea) to weird and wacky toilet-themed restaurants (yes, restaurants) from London to Beiing, check out our gallery for where to celebrate World Toilet Day.

Today's five most popular stories
Part of complete coverage on
November 24, 2014 -- Updated 0118 GMT (0918 HKT)

These quirky and beautiful subway stops make standing cheek-to-cheek with 45 strangers almost seem fun.
November 21, 2014 -- Updated 1314 GMT (2114 HKT)

Luxury vintage Land Rover tours explore Bedouin backwaters without bashing up precious dunes.
November 20, 2014 -- Updated 0250 GMT (1050 HKT)

Cities around the world have closed the brew gap, but the Oregon city's innovative scene continues to lead the beer parade.
November 19, 2014 -- Updated 2249 GMT (0649 HKT)

From gourmet hotdogs to Sevillian tapas, the food served in these London restaurants is worth lining up for.
November 20, 2014 -- Updated 1545 GMT (2345 HKT)

Plans are underway to build the world's tallest -- and quite possibly most terrifying -- roller coaster at an Orlando, Florida, theme park due to open in 2017.
November 18, 2014 -- Updated 1932 GMT (0332 HKT)

The 7th Annual Cruise Critic Editors' Picks Awards highlight the top cruise lines for North American travelers in 18 categories.
November 19, 2014 -- Updated 0206 GMT (1006 HKT)

Joining the ranks of pilgrims tackling Adam's Peak rewards with a spiritual awakening, or at least a stunning sunrise.
November 18, 2014 -- Updated 1313 GMT (2113 HKT)

Beautifully designed travel document reveals image of Northern Lights when placed under UV light.
November 18, 2014 -- Updated 0525 GMT (1325 HKT)

New concept offering luxury rooms in ancient dwellings helps spare beautiful villages from falling into ruin.
November 21, 2014 -- Updated 2247 GMT (0647 HKT)

Are you the butcher or the cattle? Tainted meat-obsessed fans are following the tracks of their favorite "Walking Dead" survivors.
November 17, 2014 -- Updated 0521 GMT (1321 HKT)

People never cease to find amazing ways to make water more incredible than it already is. Here are some powerful examples