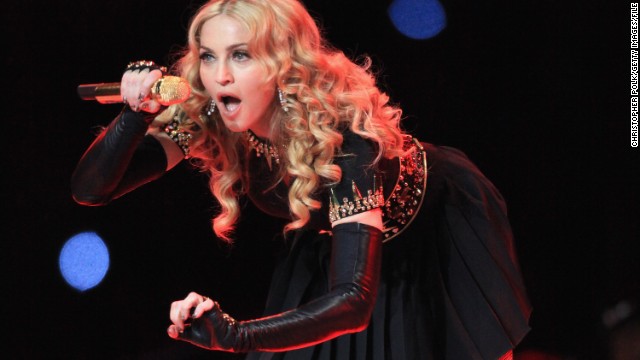 Madonna brought in an estimated $125 million in the past year, making her the
highest-paid celebrity of 2013
. Just to rub a little salt in the wounds of her competitors, Forbes also crowned the Material Girl as
this year's highest-paid musician in the world
. It's not lonely at the top though: Check out others joining Madge as one of the top-paid stars of 2013.
According to Forbes
, the 35-year-old actor has earned roughly $24 million between June 2012 and June 2013.
Ashton Kutcher's turn as Steve Jobs didn't go so well -- the summer release has only grossed $16 million since it opened in August -- but his work on "Two and a Half Men" is lucrative.
If Robert Downey Jr. keeps making Marvel movies, he might come close to amassing a fortune to rival his heroic character, Iron Man. The 48-year-old star has rebounded from his not-so-distant career lows to become
Beyoncè and Jay-Z are prime examples of a "power couple," and not just because they're the best-paid pair in Hollywood. According to Forbes, these two entertainment megastars earned an estimated $95 million in the past year combined.
Forbes' list of the highest-paid male celebrities
, with an estimated $100 million to his name in the past year.
When it comes down to the financial king of Hollywood, legend Steven Spielberg is the man who wears the crown. The 66-year-old filmmaker is at the top of
who's at the top of the list.
The artist earned an estimated $80 million in the past year -- no wonder she could afford
a 24-karat gold wheelchair
upon her recovery from hip surgery.
For the under-30 set, it's 27-year-old Lady Gaga
and
set up a trust fund for his
pending arrival
. The current "X Factor" judge, 54, shares the title of top-earning TV personality this year, having made an estimated $95 million this past year. You know who else brought in that sizeable amount?
Simon Cowell's 2013 payday is enough to keep him stocked in snug V-neck T-shirts
Highest-paid stars of 2013
Highest-paid stars of 2013
Highest-paid stars of 2013
Highest-paid stars of 2013
Highest-paid stars of 2013
Highest-paid stars of 2013
Highest-paid stars of 2013
Highest-paid stars of 2013
Highest-paid stars of 2013
Highest-paid stars of 2013
Highest-paid stars of 2013