Fabulous fall centerpieces for Thanksgiving
November 21, 2013 -- Updated 1351 GMT (2151 HKT)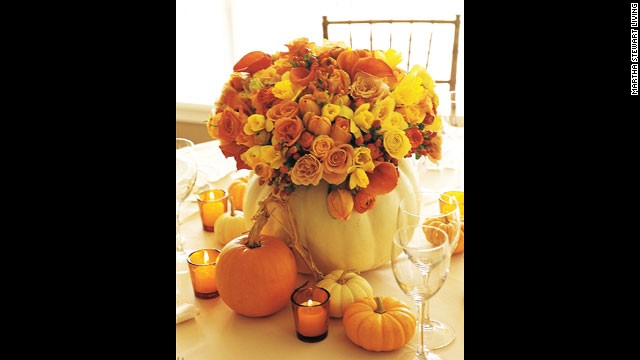 Great pumpkins: Orange blooms complement the shades of fall pumpkins.
Make your own candles
with natural leaves.
Leaf-covered candles:
Autumn centerpiece: Orange fruits and vegetables make up this market-fresh centerpiece.
Make your own
pumpkin-shaped candles.
Pumpkin candles:
Wilt-proof: Use ceramics for a centerpiece with staying power.
Make your own
votive holders for this centerpiece.
No-stitch cross-stitch:
Make your own
mini pumpkin candle holders.
Tableau decorations:
Fall table decor
Fall table decor
Fall table decor
Fall table decor
Fall table decor
Fall table decor
Fall table decor
Fall table decor
STORY HIGHLIGHTS
Produce, especially pumpkins, work well as centerpieces
Candles, ceramics and dried gourds will not wilt on the table
Take a cue from autumn hues: Orange is ideal for a fall tableau
Editor's note: Looking for Thanksgiving Day centerpiece inspiration? Click through the gallery above and read the explanations below to learn more about the decorative possibilities for your holiday table.
(Martha Stewart Living) -- Great Pumpkins
A white-pumpkin shell becomes the vase for an arrangement of roses, daffodils, ranunculuses, calla lilies, tulips, and hypericum berries in fall colors -- yellows, peaches, and shades of orange. Smaller pumpkins and votive candles in orange-glass holders fill out the centerpiece.
Martha Stewart Living: Don't shelve these clever bookshelf decorating ideas
Leaf-Covered Candles
Don't miss out on the conversation we're having at CNN Living.
Follow us on Twitter
and
Facebook
for the latest stories and tell us what's influencing your life.
Lemon, mountain laurel, and rhododendron leave delightful impressions on homemade wax candles.
Martha Stewart Living: 15 kitchen shortcuts that will change the way you cook
Autumn Centerpiece
A quick trip to the market yielded this fall centerpiece, an informal arrangement of kumquats, squashes, and a bell pepper in a ceramic compote. Use whatever orange fruits and vegetables you find, such as baby pumpkins, carrots, persimmons, and, of course, oranges.
Pumpkin Candles
A molded candle can light up a room even after the flame is out. These arrangements draw from the natural beauty of the season, whether the candles are whimsical or realistic. They're ideal as a fall centerpiece.
Martha Stewart Living: 19 tips for perfect laundry every time
Wilt-Proof Centerpieces
A cluster of towers made from stacked patterned ceramics forms a graphic, sculptural centerpiece that will decorate your table day in and day out -- no green thumb needed. If you don't have an extra set of dishes lying around, you can buy great inexpensive rice bowls at an Asian outlet or pick up mixed sets at flea markets.
Martha Stewart Living: 20 super-efficient, super-effective ways to clean all the things
No-Stitch Cross-Stitch Candles
You don't need to spend hours to re-create the designs of early American samplers. We used a paint pen to "stitch" designs onto glass, imprinting leafy motifs on large candleholders for a centerpiece and monograms on votive holders for favors.
Martha Stewart Living: Instant organization: Get it together in 15 minutes or less
A Harvest Table
Transform a variety of dried gourds into tableware by hollowing them out and piling them high with pears and walnuts as centerpieces; fill others with candles in glass votives, and still more with salt and pepper.
Tableau Decorations
We anchored tapers inside mini pumpkins to make easy yet elegant centerpieces.
Martha Stewart Living: Curb your food cravings with yoga

Today's five most popular stories
Part of complete coverage on

CNN Living reflects your life. From advice for modern parents to the freshest news in food: It's all here.
August 7, 2014 -- Updated 1606 GMT (0006 HKT)

Travis and Joyce Miller started producing hickory syrup as an experiment. Demand for the unique flavor has turned into a full-time business.
August 5, 2014 -- Updated 1505 GMT (2305 HKT)

These happy couples kept the campfire flames burning, and turned summer flings into lifetime commitments.
August 7, 2014 -- Updated 1733 GMT (0133 HKT)

Shanesha Taylor says a moment of "desperation" led her to leave her children in a car during a job interview.
July 18, 2014 -- Updated 1555 GMT (2355 HKT)

Bikinis might dominate the beaches, but style editors and trend forecasters say the one-piece is the "fashion-forward" choice this season.
July 30, 2014 -- Updated 1442 GMT (2242 HKT)

Are you ready for this? These guidelines tell you when to wash everything, from sheets and cars to bras and hair.
August 7, 2014 -- Updated 1121 GMT (1921 HKT)

"I am a canvas of my experiences, my story is etched in lines and shading," says tattoo artist Kat Von D. Is this a good thing?