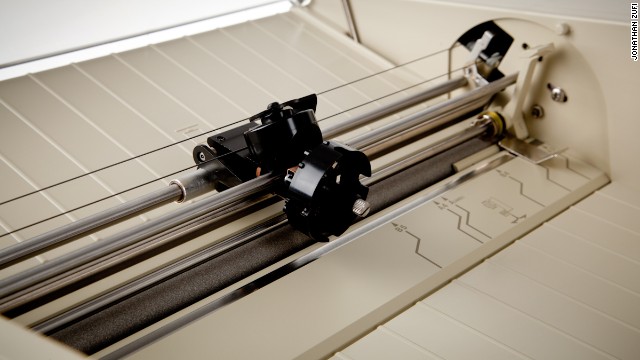 In his coffee-table book "Iconic," Jonathan Zufi shares photographs of nearly every Apple product ever created. It showcases many long-forgotten products, like this color plotter from 1984.
Zufi was given access to old Apple prototypes -- early test versions of products. Some, like this Apple III, went on to be hit products, while others never saw the light of day outside of Cupertino.
The Lisa 2 was released in 1984 and sold for what is now a mind-blowing $3,495 to $5,495. Its name was derived from Local Integrated System Architecture, but is generally acknowledged to have been named for founder Steve Jobs' daughter.
It doesn't look much like the Apple products that had come before it, or that would come after. But this rare, special-edition Powerbook 170 was released in Japan in 1991.
The limited-edition Twentieth Anniversary Macintosh was sold in 1997 to mark Apple's two decades of existence. It went for $7,499. As with many other products, Zufi focused on one small detail instead of photographing the whole product.
This is a prototype of the Newton, a "personal digital assistant" that-predated smartphones by a decade or so. It failed commercially, but remains beloved by some diehard Apple fans.
There have been six generations of the iPod Classic. As the digital music players get smaller and more colorful, the Classic maintains the form of the original and can now hold a whopping 160 GB worth of media.
With the exception of prototypes, Zufi said than all of the products he featured, like this Macintosh Powerbook G4 from 2001, were purchased on eBay. He says he's resold most of them.
In addition to the products themselves, Zufi included several photographs of them in their original packaging. This battered box held a Graphics Tablet, a very early device that could be used to draw images on the Apple II.
It says something about the fast-moving world of consumer technology that this image of the first-generation iPhone, released in 2007, already looks like a loving tribute to a gadget of the past.
The Magic Mouse, released in 2009, was the first commercially available mouse with multi-touch capabilities. It allows swiping and scrolling along its surface, mimicking the way people interact with their smartphones and tablets.
Zufi said he wanted to avoid images that looked like promotional product shots. He often focused on small details of Apple products, like this iPad Mini.
Apple co-founder Steve Wozniak wrote a foreword to Zufi's book, calling it "a thoughtful and artistic gift to Apple fans and employees alike."
The only non-Apple product in "Iconic" appears in its final image. A pair of glasses like those worn by co-founder Steve Jobs, who died in 2011, appear beside two words of text: "Thank you."
35 years of Apple design
Apple III
Lisa 2
Powerbook 170
Twentieth Anniversary Macintosh
Newton
iPod Classic
Macintosh Powerbook G4
Graphics Tablet packaging
iPhone
Magic Mouse
iPad Mini
iPods
Tribute to Steve
STORY HIGHLIGHTS
New coffee-table book documents nearly every product Apple has ever made
Book contains 350 pages of photos, from the Apple II to the iPad Mini
Author: "I didn't want to take photos that you could find in marketing material"
(CNN) -- A self-professed Apple fanatic, Jonathan Zufi was looking for a book of photography profiling the company's products through the years.
When he didn't find one, the Atlanta software engineer decided to make one himself.
"Iconic: A Photographic Tribute to Apple Innovation" is the result. Released last month, the hardcover, coffee-table book contains 350 pages of photos documenting nearly every product the company has ever made.
Apple has long been unapologetically focused on design and Zufi, a native of Melbourne, Australia, said he wanted to celebrate that with his images.
"Other companies came up with the guts for a machine and then the engineers would find a way to stuff them into a box," said Zufi. "Steve Jobs started with the box and said, 'You need to find a way to get the guts in.' "
The book, currently available only through its website, sells for $75, or $300 for a special edition which, along with other extras, comes with a custom-fit book case designed in a retro style inspired by Apple products of the 1970s and '80s.
It's all an unlikely project for a software engineer with no formal photography training. Zufi bought new equipment and consulted with a professional as he began the project, which was four years in the making.
All along, he focused on shooting artistic images that didn't resemble promotional product shots.
"I didn't want to take photos that you could find in marketing material," he said. Instead, he said he approached each shot by looking for an image that would "create that same emotional connection to that product, but maybe doesn't look like something you've seen before."
For example, when shooting the first version of the iPhone, released in 2007, he chose an image of the back of the phone.
"I don't really remember seeing a lot of the photos of the back," he said. "It's little things like that."
Zufi, who began sharing his images on the website Shrine of Apple, said he hasn't had any official communications with Apple about the book.
"I didn't even try to reach out. I knew that it probably wouldn't get anywhere," he said.
"I can tell you there's been an enormous outpouring of support and enthusiasm from employees. People at the company are buying the book -- they're buying it for themselves, they're buying it for their friends ... . That feedback is obviously very gratifying."
No less of an authority than Apple co-founder Steve Wozniak wrote a foreword to the book.
"Within these pages, Jonathan presents a thoughtful and artistic gift to Apple fans and employees alike; photographs of Apple products -- from hardware to packaging -- the likes of which I've never seen compiled before," he writes. "Jonathan's passion for this project is reflected on every page, and each honors the hard work of every employee and collaborator that has passed through Apple's doors."