Cargo jet takes off from Wichita on short runway
November 21, 2013 -- Updated 2121 GMT (0521 HKT)
STORY HIGHLIGHTS
NEW: The plane landed safely at McConell Air Force Base
"Gawkers have caused accidents," one official says
Jabara Airport has no control tower and a much shorter runway
The FAA is investigating the incident
(CNN) -- A mammoth cargo plane that landed Wednesday night at the wrong airport in Wichita, Kansas -- one that typically does not accommodate such beasts -- took off without incident Thursday afternoon on a runway half a mile shorter than it usually uses.
The Boeing 747 Dreamlifter's massive engines roared as it lumbered down the pavement, then lifted off and disappeared into the overcast sky.
A few minutes later, it landed without incident at the airport 12 miles across town where it was originally supposed to land -- McConnell Air Force Base.
An investigation has begun into what caused the pilot to land at the wrong airport, said Bonnie Rodney, a spokeswoman for Atlas Air, which operates the Boeing-owned jet.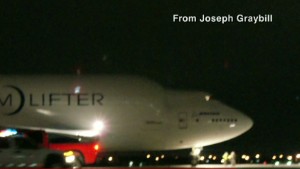 Plane stuck at airport
It was laden with cargo intended for Boeing, she said.
Boeing said the cargo was a B-787 fuselage.
Elaborate precautions had been taken to ensure no one got hurt in the take-off attempt. Police closed nearby roads and urged area residents to stay away from the airport.
"Onlookers and gawkers have caused accidents," said Roger Xanders, chief of airport police and fire.
The takeoff came less than a day after the plane, which was bound for McConnell from New York's John F. Kennedy International Airport, missed its mark.
Instead of landing, as had been planned, at the military airport on Wichita's southeast side, it landed at the much smaller, general aviation Col. James Jabara Airport on the northeast side.
Jabara has no control tower and normally doesn't handle jumbo jets.
The Atlas Air 747 Dreamlifter is a modified 747-400 passenger airplane that can haul more cargo by volume than any airplane in the world.
When fully loaded, the Dreamlifter needs a runway 9,199 feet long to take off, reports affiliate KWCH. The Jabara runway is 6,101 feet.
But a spokeswoman for the airport authority, Valerie Wise, cited favorable weather Thursday and the fact that much of the fuel had been used in the flight from JFK -- which lightened the weight of the plane -- for the conclusion that it was safe to take off on the shorter runway. "The engineers have been running calculations all night," she said.
Photos: Boeing through the ages
CNN's Mike Ahlers, Aaron Cooper, Dave Alsup, Jake Carpenter and Justin Lear contributed to this report.

Today's five most popular stories
Part of complete coverage on

For 24 hours, we made the world's busiest airport our destination and found a world unto its own. Join us on our journey. What you see will surprise you.
November 21, 2013 -- Updated 1558 GMT (2358 HKT)

Watch hours turn to seconds at the world's busiest airport.

A bittersweet blend of joy and heartache is all too common at the world's busiest airport, where moments of love and loss are carried like precious cargo and unwieldy baggage.

Amid the travelers and workers are those who don't belong — especially after midnight, when the airport gets quiet. Police and medics offer compassion along with a firm hand.
November 20, 2013 -- Updated 2343 GMT (0743 HKT)

Watch hours turn to seconds at the world's busiest airport.

They clean the floors and toilets. They serve you that much-needed drink between flights, and then release you to those who ferry you safely through the air.

Departures and arrivals create little bursts of fanfare. And at ATL, where most travelers are changing planes, time-killing strategies are varied. Airport spa or whiskey shots, anyone?

They clear planes for takeoff, track storms and make sure that package you ordered arrives on time. Once you meet them, you'll never look at an airport the same way again.

Troops made the airport a military crossroads. Now, it's a spot where recruits meet before going to basic training. Their mission is the same, though: Keep America safe.

Fish in a suitcase, a cow's head and a giraffe bone — oh, and don't forget the guns, bugs and drugs. Officers and dogs sift and sniff travelers' bags for contraband and explosives.

It will make six flights in 12 hours, cover 1,800 miles and carry 500 passengers, four pilots, six flight attendants -- and two reporters. Oh, the stories this 717 could tell!