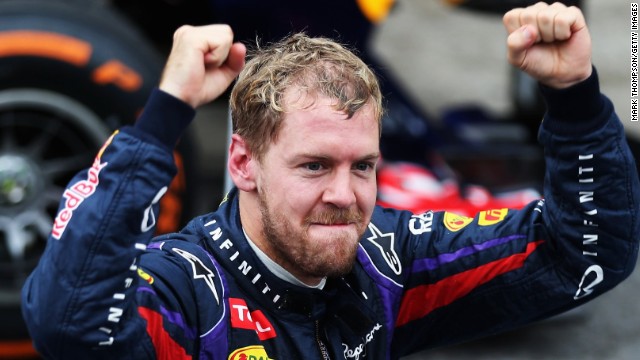 Sebastian Vettel was completing his ninth straight victory and 13th of a triumphant and record breaking 2013 season.
Mark Webber shed his helmet after crossing the line second in his final Grand Prix before departing to sports car racing.
Vettel and Webber embrace after their one-two in the Brazilian Grand Prix to round off the 2013 season.
Vettel treated the crowd to a tire burning donut after wrapping up his ninth straight F1 victory by claiming the Brazilian Grand Prix.
Felipe Massa said farewell to Ferrari with a battling seventh place after a drive through penalty in Brazil.
Record breaking Vettel
Cool Webber
Red Bull unity
Burn up boy
Massa goodbye
STORY HIGHLIGHTS
Sebastian Vettel wins Brazilian Grand Prix
Equals two long standing records
13th of the season and ninth straight victory
Red Bull teammate Mark Webber second on farewell to F1
(CNN) -- Sebastian Vettel cemented his place in F1 history with a ninth straight victory and 13th of the season as his teammate Mark Webber bade farewell by completing a one-two for Red Bull in Brazil Sunday.
Rounding off a triumphant 2013, four-time champion Vettel led from start to finish to finish just over 10 seconds clear of Webber, with Fernando Alonso of Ferrari in third place.
Vettel was equaling Alberto Ascari's record for successive Grand Prix victories, the Italian achieving the feat over two seasons with Ferrari in 1952 and 1953.
He also matched the record haul of 13 wins achieved by his German compatriot Michael Schumacher in the 2004 season.
Webber was unable to exert any real pressure on Vettel in his bid to sign off his F1 career with a victory, but was satisfied with his efforts before moving to sportscar racing.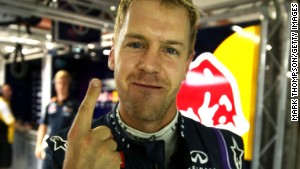 Vettel's dominance could bore F1 fans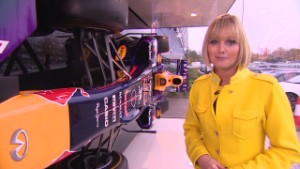 Celebrations at the Red Bull F1 Factory
"It was a good finish to my career," he said on the podium.
Read: Vettel takes pole at Interlagos
"I want to thank everyone in Australia and I want to thank everyone who has helped me -- they know who they are."
Vettel has often found himself at odds with Webber in recent seasons, he acknowledged as much in his remarks at the victory celebration, but also paid tribute to his teammate.
"Thanks to Mark, we didn't have the best of relationships but we have also have always had a lot of respect for each other and we have been a very successful pairing for the team," he said.
At just 26, Vettel has already completed 39 career wins, his latest triumphs coming in an incredible unbeaten run since the Belgian Grand Prix in July.
Read: Red Bull sets F1 pitstop record in Texas
"I am actually quite sad the season is coming to an end. The car has been phenomenal and has been getting better in every race," he added.
Alonso's teammate Felipe Massa also said farewell to Ferrari in front of his home crowd at Interlagos, but was thwarted by a drive through penalty for a minor technical infringement after holding fourth place.
He eventually finished seventh in his final race before heading to Williams for next season.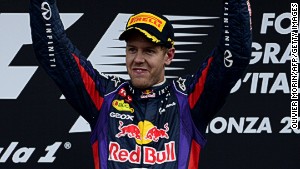 What's behind Vettel's winning streak?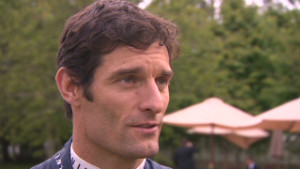 CNN Greatest F1 Driver: Day Four
Two-time champion Alonso, who finished a distant runner-up to Alonso in the title race, believed that without the penalty "a podium was close for Felipe."
The Spaniard added: "It's sad but for the last four years he's been an amazing teammate with amazing skills and we've had a friendly relationship."
With rain threatening throughout, the only difficult moment for Vettel came as he made his second pit stop, the Red Bull team left unprepared as they anticipated the safety car.
Read: Affable Aussie aims for victory in F1 farewell
The minor hold up saw Webber and Alonso take closer order, but Vettel was unruffled and took the checkered flag in splendid isolation as so often in the latter part of the season.
Jenson Button claimed McLaren's highest placing of the season in fourth ahead of Nico Rosberg for Mercedes.
Sergio Perez, dropped by McLaren for next season, rounded off his career with them with sixth place, ahead of Massa.
Promising German Nico Hulkenberg was eighth for Sauber ahead of 2008 champion Lewis Hamilton, whose challenge for Mercedes was hampered by both a puncture and a drive through penalty.
Australian Daniel Ricciardo, in his final race for Toro Rosso before replacing compatriot Webber at Red Bull, took the final point.