Rare Psalm book sells for $14.2 million
November 27, 2013 -- Updated 0722 GMT (1522 HKT)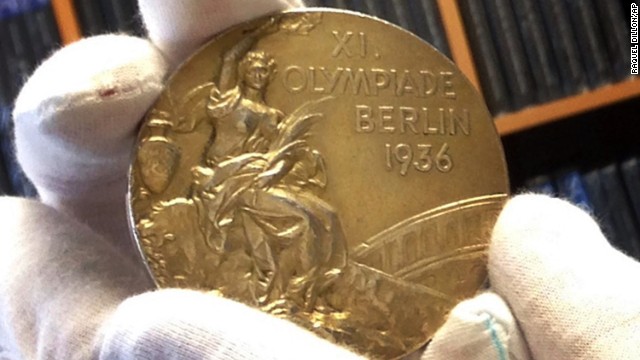 Jesse Owens' 1936 gold medal sold for $1,466,574 at auction on Sunday, December 8, setting a record for the highest price paid for Olympic memorabilia. This medal is considered one of the most important in Olympics history and is one of four Owens won at the 1936 games in Berlin, spoiling Adolf Hitler's planned showcase of Aryan superiority.
Norman Rockwell's painting "Saying Grace" sold for $46 million on Wednesday, December 4, at Sotheby's American Art auction. It was a record for works by the late artist and for a single American painting. The illustration originally appeared on the Thanksgiving issue cover of The Saturday Evening Post in 1951.
For the first time since 1947, and only the second time since the 19th century, a copy of the first book printed in America will be sold at auction. The Whole Book of Psalmes -- universally known as The Bay Psalm Book -- was produced in the virtual wilderness of Massachusetts Bay Colony by the Congregationalist Puritans.
Titanic band leader Wallace Hartley's violin sold for $1.7 million at Henry Aldridge and Son Auctioneers in Devizes, England, on Saturday, October 19. The sale price was far higher than expected.
An engraving from Wallace Hartley's fiance, Maria Robinson, is attached to the Titanic band leader's violin.
This 1954 Mercedes-Benz W196 recently sold at auction for $30 million in England. It was part of a group of race cars that won nine of 12 Forrmula 1 World Championship-qualifying races during 1954 and 1955 and was driven by Juan Manuel Fangio.
The October yearlings sale at Tattersalls auction house in England saw a number of auction records broken in brisk trade.
A 118-carat white diamond is on display at Sotheby's, a New York auction house, on September 4. The oval stone was auctioned off in Hong Kong on October 7 for a record $30.6 million.
Going, going, gone wild
Going, going, gone wild
Going, going, gone wild
Going, going, gone wild
Going, going, gone wild
Going, going, gone wild
Going, going, gone wild
Going, going, gone wild
STORY HIGHLIGHTS
Buyer is philanthropist David Rubenstein
Gavel goes down at $14.2 million at Sotheby's
Rare Bay Psalm Book is the first book ever written and printed in America
The book came from the collection of the Old South Church in Boston
New York (CNN) -- The world's most valuable book sold Tuesday for $14.16 million at Sotheby's in New York, according to the auction house.
The rare Bay Psalm Book is the first book ever written and printed in what is now the United States. Its sale set a record for a book sold at auction, Sotheby's said.
Philanthropist David Rubenstein purchased one of 11 surviving copies.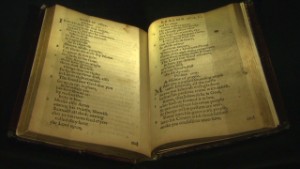 World's most valuable book sells at auction
He "plans to share it with the American public by loaning it to libraries across the country, before putting it on long-term loan at one of them," according to Sotheby's.
The Bay Psalm Book is a translation of the biblical psalms by the Puritans and was an important part of their church service.
"It's so very valuable because it is the beginning of Western civilization in our country," said David Redden, vice chairman of Sotheby's. "In fact, it is the first poetry in America -- it's as simple as that."
Currently, the 11 surviving versions of the 1,700 originally printed are in institutional collections, including Harvard, Yale, Oxford, the New York Public Library and the Huntington Library in California.
The book auctioned Tuesday is from the collection of the Old South Church in Boston, Massachusetts, which had it for more than 300 years. It is one of two copies in their possession, with the sale intended to support its mission and ministry in Boston.
Congregationalist Puritans, who settled around Massachusetts Bay in search of religious freedom, wanted to translate and produce a version of the Book of Psalms closer to the Hebrew original than the one they had brought over from England.
The first edition of the Bay Psalm Book was printed in Cambridge, Massachusetts. Tuesday's sale is the first time since 1947 and the second time since 1894 that a copy has appeared at auction. In 1947, it achieved a higher price than any other book printed at the time, when Sotheby's sold it for $151,000.
"This little book of 1640 was a precursor to Lexington and Concord, and, ultimately, to American political independence," Redden said. "With it, New England declared its independence from the Church of England."
Tuesday's sale eclipses the previous auction record for a printed book, at Sotheby's London, when a copy of John James Audubon's Birds of America sold for $11.5 million in 2010, the auction house said.
Francis Bacon painting auctioned for more than $142 million, breaks record
Flawless white diamond sells for record $30 million at Hong Kong auction

Today's five most popular stories
Part of complete coverage on
CNN Style
October 22, 2014 -- Updated 1422 GMT (2222 HKT)

Contemporary Chinese art can be a thorny jungle for the uninitiated. Here are the movements and artists you need to know.
October 22, 2014 -- Updated 1334 GMT (2134 HKT)

Today, mourning a loved one means donning the most formal black outfit in one's closet. But 150 years ago, it meant buying a whole new wardrobe.
October 20, 2014 -- Updated 1427 GMT (2227 HKT)

Some artists are obsessed with making things tiny. Others are into vastness. Here are incredible works from both ends of the size spectrum.
October 17, 2014 -- Updated 1221 GMT (2021 HKT)

Close one eye, and it could almost -- almost -- pass for a regular underground train. Close the other, and it looks like a space shuttle from Star Trek.
October 16, 2014 -- Updated 1431 GMT (2231 HKT)

Soup that is rumored to be radioactive; 10 people sharing a single silk hat. It could only be Frieze London, one of the world's leading art fairs.
October 17, 2014 -- Updated 0939 GMT (1739 HKT)

In spite of all the sexier pictures around us, the titillating pin-ups of the early 20th century are still in demand.
October 9, 2014 -- Updated 1150 GMT (1950 HKT)

Iris has autism and cannot speak, but her stunning paintings sell for thousands of dollars.
October 8, 2014 -- Updated 1055 GMT (1855 HKT)

Here's a look at the world's finest feats of facial hair, from sculpted sideburns to manicured mustaches.
October 6, 2014 -- Updated 1502 GMT (2302 HKT)

The finest buildings in the world have been named at the World Architecture Festival in Singapore.
October 1, 2014 -- Updated 2332 GMT (0732 HKT)

For some, these beautiful train stations are part of the everyday commute. For others, they're must-see travel destinations.
October 1, 2014 -- Updated 1343 GMT (2143 HKT)

As the Turner Prize turns 30 years old, we look at the formula for controversy and what the work we hate says about our society.
September 29, 2014 -- Updated 1249 GMT (2049 HKT)

From the most controversial to the most iconic, these are the book covers that have defined our times