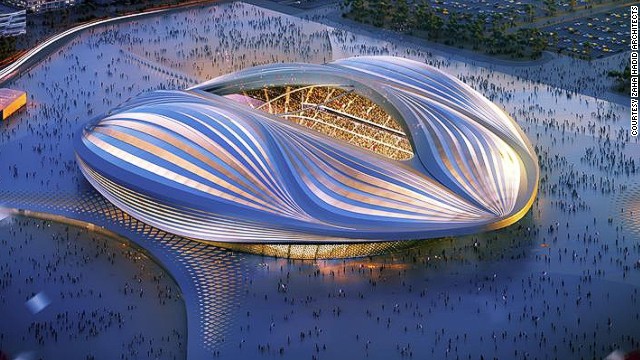 Zaha Hadid's design for the Qatar 2022 World Cup stadium attracted criticism for its resemblance to a certain part of the female anatomy. She says that it was inspired by the sail of a dhow, a traditional Arab fishing boat, but we leave it to you to decide.
Creators of the Absolute World Towers 1 & 2 in Mississauga, Canada, were not shy to admit the inspiration behind their design - Marilyn Monroe's shapely curves. The buildings, which were also nicknamed after the iconic actress, were voted the best skyscraper completed in 2012.
The design for Apple's new headquarters looks more suited to the set of Star Wars than Cupertino, California. The round structure has been compared to a space ship and the tree-filled central green space is the size of a small forest. Let's hope GPS systems are included in employee benefits...
This plan won the international design competition for the new Museum of the Human Body in Montpellier, France. Inside its curvy form, the human body will be explored from an artistic, scientific and societal point of view.
The Flame Towers of Baku, Azerbaijan, twist sensually high above the capital's skyline. They are completely covered in LED screens and at night flicker like fire, visible from all points in the city.
The Batumi Aquarium in the seaside city of Batumi, Georgia, is inspired by pebbles that wash out on its beaches. The structure, which resembles a rock formation, is due for completion in 2015, and will be visible from both land and sea.
Wangjing SOHO is an office and retail complex in Beijing whose gently curving walls resemble Chinese fans embraced in an entrancing dance. The design, due to be completed in 2014, is meant to evoke the image of Koi, a traditional Chinese symbol of wealth, luck, health and happiness.
Zaha Hadid's plan for the redevelopment of a disused factory in Belgrade, Serbia, gives a lesson in regeneration with style. Indoor and outdoor spaces are seamlessly fused by meandering flow lines, seductively enticing visitors to go in.
Heydar Aliyev Cultural Center in Azerbeijan's capital Baku is all sensual folds and soft lines. Situated on the main road into the city, its balletic shape turns heads of locals and tourists alike.
The pedestrian walkway across Meixi Lake in Changsha, China, is modeled after the Möbius strip, a never-ending form whose end connects to its beginning. The sinuous footbridge will have multiple pathways, and construction is expected to start in 2014.
Regium Waterfront in Reggio Calabria, southern Italy, draws inspiration from the symmetry of a starfish. Its smooth, curving structure will house the Museum of Mediterranean History. Completion is planned for 2015.
The Blue Planet in Copenhagen, northern Europe's largest aquarium, opened to the public in March. Located on the waterfront, its gently sloping wings resemble a whirlpool that binds the sea and land together.
The Wave building in the Danish town of Vejle mirrors the soft movements on the surface of the fjord during the day, and resembles illuminated mountain peaks at night.
The library in the Chinese city of Dalian is designed to curve sensuously around a central core that will house a public space with a water feature. The building weaves into the ground creating a series of courtyards, before sweeping into the air forming a bold landmark.
The hourglass shape of Soumaya Museum in Mexico City is completely clad in aluminium, and its seductive form houses a priceless collection of European art.
A feminine form
Superstar in the building
The Mothership
Mystique of human body
Fire dance
Man-made or nature-made?
Enchanting fans
From factory to fantasy
The temptress of Caucausus
The bridge with no end
Sea creature on land
Blurring the edges of water and earth
Metamorphoses of architecture
The marriage of contrasts
Art on the inside, art on the outside
STORY HIGHLIGHTS
There has been a flurry of ultra curvy building proposals of late
New research suggests our attraction to soft lines rooted in psyche
One design expert believes it's all related to sex
(CNN) -- Are things looking a little wavy to you?
From London's "Gherkin" to the "Marilyn Monroe" Towers in Ontario, when traveling through most of the world's major cities, you'd be forgiven for thinking that town planners had tried to baby-proof new buildings by imposing a strict ban on right-angles.
Indeed, if a flurry of new landmark building proposals are anything to go by, things are about to get a whole lot curvier.
Last week, Zaha Hadid unveiled her design for the 2022 World Cup soccer stadium in Qatar. Inspired by the dhow, a traditional Qatari fishing boat, its sensual roof curves and bends, like a free-flowing sail in the wind.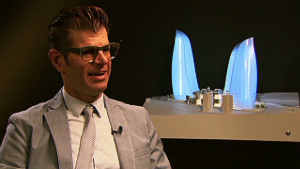 Rem Koolhaas' iconic anti-skyscraper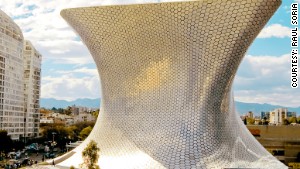 Mexico's shimmering shrine to art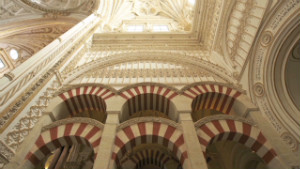 Zaha Hadid's favorite buildings
At the same time, the Cupertino city council gave Apple final approval for Apple Campus 2 -- its massive new headquarters designed by starchitect Norman Foster. With an ultra-orbital shape and curving glass exterior, the building resembles a shimmering spaceship that has landed delicately in the fields of California.
And these are just two examples plucked from an ever-swelling list of proposed major structures with curling, sinuous and twisting features.
Nature vs nurture
It's tempting to think that this wave of wavy buildings merely reflects the dominant fashion of the age. But a growing body of research suggests that a strong preference for curvy shapes may in fact be hard-wired into the human brain.
Read: How David Hockney became the world's preeminent iPad artist
Psychologists have been toying with the idea that we respond to curves more positively than sharp lines for at least a century.
"Curves are in general felt to be more beautiful than straight lines," announced psychologist Kate Gordon in 1909. "They are more graceful and pliable, and avoid the harshness of some straight lines."
Now, more than a century later, a psychologist at the University of Toronto has put this conjecture to the test.
Oshin Vartanian and his colleagues slipped a group of people inside a brain-scanning machine and flashed hundreds of interior designs -- some curvy, some angular -- in front of them. They then had the choice of describing each room as either "beautiful" or "not beautiful."
The study found that participants overwhelmingly preferred interior spaces with curving coffee tables, meandering sofas and winding floor patterns to rooms filled with angular furniture and rectilinear design.
But here's the really juicy bit: Vartanian's brain scans showed that curvy designs led to a burst of activity in the anterior cingulate cortex (ACC), a region of the brain known to contribute to emotional experiences -- whereas rooms filled with sharp corners and perpendicular lines did not.
In other words, it looks like our brain circuitry comes pre-installed with an emotional attachment to rounded forms.
But why?
Paul Silvia, an assistant professor of psychology at the University of North Carolina at Greensboro, believes that a positive response to curves may spring from our relationship with natural environments.
Between vast rolling hills and gently contoured flower petals, right-angles are a rarity in the great-outdoors. "Curved buildings can point to nature, whereas angular buildings contrast with it," he says. "Instead of blending into the environment or evoking natural themes, they stand apart from it by using one of the few shapes you never see in nature—a perfect box."
Read: 50 years since pop culture's youth revolution
Silvia also points out that we're all born attuned to human faces. As anyone who's ever held a baby knows, their large round eyes frequently trigger uncontrollable feelings of warmth.
"Curved and rounded objects are so much more familiar that they seem more natural and 'right,'" he says.
On the other hand, sharp objects can appear decidedly wrong. Research from Harvard Medical School found that the amygdala, the brain's fear center, is significantly more active when people view angular objects, such as a sofa with sharp corners or a square watch, than when looking at curvier alternatives.
Curved buildings can point to nature, whereas angular buildings contrast with it
Paul Silvia, assistant professor of psychology
Rules of attraction
Hadid's soccer stadium in Qatar has been compared to a vagina, a description she has distanced herself from. But Stephen Bayley, a British architecture critic and the former chief executive of London's Design Museum, is convinced there is a sexual element in our response to curves.
"For reasons hidden in the foundations of the brain's architecture, a curve, because it suggests warmth and well-being and harmony, touches a more profound part of the psyche than a parallelogram," he says. "Maybe this is because a woman's breasts are generally not right-angled."
The instinct to appreciate curves may be hard-wired, but that doesn't mean architects will follow the instinct indefinitely. Fads tend to fall out of favor, only to re-emerge years later.
Bayley remembers how, several years ago, Norman Foster constructed an "unapologetically square building" for his London headquarters. A few years later he built a "wantonly curvaceous" residential building right next door. There is a clear lesson. "At this historic moment curves get a high approval rating," Bayley says. "But, as the rule of taste suggests, that will change again soon."