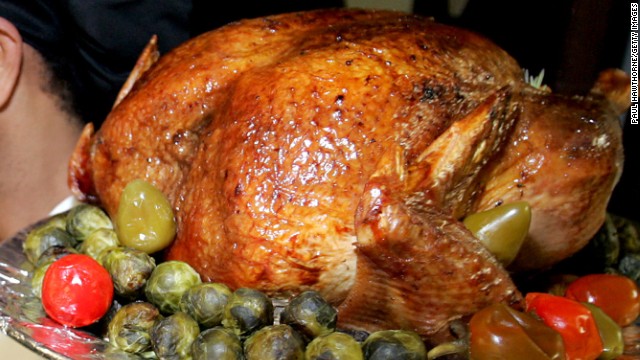 Thanksgiving can be a stressful holiday from the seemingly endless airport delays to the laborious cooking process and the sometimes awkward dinner table conversations. But while your Thanksgiving might not be the best, it's probably not as bad as the ones that are sometimes depicted on television shows or in movies. With that in mind, we came up with a list of 10 television and cinematic Thanksgivings that hopefully are far worse than yours:
Not only is Steve Martin's character, Neal Page, stranded in "Planes, Trains and Automobiles," but he's stranded alongside the annoying salesman Del Griffith (John Candy). The duo suffer a series of misadventures together -- including a robbery, endless fights and a destroyed rental car -- while trying to make it home. The journey ends on a bit of high note but with what is surely one of the most heartbreaking Thanksgiving moments ever seen onscreen.
In the Jodie Foster-directed "Home for the Holidays," Holly Hunter's character returns to her rambunctious family for Thanksgiving. Craziness follows leading the main character to wonder how she came from such a disastrous and weird family. Your strange in-laws have nothing on this wacky crew.
Chris O'Donnell stars in "Scent of a Woman" as a young man escorting blind Lt. Col. Frank Slade (Al Pacino) over Thanksgiving weekend. If Slade's obnoxious behavior wasn't enough to drive anyone crazy, a Thanksgiving dinner where he criticizes his family and gets into a fight is enough to make any awkward dinner conversation you encounter seem tame by comparison.
In "Spider-Man," it's at the Thanksgiving dinner that the psychotic Norman Osborn (Willem Dafoe) realizes that his friend Peter Parker (Tobey Maguire) is Spidey. Norman, whose secret identity is the Green Goblin, later seeks revenge on Spider-Man and his family. Although the dinner itself is fine, it's the revelations there that put Parker's family at great risk.
Although the two main characters in "Grumpy Old Men" (played by Jack Lemmon and Walter Matthau) spend their holiday with family, they both really want to spend it with the new woman in town (Ann-Margret). On Thanksgiving night, a mutual friend of theirs arrives at the woman's door, leaving both grumpy old men jealous and bitter.
We imagine Marie Barone (Doris Roberts) had to separate hubby Frank Barone (the late Peter Boyle) and son Ray (Ray Romano) during the holidays on "Everybody Loves Raymond." In the comedy's third season, Marie decides to cook a tofu turkey for her entire family. Not only are the men horrified by the lack of meat at the table but daughter-in-law and ally in the tofu Thanksgiving, Debra (Patricia Heaton), is also horrified by the taste.
In this first "Friends" Thanksgiving episode, Monica (Courteney Cox) -- shown here with Chandler (Matthew Perry) -- spends much of her day trying to please everyone with an assortment of holiday dishes. However, when Underdog, the Macy's Day parade balloon, floats away, the whole group is locked out of the apartment, leaving the meticulously prepared meal in shambles.
In this year's Thanksgiving episode of "The Big Bang Theory," the gang heads off to Howard's (Simon Helberg, left) mother's house for a memorable Thanksgiving. Sheldon (Jim Parsons, right) spends the afternoon getting drunk with Howard's father-in-law (Casey Sander, center) as the two mock Howard.
Although Seth Cohen (Adam Brody) started out on "The O.C." as a lonely teen, he eventually had two woman pursuing him at the same time. During the show's first Thanksgiving episode though, both realized that he was two-timing them leading to two women wanting his corpse on the dining room table, rather than the body of a dead turkey. Here Cohen is seen with Anna Stern (Samaire Armstrong).
In first Thanksgiving episode of "New Girl," Jess (played by Zooey Deschanel, second from right) invites her cruhh Paul (Justin Long, right) to the loft to spend the holiday with her roommates. Cooking mishaps follow, and a shocker. Also pictured are characters Nick Miller (Jake Johnson ) and Cece (Hannah Simone).
10 Thanksgiving disasters
10 Thanksgiving disasters
10 Thanksgiving disasters
10 Thanksgiving disasters
10 Thanksgiving disasters
10 Thanksgiving disasters
10 Thanksgiving disasters
10 Thanksgiving disasters
10 Thanksgiving disasters
10 Thanksgiving disasters
10 Thanksgiving disasters