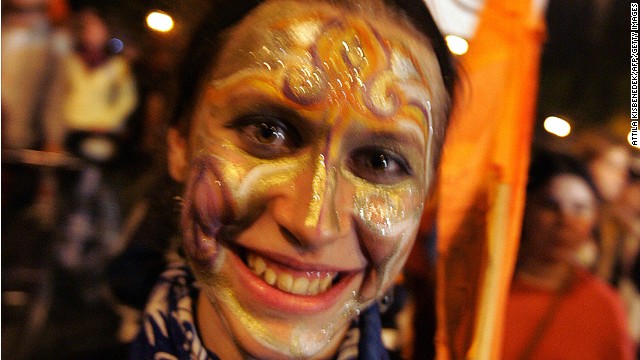 Budapest is the most welcoming of European cities, according to Housetrip.com. This painted lady in the city's Heroes' Square sure has a ready grin.
The Portuguese capital scored second in the poll overall -- and travelers with a pooch won't find any city more welcoming.
Third most welcoming among Europe's most popular 30 cities, Amsterdam's overflowing with the milk of human kindness in autumn, apparently.
Cole Porter got it right: Paris is loveliest in spring. And couples, it seems, are always welcome there.
Rome's at its seasonal best in summer, says HouseTrip.com. At least there are plenty of ancient fountains to cool off in.
Your shoes might freeze to the pavement but you'll be warmly welcomed if you make it to a bar in Berlin.
Feel no fear strolling alone into your average Madrid tapas bar. Your welcome will be unequaled.
Winning smile
From Lisbon, with dog love
Autumnal Amsterdam
Paris in the springtime
But Rome in the summer?
Berlin even cooler in winter
Solo travelers, si!
STORY HIGHLIGHTS
Budapest most welcoming city overall, says rental website
Paris nicest in springtime and Berlin friendliest in winter
Lisbon's especially welcoming if you're (traveling with) a pet
(CNN) -- A visa, toothpaste, spare underwear.
All essentials for a decent vacation.
But what about something less substantial -- a pleasant welcome when you arrive?
After all, the friendliness of the people you meet often determines whether your memories of a place are fond or foul.
Now welcomes have been rated.
The apartment-rental website HouseTrip.com (which operates on a similar model to Airbnb) has crunched the numbers on 130,000 of its users' European city reviews.
And the city most often given a five-star rating across the seasons for its all-round cheeriness was that capital of grand boulevards and paprika-scented restaurants, Budapest.
Lisbon scored second-best for the quality of its welcomes overall, and Amsterdam came third.
More: 11 things to know before visiting Hungary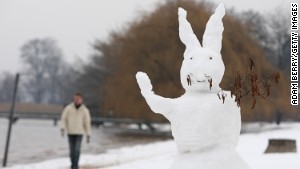 Berlin's even cooler in winter -- apparently.
Welcome secrets
The secret of a good welcome?
HouseTrip reckons it isn't so complicated.
"Budapest is a consistently good option because costs are so low," said the website's CEO, Arnaud Bertrand.
"Travelers feel like they get what they pay for ... which leads to them feeling happier and more satisfied with their stay."
So it's all about being cheap.
Yet welcomes seem to be seasonal.
While Budapest scored highest throughout the year, it wasn't the most welcoming city in any one season.
Instead, Paris was the most convivial city in spring, Rome in summer, Amsterdam in autumn and Berlin in deepest winter.
Brawling room at the Pantheon
Apart from Paris in the springtime -- the song seems to have it right -- those results often defy expectations.
Rome in summer? When traffic rage boils over and it's brawling room only at the Pantheon?
And in wintry Berlin it's hard to think of anything else but your shoes freezing to the sidewalk.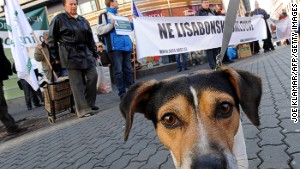 Lisbon: Perfect with pet.
But "friendly locals and cozy bars mean our guests love the [Berlin] experience," says HouseTrip.com.
Solo travelers, si!
In other results, Paris was rated the most welcoming city for couples and Madrid for solo travelers.
Lisbon was the best place to travel with a pet.
More: 20 most annoying things people do on planes