Real Madrid, Barcelona fined $10M over TV rights deal
updated 5:18 PM EST, Mon December 2, 2013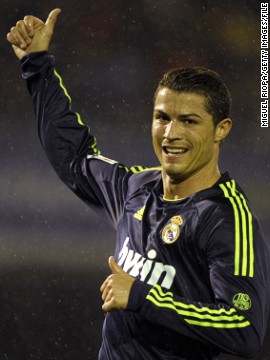 Real Madrid have usurped Manchester United as the world's most valuable soccer club according to Forbes. The Spanish giants, whose star player is Cristiano Ronaldo, increased their value by 76% over the past year to $3.3 billion.
Since Forbes started their study in 2004 this is the first time English Premier League club Manchester United have not appeared top. Despite bumper commercial deals with Chevrolet and Aon taking their value to $3.17bn they have to make do with second place.
Barcelona, who count arguably the world's best player Lionel Messi among their ranks, are third on the list, as they were in 2012. They almost doubled their value over the previous year -- the biggest rise out of any club in the top 20 -- to $2.6 billion.
Arsenal, who have qualified for the lucrative European Champions League for 15 successive seasons, remain fourth on Forbes' list. Led by Arsene Wenger, they have built up a substantial amount of cash reserves since their move to a new stadium. Their value stands at $1.32 billion.
German champions Bayern Munich, who are still on course for an historic treble, are fifth on the list with a value of $1.3 billion. Former Barcelona coach Pep Guardiola is joining the club at the end of the current season.
AC Milan are the only club in the top 10 to have gone down in value in the previous year but despite that their figure is put at £945 million.
Chelsea, owned by Russian billionaire Roman Abramovich, are seventh. Their value is $901 million and has gone up 18% in the past year. Their biggest name is striker Fernando Torres, who cost them $76 million from Liverpool in 2011.
On course for the title in Italy's Serie A, Juventus are valued at $694 million which puts them eighth on Forbes' countdown.
Big-spending Manchester City are ninth on the list with a value of $689 million. Since they were bought by Sheikh Mansour bin Zayed Al Nahyan, the new owner has spent an estimated $1.5 billion on the club. They won their first English top flight title for 44 years in 2012.
English club Liverpool, owned by John W. Henry's Fenway Group -- who also own the Boston Red Sox -- have a value of $651 million, which is up 5% on last year.
Real Madrid - the world's most valuable club
2. Manchester United
3. Barcelona
4. Arsenal
5. Bayern Munich
6. AC Milan
7. Chelsea
8. Juventus
9. Manchester City
10. Liverpool
STORY HIGHLIGHTS
Four Spanish clubs fined over four-year TV rights deal with Mediapro
Country's anti-competition law says such contracts can only be for three years
La Liga champion Barcelona and rival Real fined $10 million between them
Sevilla and Santander also fined, while Mediapro must pay almost $9 million
(CNN) -- Barcelona and Real Madrid have been fined for breaking Spain's anti-competition laws when agreeing a television deal for their domestic league and cup soccer matches.
The two clubs, along with Sevilla and Racing Santander, must pay almost €8.5 million ($11.5 million) between them, while TV production company Mediapro has been fined €6.5 million ($8.8 million).
They were found guilty by Spain's National Markets and Competition Commission (CNMC) of agreeing a TV rights deal of longer than the stipulated three years.
In 2010, the clubs agreed four-year contracts with Mediapro.
Real was fined €3.9 million ($5.28 million), Sevilla €900,000 ($1.21 million) and Santander €30,000 ($40,624) -- all in line with the values of their respective contracts.
La Liga champion Barca said Monday it intends to appeal its €3.6 million ($4.87 million) fine within the allowed two-month window, but would pay despite it having "an economic impact" on this season's operations "subject to a favorable ruling on future courts involving the refund of payment made."
"FC Barcelona's appeal is based on the consideration that the signing of the contract was consistent with the provisions of the General Law on Audiovisual Communication, and also that the contract of assignment of rights mentioned has not affected in practice the audiovisual market," its website reported.
"The contract was signed by the previous Board, dated June 9, 2010, four days before the presidential elections. That decision was challenged by some candidates."
Sandro Rosell, Barca's current club president, took over from Joan Laporta -- whose reign lasted from 2003-10.
Spanish clubs, unlike those in other top European leagues, do not have collective television agreements.
Real and Barca hold 50% of the top division's TV income, with the other half shared among the other 18 clubs.
It has helped the leading duo not only dominate the domestic competition, but also become two of the world's most wealthy clubs -- allowing Real to splash out $132 million on Gareth Bale in August while also tying star player Cristiano Ronaldo to a lucrative new long-term contract worth a reported $206 million.
Barca's financial resources are not quite so deep, though have improved since accepting shirt sponsorship for the first time in 2010 with the Qatar Foundation -- a five-year deal reportedly worth up to $225 million. The club signed Brazil star Neymar for $75 million in May.
The CNMC said in a statement explaining the ruling that the four clubs and Mediapro had committed "a very serious offense" by breaking its April 14, 2010 ruling on the acquisition of broadcasting rights for football competitions.
Read: Bale fires first hat-trick for Real
Read: Barca stumbles to first league defeat