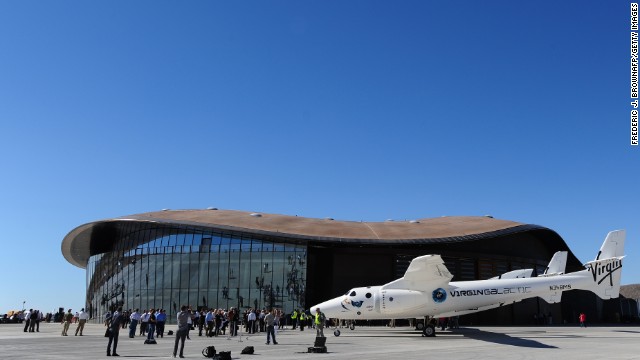 Virgin Galactic -- Spaceport America's anchor tenant -- is slated to start operating next year.
Tickets to space currently go for $250,000. At the moment, it seems the area around the Spaceport isn't set up for the luxury needs of Richard Branson's high-earning customers.
Once space flights start, it is estimated that 200,000 people will visit the Spaceport and the surrounding area each year
The numbers are sure to have a large impact on Truth or Consequences, or T or C, the nearest town, which has a population of 7,000.
While the Spaceport is already attracting some visitors, the few tourists that trickle into T or C and the surrounding area seem drawn by its rustic charm, and a handful of hot spring spas leftover from the 1930s and 1940s, when the town did a thriving trade in wellness tourism.
Whether or not T or C will be able to maintain its laid-back atmosphere is questionable in years to come.
New Mexico's first Spaceopolis?
Ready for take-off?
Building a Spaceopolis
Transforming a town
From spas to spacecraft
Laid-back launchpad
STORY HIGHLIGHTS
Spaceport America expects 200,000 yearly visitors once Virgin moves in
The population boom could change the area, which remains remote
The nearest town, Truth or Consequences, has 7,000 residents
(CNN) -- The town of Truth or Consequences, New Mexico, is tiny. The population barely reaches 7,000, and the smattering of tourists it attracts throughout the year are undoubtedly lured by its rustic, small-town charm.
Its handful of attractions include some vintage hot spring resorts (pre-World War II, the town was a hotspot for wellness tourism), some nearby ghost towns and roaming buffalo.
"Here, you're in the middle of what I consider to be the real West," says John Mulcahy, mayor of Truth or Consequences (or T or C, as it's known locally).
"It's a back-to-nature kind of place. I love to take my four-wheel drive and head out into the wilderness, where there are 100-mile vistas. There's nothing like it in the continuous United States."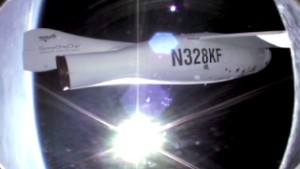 The world's first space tourism venture
Not surprisingly, T or C lacks the name recognition of, say, Santa Fe or Albuquerque. That is set to change in the next couple of years however, as the town is on the brink of becoming the epicenter for space tourism. Spaceport America -- which next year is slated to send a troupe of multi-millionaires up into the stratosphere when Virgin Galactic moves in -- is a mere 30 miles to the northeast.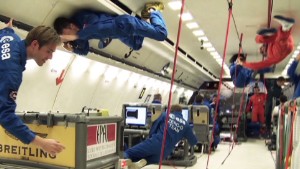 CNN Business Traveller: Zero gravity
"Spaceport America employs 1,300 people across New Mexico, and we're looking to add another 1,800 jobs by 2018," says Christine Anderson, executive director of Spaceport America and the New Mexico Spaceport Authority.
With an additional 200,000 yearly visitors projected once Virgin moves in -- and the Spaceport completes its Welcome Center (which Anderson estimates will take another 16 months to finish) -- T or C is likely to experience a serious uptick. In fact, experts estimate the population is likely to double.
Quiz: Do you have what it takes to be a space tourist?
"The number that I've seen that scares me the most is 3,000 people in our downtown on a Saturday," admits Mulcahy.
Currently, the potential of space tourism has everyone in the area on high alert. Virgin are meeting with local tourism suppliers next month to help ready them for the supposed onslaught, while T or C has embarked on a mission to spruce up ahead of its visitors.
"We're working hard to make the town more attractive, but at the same time, we don't want it to lose its character. We don't want a 5-star hotel in downtown," he says.
Investment follows opportunity, it doesn't really lead opportunity
John Mulcahy, mayor
Still, it's difficult to imagine Richard Branson's clients, many of whom have paid $250,000 for their ticket to space, feeling content staying at the local budget hotel.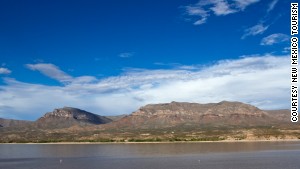 Southern New Mexico has been fairly free from economic development. That may change, however, when the Spaceport moves in
"I would say there's plenty of hotels to handle the initial amount of space tourists, but I don't think there is anything (in the luxury market)," says Dr. Alison Green, an assistant professor at the William F. Harrah College of Hotel Administration in Las Vegas, Nevada.
Read more: What does a Virgin Galactic ticket buy you?
While some have called on the luxury hospitality industry to anticipate the needs of the projected high-fliers, it seems many brands are slow to answer.
In April, CNN founder Ted Turner bought T or C's Sierra Grande Lodge and Spa -- one of the few upscale accommodations in the region -- but other investors seem to be playing wait-and-see.
"We are lagging in terms of business investment," admits Mulcahy, though he maintains he's not worried about the future of T or C.
"This is the most amazing, iconic facility in the world, but it's like anything else: you have to see it to believe it, and that's true of investment. Investment follows opportunity, it doesn't really lead opportunity."
Monique Jacobson, the New Mexico state tourism secretary , says that developers have been scoping out the area ever since the Spaceport was first proposed. The challenge, she says, won't be luring investors, so much as ensuring the region keeps its charms.
"If there are luxury resorts, they still need to be true to what makes New Mexico so unique, because that's what's going to keep it a special experience for the people that visit," she says.