'Massive evidence' links Syrian regime to war crimes, U.N. official says
December 2, 2013 -- Updated 2023 GMT (0423 HKT)
STORY HIGHLIGHTS
Report accuses "the highest levels of Syria's government" of war crimes
Rebels are also implicated in the commission of war crimes, report says
War crimes in Syria are "very serious crimes ... crimes against humanity"
The majority of people have been killed by conventional weapons, not chemical ones
(CNN) -- A United Nations fact-finding team has found "massive evidence" that the highest levels of the Syrian government are responsible for war crimes in the nation's long-running civil war, the U.N.'s human rights chief said Monday.
Navi Pillay didn't name President Bashar al-Assad, but she said the evidence collected by the U.N. Commission of Inquiry on Syria implicates the regime's top man.
The panel's members have "outlined their view that the facts point to the commission of very serious crimes, war crimes, crimes against humanity," Pillay, the U.N. high commissioner for human rights, told reporters in Geneva, Switzerland. "They point to the fact that the evidence indicates responsibility at the highest level of government, including the head of state."
Still, Pillay declined to say whether al-Assad was named in a list of suspects that the panel produced. The list is confidential -- not to be released until the matter goes from the fact-finding stage to a formal international investigation -- and even she has not read it, she said.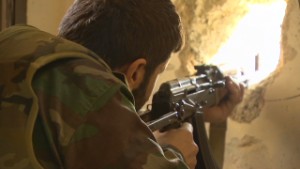 Inside the battle for Damascus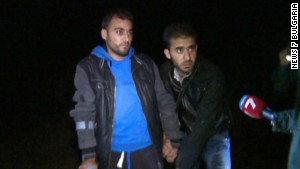 Bulgaria: Coping with Syrian refugees
Pillay said the evidence also shows that rebels have committed war crimes and pointed to the fact that the majority of deaths -- more than 100,000 since the civil war began in 2011 -- are from unlawful attacks with conventional weapons, not from chemical weapons, which have gotten much of the attention in recent months.
A joint Organisation for the Prohibition of Chemical Weapons-United Nations team charged with overseeing the destruction of Syria's chemical weapons began inspecting sites in October. The U.N. Security Council resolution that authorized the mission set a deadline of mid-2014 for Syria to destroy its chemical weapons or face consequences.
The goal is to move the most dangerous chemicals out of the country as quickly as possible, said Sigrid Kaag, head of the joint team.
But the presence of chemical weapons inspectors has not stopped the influx of conventional weapons into Syria's civil war. As recently as September, U.S. officials confirmed that they sent artillery described as light weapons, some anti-tank weapons and ammunition to Syrian rebels, and Russia has long supplied arms to the Syria's government.
Pillay called on U.N. member states to refer the report to the International Criminal Court, a move that might be blocked by the U.N Security council, where Russia and China have so far blocked efforts that could punish the Assad regime.

Part of complete coverage on
Syrian crisis
March 4, 2014 -- Updated 1328 GMT (2128 HKT)

Syria has submitted a revised proposal "that aims to complete the removal of all chemicals" from the country before the end of April.
February 18, 2014 -- Updated 1032 GMT (1832 HKT)

CNN's Arwa Damon reports on ISIS defector who says destroying ISIS as critical as defeating regime.
February 18, 2014 -- Updated 0353 GMT (1153 HKT)

The U.S. wants a United Nations resolution that will, among other things, bring humanitarian aid for refugees in Syria.
February 17, 2014 -- Updated 1259 GMT (2059 HKT)

When the radical Islamist militia ISIS arrived in the Syrian town of Addana a year ago, many welcomed them. What followed changed their minds.
February 17, 2014 -- Updated 1449 GMT (2249 HKT)

CNN obtained video clips from Syrian activists documenting the atrocities committed by members of the Islamic State in Iraq and Syria, known as ISIS.
February 18, 2014 -- Updated 2017 GMT (0417 HKT)

On Crossfire, Danielle Pletka discusses what the U.S. needs to do to resolve the Syria crisis.
February 6, 2014 -- Updated 0101 GMT (0901 HKT)

Her almond-shaped brown eyes shine through her sunken face as a doctor lifts her sweater to reveal a tiny rib cage pushing against her skin.
February 4, 2014 -- Updated 1746 GMT (0146 HKT)

The Zaatari refugee camp in Jordan is home to around 100,000 Syrian refugees. CNN spent several days meeting the residents of the camp.
January 22, 2014 -- Updated 1959 GMT (0359 HKT)

Renowned war crimes prosecutors and forensic experts have found "direct evidence" of "torture and killing" by the Assad regime.

Traumatized children who have witnessed the horrors of war are being helped to read -- and rebuild a normal life. CNN's Becky Anderson reports.
January 23, 2014 -- Updated 1207 GMT (2007 HKT)

A battle zone tour organized by the Syrian government for CNN and several other media outlets Wednesday was more than bizarre.
January 22, 2014 -- Updated 1735 GMT (0135 HKT)

CNN's Atika Shubert meets with the family of a little girl who was wounded in Syria, now living in a refugee camp.
January 27, 2014 -- Updated 1456 GMT (2256 HKT)

110 year old, Jabari Alawali walked for over 10 hours to reach Jordan from Syria.
Today's five most popular stories