Photographers find beauty in 'states of decay'
Join the conversation
CNN iReport
December 3, 2013 -- Updated 1657 GMT (0057 HKT)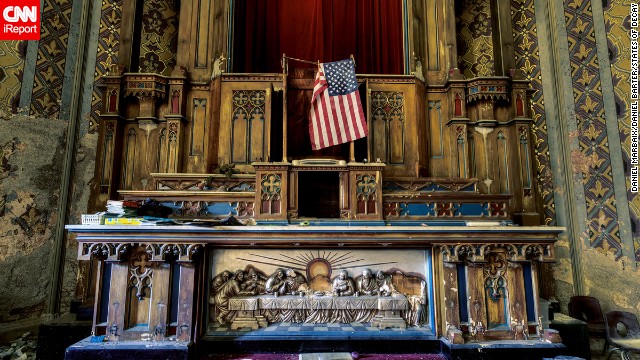 The cover photo for "States of Decay," a photo book by Daniel Barter and Daniel Marbaix, was shot in a cathedral in Pennsylvania during their photographic exploration of the northeastern United States.
For "States of Decay," the photographers traveled through America's Rust Belt, a geographic term used to describe the economic decline of America's industrial heartland. They found a rack of forgotten bowling shoes in an old asylum in New York.
They explored parts of central New York state, where they found this room with a view in an abandoned Masonic lodge.
Eastern State Penitentiary
in Philadelphia closed in 1971, making for eerie pictures of cellblocks from the defunct prison.
The photographers declined to provide a specific location for most of the sites they visited, including this asylum in upstate New York, citing "exploring ethics."
These dusty boots are just a few of the forgotten artifacts they found in this coal-breaking plant in Pennsylvania.
This shot was taken in a chapel in New York.
The photographers took pleasure in exploring abandoned structures like this grain silo in upstate New York for the perfect shot.
Each room and hall of this defunct sanitarium in New York was ripe for exploration, the photographers say.
Their explorations brought them to this desolate theater in Connecticut.
The photographers say they didn't stage photos for this series, making this arrangement of televisions in a New York hotel all the more curious.
"I had to leave my mark somewhere" says this note found on a wall in a New Jersey asylum.
Photos: 'States of Decay'
Asylum, New York
Masonic lodge, New York
Eastern State Penitentiary, Pennsylvania
Asylum, New York
Coal breaker, Pennsylvania
Chapel, New York
Grain silo, New York
Sanitorium, New York
Theater, Connecticut
Hotel, New York
Asylum, New Jersey
STORY HIGHLIGHTS
Abandoned churches, prisons, asylums are the stars of the photo book "States of Decay"
Photographers Daniel Marbaix and Daniel Barter found their subjects in America's Rust Belt
A shared fascination with old buildings brought the photographers together
(CNN) -- British photographers and self-described "urban explorers" Daniel Marbaix and Daniel Barter see beauty amid the desolation of abandoned buildings.
Their shoots have brought them to defunct factories, mines and houses of worship around the world, from their native England to Japan. For their first book, they captured the forgotten structures of the eastern United States: ruins of churches and theaters in New York City, derelict train stations, asylums and factories in the Rust Belt.
Images from "States of Decay," published in July, evoke different reactions, especially the book's cover. Shot by Barter, it shows an American flag hanging over a defaced frieze of the Last Supper. Barter said the image reflects the separation of church and state in a reference to American politics.
Citing an "explorers' code," the photographers chose not to provide specific information about the locations of their shoots. Indeed, the decaying structure may or may not reflect a general decline in the surrounding area, regardless of the state of the structure.
A shared fascination with old buildings brought the photographers together. Barter's love of old buildings started as a child. Growing up in North London, he and a few friends would climb a fence after school and play inside a derelict airplane.
"The combination of leather and shiny metal switches was a formative experience for me," said Barter, 29. "If I close my eyes, I can almost still smell it." When he grew older, Barter studied restoration art in college, and that knowledge transformed his interest into a job as a professional photographer.
Meanwhile, Marbaix studied zoology at Royal Holloway, University of London, and somehow fell in love with photography.
Don't miss out on the conversation we're having at CNN Living.
Follow us on Twitter
and
Facebook
for the latest stories and tell us what's influencing your life.
"My courses seemed to just spill over into exploring the urban environment and that led to photography," said Marbaix, 33. "I have not looked back since."
When the two first met through friends in a pub in London of 2011, they were competing photographers. But after they learned of their mutual interest in taking photos of "older building and artifacts," a friendship developed that has led to many adventures, for work and pleasure -- often both.
Poking around abandoned buildings has led to a few close calls with authorities, the "Dan duo" said. The mixture of luck and adrenaline has concocted a slew of comical memories for the pair as well as some great shots.
Although many of their shoots might appear to be planned and organized, most of the time they're produced during holidays and trips with friends and family.
"There is not a method to the madness. We just do whatever we feel like," Marbaix said.
While they continue to work on projects centered on the unseen and unfamiliar in Britain, they're looking forward to more adventures.
"We are told that we are too old to be doing this sort of thing," said Marbaix. "But honestly I could care less. My mother loves it and that's all that matters."

Today's five most popular stories
Part of complete coverage on

CNN Living reflects your life. From advice for modern parents to the freshest news in food: It's all here.
September 3, 2014 -- Updated 1916 GMT (0316 HKT)

They get no tips and none of the glory, but if they didn't show up, the restaurant would go up in flames.
September 23, 2014 -- Updated 2106 GMT (0506 HKT)

They're not sexually attracted to other people. But why don't people believe or understand them?
September 17, 2014 -- Updated 1737 GMT (0137 HKT)

Fall brings a wave of new young adult novels, including Carl Hiaasen's first teen novel and the latest from "Pretty Little Liars" author Sara Shephard.

Kendall Jenner is trying to find her own footing in the high-fashion world without her polarizing siblings and parents.
September 29, 2014 -- Updated 2140 GMT (0540 HKT)

Colleges promote affirmative consent in sexual conduct by encouraging students to seek an enthusiastic "yes."

At his Miami home: "If it's not shagadelic or groovy, it's not coming into the house."
September 12, 2014 -- Updated 1324 GMT (2124 HKT)

Cara Reedy was born with dwarfism, and that's all that some people can see.