'Everything is broken:' Syrian army retakes Damascus suburb at heavy cost
December 3, 2013 -- Updated 1719 GMT (0119 HKT)
STORY HIGHLIGHTS
Reclaiming southern, eastern suburbs of Damascus from rebels is Syrian regime priority
Syrian troops retook Sbeineh from opposition fighters after brutal siege in November
Government says Sbeineh was key supply line to other suburbs for opposition troops
Sbeineh, Syria (CNN) -- Sbeineh was once a thriving town on the southern outskirts of Damascus. Residents of the Syrian capital came to buy their furniture here and many factories, now abandoned, still line the main street into town.
But the grinding, two-and-a-half-year war here has reduced Sbeineh to rubble. Its residents first fled when the town fell into the hands of rebels battling to bring an end to the reign of Syrian President Bashar al-Assad. But in early November the Syrian army reclaimed Sbeineh after a long and costly siege.
The military pounded rebel positions with tanks, artillery and heavy machine guns for weeks in the lead-up to the siege. Assad's men then raided the town, taking it back house by house. Various opposition groups that had occupied Sbeineh blamed each other for losing the battle, saying some rebel fighters had put up very little resistance against government troops.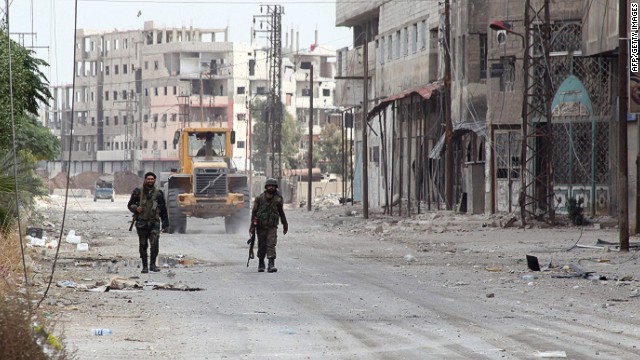 Syrian troops patrol the deserted streets of Sbeineh, south of Damascus, on November 8 after retaking the suburb from rebel forces.
Most of the town was reduced to rubble as a Syrian army siege reclaimed the rebel-held suburb in early November.
Sbeineh's residents first fled when the town fell last year into the hands of rebels battling to bring an end to the reign of Syrian President Bashar al-Assad.
Syrian troops who moved in on Sbeineh after the siege discovered tunnels the rebels had used to get weapons and ammunition to the front line.
Syrian troops also uncovered a series of mini-factories they say rebels used to make mortars, rockets and improvised bombs.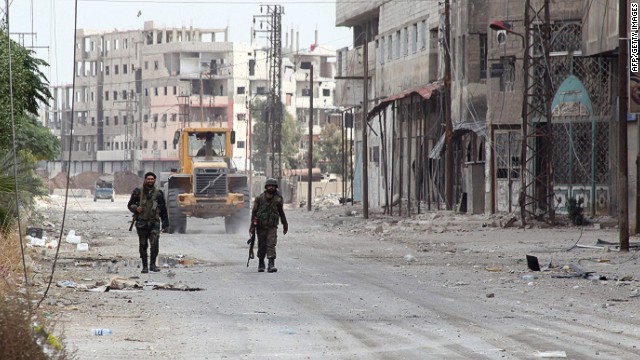 Syrian troops retake Sbeineh after siege
We toured the destroyed town with a detachment from the Syrian army led by a soldier who goes by the name of Abu Aksam.
"Is this their freedom?" Abu Aksam said, walking past a pock-marked building. "Everything is broken."
The soldiers walked us through a block of interconnected houses, where the rebels who occupied Sbeineh for nearly a year punched holes through the walls in order to move safely from apartment to apartment, rather than fall prey to a sniper's scope out in the streets.
Government soldiers also uncovered a series of tunnels that the rebels were using to get supplies towards the front line. In one apartment we find a huge hole in the ground leading down to a tunnel used to smuggle weapons and ammunition to a sniper's vantage point at the other end.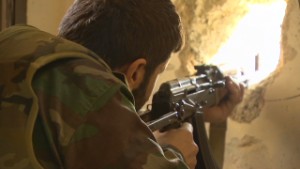 Inside the battle for Damascus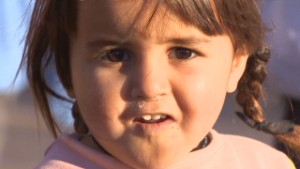 Syrian children living with war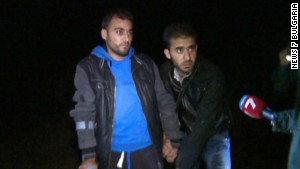 Bulgaria: Coping with Syrian refugees
"Our soldiers took heavy casualties from this position," Abu Aksam said. "It was very difficult to get this done, but we did it, and we will keep going until the end because we believe in our country."
Syrian troops showed us various locations in Sbeineh they claim served as headquarters for rebel groups ranging from the moderate Free Syrian Army to the Islamist Jabhat al-Nusra. Aksam also took us to a room that he says served as weapons-manufacturing workshop for opposition fighters. Aksam says rebels used these improvised mini-factories to make mortars, rockets and improvised bombs.
"They used the tools to make mortars and rockets and used gas cylinders to make very large bombs," he said, standing amid the debris inside the room.
The government says Sbeineh was vital for resupplying its fighters in the southern outskirts of Damascus. Losing areas around the capital dealt a heavy blow to the Syrian regime's efforts to win the war, and the government has made it a priority to take the suburbs back.
The Syrian army's victory at Sbeineh was a strategic triumph for the government as it tries to unseat rebels from the large swaths of territory they've taken east and south of the capital. But while the soldiers rejoice at their hard-fought win, the real losers are the citizens of this once vibrant suburb who won't be able to return any time soon.
Read more: Front line battles take Syria's suburbs back to 'stone age'
Read more: Suicide bombing in central Damascus kills four

Part of complete coverage on
September 18, 2014 -- Updated 1201 GMT (2001 HKT)

Put yourself in the shoes (and sixth-century black robes) of ISIS' Abu Bakr al-Baghdadi, the mysterious boss of the terror group.
September 18, 2014 -- Updated 0500 GMT (1300 HKT)

China's Xi Jinping and India's Narendra Modi, leaders of the most populous nations face similar challenges. Can they learn from each other?
September 17, 2014 -- Updated 2236 GMT (0636 HKT)

The U.S. is not returning combat troops to Iraq, President Barack Obama insists.
September 17, 2014 -- Updated 0038 GMT (0838 HKT)

A man abducted alongside killed U.S. journalist Steven Sotloff tells CNN that no one from the U.S. government has tried to talk with him.
September 17, 2014 -- Updated 1508 GMT (2308 HKT)

Mulatu Astatke is the founding father of ethio-jazz: a fusion of Ethiopian music with western jazz.
September 17, 2014 -- Updated 1311 GMT (2111 HKT)

Have you been to these? The global museum list, released Tuesday, ranks 25 of the world's best museums.
September 17, 2014 -- Updated 1703 GMT (0103 HKT)

iOS 8, the latest version of Apple's mobile operating system, comes with new features that you'll enjoy.
September 17, 2014 -- Updated 0927 GMT (1727 HKT)

Psychedelic drugs are being researched as a potential treatment for conditions ranging from anxiety to tobacco and alcohol addiction.
September 18, 2014 -- Updated 0142 GMT (0942 HKT)

It's a surfer's paradise -- but Diah Rahayu is out on her own when it comes to professional women's wave-riding in Bali.
September 18, 2014 -- Updated 1409 GMT (2209 HKT)

Even death couldn't part two skeletons excavated from a lost chapel in an English county, found with their fingers entwined.
September 18, 2014 -- Updated 1620 GMT (0020 HKT)

Each day, CNN brings you an image capturing a moment to remember, defining the present in our changing world.

Browse through images from CNN teams around the world that you don't always see on news reports.

Today's five most popular stories