STORY HIGHLIGHTS
Brazilian football legend Pele says 2014 World Cup will be "fantastic"
FIFA has confirmed that three stadiums will miss deadline due to delays
Three-time World Cup winner Pele insists his country will be ready
(CNN) -- Pele has backed Brazil to deliver a "fantastic" World Cup amid growing fears the country will not be ready in time to host football's showpiece event.
The legendary former striker, who won three World Cups with Brazil between 1958 and 1970, has rejected accusations that delays to a number of the 12 venues hamper his country's ability to put on a spectacle.
FIFA , the game's world governing body, has confirmed it expects all six stadiums still under construction to miss the deadline of December 31.
"I've no doubt," Pele told CNN when asked if he thought the World Cup would be a success.
"We had a little problem with the Confederations Cup (in June) but I've no doubt the World Cup will be a fantastic show."
Two people were killed last month at Arena Corinthians when a crane hoisting a part of the metal roof collapsed, causing the piece to fall, partially damaging the building, according to a statement released by the construction company, Odebrecht Infrastructure.
After meetings ahead of Friday's World Cup draw, FIFA President Sepp Blatter said it had received confirmation that Arena Corinthians would not be completed until the middle of April.
"It is a question of trust," he said at a press conference at the Costa Do Sauipe resort where the draw will be held. "For the time being there is no Plan B."
Despite the setback, Pele is adamant that Brazil will be ready for the tournament, which is scheduled to start in Sao Paulo on June 12.
"I think Brazil has the stadiums," he said.
"We have eight months to go before the World Cup. We have to forget about the stadiums and pay attention to the game."
FIFA also confirmed that stadiums in Cuiaba, Manaus, Natal and Porto Alegre have yet to confirm their schedules, but are expected to host their first events in January 2014. Curitiba, meanwhile, is scheduled to host its first match in late February or early March.
Brazil has not hosted the World Cup since 1950 -- when it lost 2-1 in the deciding match to Uruguay.
It is a result which still rankles with Pele.
"Listen, if I was God, I would like to see Brazil play against Uruguay," he added. "It's a good opportunity to get revenge.
"To talk about the possibility today ... of course we have two national teams that play very good.
"I think Germany is at a very good level. Spain has a chance to get to the final and Brazil.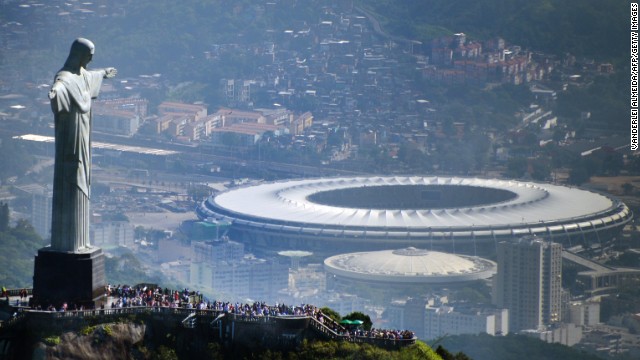 Aerial view of the Christ the Redeemer statue atop Corcovado Hill, overlooking the Maracana stadium in Rio de Janeiro, BrazIl. The famous arena will host the World Cup final on July 13, with 32 nations competing in the tournament.
Ask many Brazilians who is the greatest footballer of all time and their answer will be simple: "Pele." The striker won three World Cups with Brazil between 1958 and 1970 and is his country's leading goalscorer with 77 goals from 92 caps.
The Brazil team of 1970, which beat Italy 4-1 in the World Cup final in Mexico, is widely regarded as the greatest of all time. Pele, a three-time World Cup winner is seen here leaping on his teammates.
Neymar will be the man which the Brazilian public will look to for inspiration at the 2014 World Cup. The Barcelona striker starred in the country's Confederations Cup success in July 2013
Despite winning the Champions League and Spanish title with Barcelona, Argentina's Lionel Messi has yet to taste success on the international stage.
Cristiano Ronaldo's hat-trick fired Portugal into the 2014 World Cup after his side defeated Sweden in the playoffs. Ronaldo is the country's joint-top scorer with Pauleta on 47 goals.
Luis Suarez played a key role in Uruguay's run to the World Cup. The Liverpool striker was part of the squad which reached the semifinals in South Africa and scored 11 goals in qualifying.
Sweden's forward Zlatan Ibrahimovic will have to watch the tournament at home -- that's if he's even interested. He told reporters: "A World Cup without me is nothing to watch so it is not worthwhile to wait for the World Cup."
Spain is hoping to become the third country to retain the World Cup. Italy won the tournament in 1934 and 1938, while Brazil triumphed in 1958 and 1962. Andres Iniesta scored the winning goal in the 2010 final.
Falcao will be one of the players to watch at the tournament with the Monaco striker considered to be one of the most lethal finishers in the game. Falcao scored nine goals in qualifying while his side netted 25 overall.
Belgium is one of the teams fancied to do well in Brazil. The Belgians reached the semifinals in 1986 and are expected to challenge in the later stages this time around thanks to a crop of outstanding young players.
Cameroon is the lowest ranked team in the tournament. The Indomitable Lions are the 59th best team in the world according to FIFA. It reached the quarterfinals in 1990 where it was beaten by England.
Miroslav Klose, 35, looks set to feature in a fourth World Cup after helping Germany cruise through qualifying. Klose is the country's joint-top scorer on 68 goals alongside Gerd Muller.
Bosnian football fans will flock to Brazil after their football team qualified for the World Cup for the very first time. Bosnia finished top of its group and clinched its place at the tournament courtesy of a 1-0 win over Lithuania.
Three times the Netherlands has reached the final -- and three times it has been beaten. In 1974 it lost out to West Germany before Argentina triumphed four years later. Four years ago it was beaten 1-0 by Spain.
Tim Cahill needs one more goal to become Australia's top scorer. He currently has 29, leaving him level with Damian Mori.
France became the first European team to overturn a two-goal deficit in a World Cup playoff to secure its place in Brazil. Liverpool defender Mamadou Sakho scored twice as France defeated Ukraine 3-0 on the night, 3-2 on aggregate.
Spain will be one of the favorites to win the tournament but no European side has ever won the competition in South America.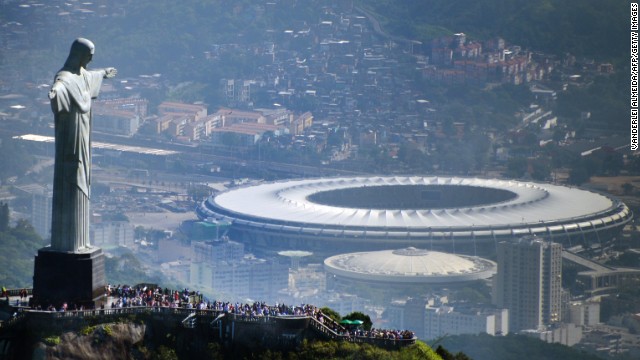 Your guide to the World Cup in numbers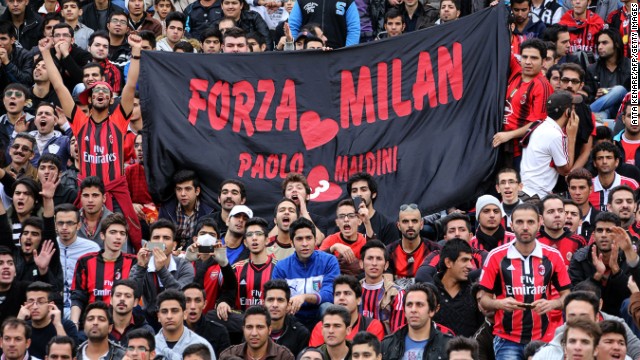 Iranian supporters of AC Milan welcome former players of the Italian soccer club for a charity match at Tehran's Azadi stadium.
The Milan Glorie team took on a side made up of former Persepolis FC players in the fundraiser, which also celebrated the career of former Iran captain Mehdi Mahdavikia.
The 36-year-old played more than 100 times for his country and spent eight years at German club Hamburg. He is seen (right) here with Gennaro Gattuso, who won the World Cup with Italy in 2006 and the European Champions League twice with Milan.
The star-studded Milan side included legendary defender Paolo Maldini, pictured center with teammate Stefano Eranio and Persepolis' Pejman Jamshidi (right). Maldini spent his entire career at Milan before retiring at the age of 41 in 2009.
The 52-year-old Daniele Massaro -- part of Italy's 1982 World Cup-winning squad -- challenges former Iran international Pejman Jamshidi, who has become the subject of a TV show in his home country since retiring.
Dario Simic, who played at three World Cups for Croatia, tries to block a shot by Behnam Abolghasempour -- who has moved into coaching since retiring and is now an assistant at Persepolis.
Former Italy defender Pietro Vierchowod played more than 550 games in Serie A, but had only a brief spell at Milan late in his career. The 54-year-old here contests a header with Payan Rafat, who had two spells with Persepolis -- one of Asia's most popular clubs -- before becoming a coach.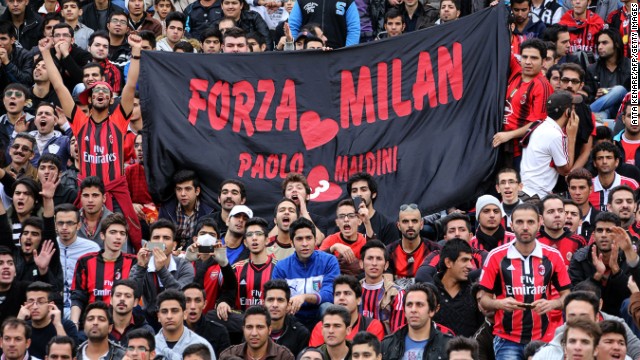 Milan veterans visit Tehran
"At the moment those are the three national teams, but you cannot forget Argentina, Italy, England -- all the teams that have tradition to be in the final.
"But I hope Brazil get to the final."
Pele sat down with CNN in Sao Paulo where he was shooting a Subway commercial with swimming champion Michael Phelps.
He is set to take part in Friday's World Cup draw where all 32 teams will discover their fate.
But the 73-year-old says he is desperate to avoid pulling balls out of the pots in case he hands Brazil an impossible task to get through the group stage.
"I don't know exactly what my role will be but normally when I've been at other World Cup draws in other countries. my role was to take the ball, do interviews and talk with people.
"But here in Brazil, I will not try to take the ball because I'm afraid I won't put Brazil in a good group."
Read: Brazil hit by World Cup stadium deaths
Read: Belounis says Qatar deserves 2022 World Cup