The snow queen returns: Lindsey Vonn is back in action
December 6, 2013 -- Updated 2228 GMT (0628 HKT)
STORY HIGHLIGHTS
Lindsey Vonn takes part in first ski competition in 10 months
The American is recovering from reconstructive surgery on her right knee
Vonn finishes more than three seconds off the pace at the World Cup event in Canada
The 29-year-old hopes to defend her Olympic downhill in February's Winter Olympics
(CNN) -- Pausing to catch her breath at the bottom of the mountain, Lindsey Vonn was back in business.
It may not have been fast, it may not have been smooth but it was still a landmark moment for the Olympic downhill champion.
The American skiing star had finished her first race since making a complicated recovery from a knee injury.
Vonn needed reconstructive surgery on her right knee after landing heavily on the opening day of the Alpine Ski World Championships in Austria in February.
She has waited 10 months to go racing again and in November her return was put on ice when she partially tore one of her reconstructed knee ligaments in training.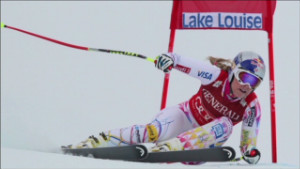 Lindsey Vonn's bid to race men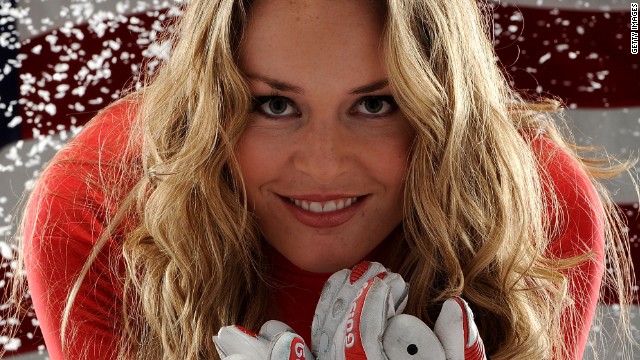 Injury is an occupational hazard of skiing. But for American Lindsey Vonn the road to recovery from a serious injury has been a long and painful one......
Vonn had to be airlifted off the slopes at this year's World Championships back in February after a horrific knee injury, which led to a lengthy spell on the sidelines.
Vonn's rehabilitation was overseen by both Red Bull and the U.S. Ski Team, a case of a slowly-slowly approach to make sure no further damage was done to the joint.
Her return to action was in Chile's Andes Mountains where she insisted her damaged knee felt as good as her unaffected left knee, and that she felt absolutely no fear.
Vonn's attempted return to competitive skiing has come under heightened scrutiny because of her relationship with the world's No.1 ranked golfer Tiger Woods.
Chemmy Alcott's last accident on the slopes happened the day after Vonn's at Schlamding, Austria. In all, the British skier has now broken her leg on three occasions.
That fall was just two months after her heroic return to World Cup skiing in Lake Louise on the same course where she had crashed. She insists she does not remember the crash that nearly ended her career.
Both Vonn and Alcott both have the same goal in their respective rehabilitation programs, to get back in action and at the top of their game in time for next year's Winter Olympics in Sochi.
Not all skiers have come back from the physical and mental scars of their crashes. Austria's Hans Grugger suffered a serious head injury in 2011 but, rather than return, opted to retire from the sport.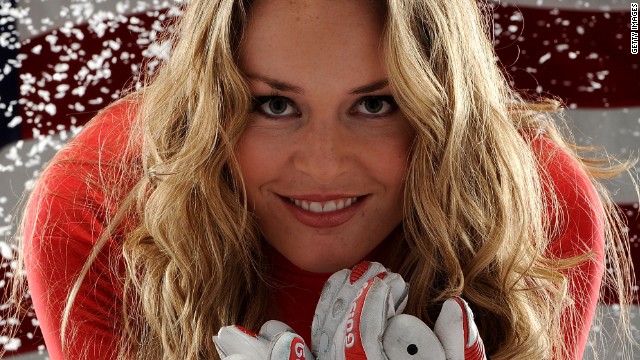 From the sidelines back to the slopes
There were no complications for Vonn on her first competitive return down Canada's Lake Louise course -- but her time did not trouble the leaders.
She finished her run in one minute 59.22 seconds -- more than three seconds off the leading time and 40th overall.
The start of the race had been delayed by hazy cloud and extremely cold temperatures which dropped as low as -36 Celsius. Germany's Maria Hoefl-Riesch eventually came out on top with the quickest time.
Vonn is racing against time to find form and fitness as she attempts to defend her downhill crown at February's Winter Olympics in the Russian resort of Sochi.
There she will aim to emulate the feat of fellow American, Picabo Street, who came back the season after reconstructive surgery to win gold at Nagano in 1998.
Vonn, who is dating golfer Tiger Woods, is a four-time overall World Cup champion and has won two world championship golds in a glittering career on the slopes.
Read: Rebuilding a ski superstar

March 31, 2014 -- Updated 1318 GMT (2118 HKT)

Football has its 18-carat-gold World Cup trophy, and ice hockey the silver and nickel Stanley Cup, but skiing's globes are something else...
March 24, 2014 -- Updated 1822 GMT (0222 HKT)

Austrian skiers Anna Fenninger and Marcel Hirscher reflect on their World Cup triumphs.
March 24, 2014 -- Updated 1823 GMT (0223 HKT)

Christina Macfarlane explores how skiing's coveted Crystal Globe is made.
February 20, 2014 -- Updated 1404 GMT (2204 HKT)

The ghostly lights wind up from the base of the mountain. Heart rates are also rising. This race is held on a notorious downhill ski course -- but in reverse.
January 29, 2014 -- Updated 1846 GMT (0246 HKT)

CNN's Christina Macfarlane looks back at the history of Austria's Kitzbuhel ski race.
January 29, 2014 -- Updated 1849 GMT (0249 HKT)

CNN's Christina Macfarlane explores a new technology that customizes the entire boot to your foot.
February 4, 2014 -- Updated 0515 GMT (1315 HKT)

If you're scared of heights, then this is not for you -- a glass cube perched at the top of a 12,600-foot peak in the French Alps.
December 16, 2013 -- Updated 1127 GMT (1927 HKT)

CNN's Christina Macfarlane goes on patrol with a a seasoned ski rescue team in the French Alps.
December 16, 2013 -- Updated 1125 GMT (1925 HKT)

CNN's Christina Macfarlane meets Giant Slalom world champion Tessa Worley in Lyon, France.
December 13, 2013 -- Updated 1556 GMT (2356 HKT)

From GoPro cameras to avalanche airbags. CNN's Christina MacFarlane puts the latest skiing gadgets to the test.
December 2, 2013 -- Updated 1659 GMT (0059 HKT)

CNN's Christina MacFarlane talks to teenage skiing sensation Mikaela Shiffrin.
December 2, 2013 -- Updated 1659 GMT (0059 HKT)

CNN's Christina Macfarlane finds out how designers and engineers made Beaver Creek race course from scratch.

Today's five most popular stories