Gadget gifts your kids will love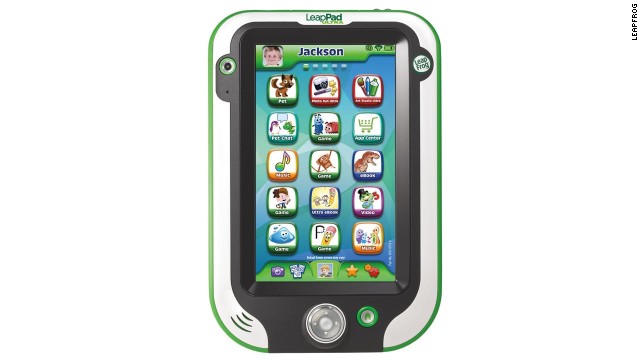 LeapFrog LeapPad Ultra.
Like its tablet relatives, the LeapPad Ultra comes with a camera, apps and a high-resolution screen. But this tablet is aimed at children, thanks to a sturdy frame, the Zui LeapSearch browser (with parental settings) and an eye towards playful education. Maybe now your children will stop hogging your iPad. ($149.99)
WowWee Robosapien X.
From the makers of the Roboraptor -- the remote-controlled dinosaur to get if you¹re getting remote-controlled dinosaurs -- comes the Robosapien X, an update of a product WowWee introduced 10 years ago. The updated version, a 14-inch humanoid robot, works with an included remote control -- or an iPhone or Android. Maybe humans and dinosaurs didn¹t exist at the same time, but kids can have a face-off between their robotic versions. ($99.99)
Speck iGuy rubberized iPad cover.
If your kids are ready for an iPad, they still may not be ready to handle it smoothly. That¹s where the Speck iGuy comes into play. It¹s a rubberized case that protects the valuable electronics within and features a loopy design that makes the iPad look like a stout, cartoonish man. Hmm ... given the issues some adults have with their iPads, maybe it¹s not just for kids. ($39.99 for full-sized iPads, $29.99 for iPad Mini)
PlayStation4.
Released last month, it's the newest console from Sony's popular PlayStation line. The PS4 has more power and better graphics than the aging PS3, plus a social button on the controller that lets players share their accomplishments. ($399). It's what your kid wants ...
Xbox One
, the new gaming console from Microsoft. Thanks to its Kinect system, users can switch from one application to another with just a voice command. And the device comes with a suite of entertainment choices: Hulu Plus, Netflix, YouTube and more. ($499)
... unless he wants the
Learning Resources Zoomy handheld digital microscope.
Previous generations learned about cellular structure (and, of course, the wonders of plucked hairs) with optical microscopes. In the digital age, such devices as the Learning Resources' Zoomy Handheld Digital Microscope do the trick. It can magnify up to 43x and connects via USB to a computer. Let the grossing out begin. ($59.99)
Ubooly.
The smartphone has proved itself to be an amazingly versatile device. The Ubooly is an app and a furry case that connects to a smartphone. Put in action, it will talk and listen to children, play games and -- if there¹s more than one Ubooly in the vicinity -- play with it. Also, for those who are suffering from furry-toy nostalgia, Hasbro recently released a new version of the famed
Furby
, the Furby Boom, updated for the app generation. (Ubooly, $29.99; Furby Boom, $64.99)
Hubsan X4 FPV quadcopter.
Perhaps, years from now, Jeff Bezos will start selling a toy version of the Amazon drones. In the meantime, there¹s this twist on remote-controlled helicopters, a follow-up to the successful Hubsan X4. This one comes with a camera (hence "FPV" -- first-person view) and transmits a picture back to the remote. Can we expect copter wars in the future? ($350)
Sphero 2.0.
Using an Android or iOS device phone, you can control this robotic ball -- watch your cat chase it! -- and play games through more than 25 apps. Its makers say it's brighter and faster than the original Sphero from several years ago. ($129)
Skullcandy Aviator headphones.
There are a zillion brands and styles of headphones out there, but this stylish model -- a collaborative effort with Jay-Z's Roc Nation company -- is geared toward young people. ($119-$149)
Powerbag backpack.
It's equipped with a rechargeable battery system to charge your kid's phone, tablet or gaming device when they're on the go. You want want to borrow it, too. ($99)
Tech gifts for kids
Tech gifts for kids
Tech gifts for kids
Tech gifts for kids
Tech gifts for kids
Tech gifts for kids
Tech gifts for kids
Tech gifts for kids
Tech gifts for kids
Tech gifts for kids
Tech gifts for kids
STORY HIGHLIGHTS
Many gadgets are aimed at children and teens
One tablet is meant for children under 10
A digital microscope can be a worthy teaching tool
Special battery-filled backpack can power gadgets on the go
(CNN) -- Technology touches all ages.
Yes, the world tends to focus on the smartphones, the tablets, the high-horsepowered hardware that keep the wheels of commerce and entertainment humming. (And, no doubt, they keep shopkeepers humming as well.)
Generally, it's a world for adults. But not everything is aimed at the salaried set.
There are tech toys meant to fill children with wonder, teach them about the broader world -- or simply make them laugh in joy. And, of course, there are video games, which can entertain anyone.
Here are some of the more interesting tech-oriented gifts for the children and teenagers in your life.