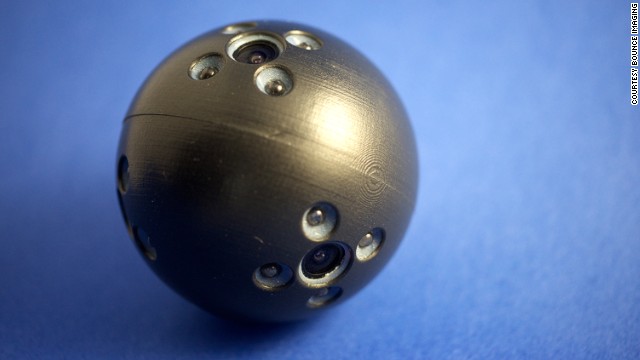 According to the World Bank, since 1980 low-income countries have accounted for only 9% of the world's disasters, yet for 48% of the resultant fatalities. Much of this is down to the expense and inaccessibility of the emergency tech used by wealthier nations. That's why US designer and public policy grad Francisco Aguilar developed Bounce Imaging -- a low cost, all-seeing eye that can be thrown like a baseball into hostile and high-risk situations.
The shock-absorbent ball, which contains a series of cameras and sensors, can be thrown into dangerous or unknown locations to take panoramic images. It can also have heat sensors, Geiger counters, vibration antennae and smoke detectors installed. All the information is then fed back instantly to a mobile device so that first responders can assess what is round the corner, down a tunnel or amid the rubble.
A similar concept to Bounce Imaging, 110 FirstLook can be thrown into a risky situation and roll over terrains and into tunnels to take pictures and feed audio back to its controller. The latest robot for US law enforcement, FirstLook provides hasty situational awareness to first responders. However, it is considerably more expensive than Bounce.
But what other tools are available for emergency situations? Just as homeowners can protect themselves by using their peephole to identify visitors before opening the door, this simple gadget can reverse the effect so law enforcers can inspect what is going on inside a home before entering.
In October 2013, Telerob, developed by aerospace firm Cobham, received two gold medals in EURATHLON, a new robot competition seeking the smartest emergency response robots in the world. Telerob is principally a robotic bomb disposal system but it can handle all sorts of hazardous materials, including in a smoke-filled environment.
Discovery Channel's "Future Weapons", the lasers are used to point a strong beam towards a suspect so as to temporarily thwart their eyesight without causing permanent eye damage.
The laser of the Elite Pro is so intense it can burn through even sturdy materials. Featured on
Future Attribute Screening Technology (FAST) can be used to remotely detect "mal intent" in a person. Using eye trackers, respiratory sensors, thermal cameras, "gesticular analytics" and pheromone detection, Homeland Security hopes to use the technology in, say, airports, to identify potential criminals. There is huge debate surrounding the morality of the technology.
Scientists at Harvard's School of Engineering and Applied Sciences have developed a miniature flying robot that emulates a wasp or bee. The innovative new mechanical insect serves many purposes, including search & rescue in inaccessible areas, military surveillance or risk assessment.
Safecast was developed in the aftermath of the 2011 Fukushima earthquake and nuclear meltdown. It is designed to be used in the wake of a nuclear disaster as a global sensor network for collecting and sharing radiation measurements. The aim is to provide truthful data to the people directly affected.
Gimball is a spherical flying robot encased in a flexible cage that allows it to happily smash into surfaces while navigating disaster sites. Unlike other rescue robots, GimBall is able to bounce back without losing its bearings or damaging its in-built camera. Developed by the Swiss Federal Institute of Technology (EPFL), it could be used to search for survivors or measure gas leaks in collapsed buildings.
Also developed in the wake of the Fukushima nuclear disaster, this protective suit allows emergency services to act very quickly in the event of a nuclear meltdown. The suit's maker's claim that the "brainwave-controlled" exoskeleton allows workers to wear heavy radiation protection without feeling the weight. Sensors detect signals from the brain and the robot's limbs move in tandem with the wearer's, taking weight off the muscles. It is the creation of Japanese tech firm Cyberdyne, who initially developed the technology to help assist people with disabilities.
This Toshiba decontamination robot blasts dry ice particles against contaminated floors or walls and can be used to quickly and effectively clean up chemical spillages at nuclear plants.
This remote-controlled fire fighter by Croatian robotics company Dok Ing is designed to extinguish fires in high risk industrial facilities and areas that may be inaccessible to humans. While the operators remain outside of the range of danger, the MVF-5 fire fighting vehicle is robust enough to survive even mine detonations.
Each year millions of people are displaced by natural disasters and extreme weather. Swedish furniture maker IKEA has introduced a flat-pack housing solution that could provide affordable, effective and quickly assembled shelter for homeless refugees.
All-seeing eye
Inner eye
First seen here
Jeepers peepers
The award winner
Laser quest
Likely suspects?
Robobuzz
Life-saving tech for disaster zones
Crash test
Brute strength
Ice clean
Robo-hose
Pop-up home
STORY HIGHLIGHTS
U.S. graduate Francisco Aguilar invents throwable camera called the Bounce Imaging Explorer
The shock absorbent baseball-sized tool can be thrown into hostile situations to assess risk
It is a low-cost piece of equipment that could help first responders in developing countries
(CNN) -- On Tuesday, January 12 2010, the world watched in horror as Haiti was struck by a catastrophic earthquake. At least 100,000 people lost their lives in the devastation. In the aftermath, many people around the world sent financial aid to help support survivors.
But one young entrepreneur was so affected by the tragedy that he sat down at his desk to try to lend his professional skills to future relief efforts.
Having watched the disaster unfold on TV, Francisco Aguilar, a graduate from MIT Sloan and the Harvard Kennedy School, began working on a tool that could be used to help in emergency response situations around the world.
Read: Bionic bicep gives you the strength of Hercules
"If you remember the 2010 earthquake in Haiti, you saw hundreds of thousands of people buried under the rubble. After an earthquake most people die in the first 48 hours. People who are trapped tend to die in the first 48 hours. And the international rescue teams came with their very sophisticated equipment, and did a fantastic job when they got there, (but) they didn't get there for 48 hours. And their tools, their fiber optic scopes, and all the kinds of equipment that they have, cost $50,000, and are very hard to use. So, despite their very valiant efforts, they pulled out a few hundred people, but most of the damage was already done," Aguilar says.
The device Aguilar invented is called the Bounce Imaging Explorer -- a small black probe about the size of a baseball, fixed with an array of sensors and cameras that can be thrown or dropped into dangerous environments.
Read: How 'swarm robots' are learning from insects
"The initial thought was, how could we create something that was easy to use, that could allow a first responder, or even a volunteer, to easily look inside a space to determine whether it was safe to enter it, to see if there was a victim inside," Aguilar says. "And that moved from search and rescue, to police who often face hostage situations: aggressive shooters, or terrorism. To fire fighting applications, where people often want to search different rooms in a complex, before having to enter or decide whether there is a fire or not. So there's a common problem across first responders of having to decide whether to enter a house or a space. And we are trying to make it cheap and easy to get images while they are out of there."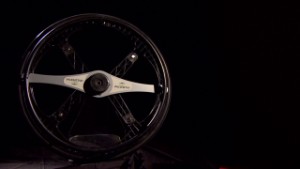 Can foldable wheels transform mobility?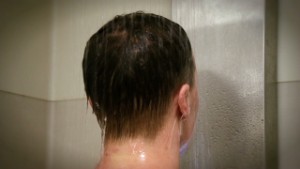 Recycling water as you shower
To develop the product Aguilar partnered with David Young, an entrepreneur who spent four and a half years as a US Army infantry officer.
Read: The laser light that could cut cyclist deaths
The Bounce Imaging Explorer's cameras and sensors can quickly take panoramic images after being thrown into an inaccessible space. The impact resistant shell can also house heat sensors, Geiger counters, vibration antennae or smoke detectors to provide different information in different kinds of emergencies, such as natural distasters or SWAT team hostage rescues. The ball then broadcasts its findings back to a mobile device to give users information on whether there are hazards (or indeed survivors) around a corner, or buried beneath fallen debris.
The company, Bounce Imaging, won a gold award of $50,000 at MassChallenge, and was named one of TIME Magazine's Best Inventions of the year.
Gianfranco Zaccai, CEO of design consultancy Continuum, said: "I think that the concept is really great in its simplicity ... There's a lot of potential there, and there's a lot of potential for doing good with it, because if you think about, the dangerous world that we live in, we need simple, robust, usable ideas that are embedded in great products."
Aguilar hopes to begin producing the Bounce Imaging Explorer next year, and says he aims to keep the cost between $500 and $1000.