Best smartphone travel photos announced
December 12, 2013 -- Updated 1204 GMT (2004 HKT)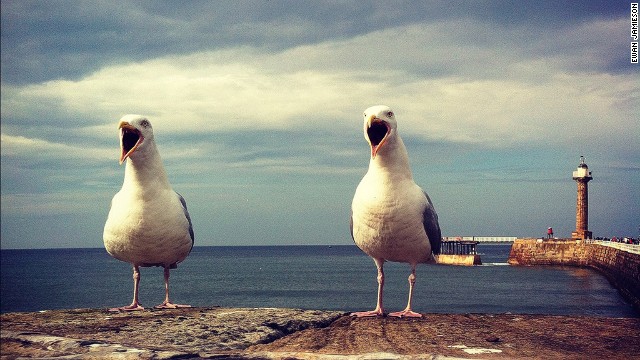 Photographer: Ewan Jamieson, runner-up.
Photographer: Maulik Parmar, runner-up.
Photographer: Ashish Varma, runner-up.
Photographer: Mike Robinson, runner-up.
Photographer: Kate Cummings, runner-up.
Photographer: Ryan Davison Crisp, finalist.
Photographer: Laura Bulcock, finalist.
Photographer: Darren Matthews, finalist.
Photographer: Zoe King, competition winner.
Gulls, Whitby, North Yorkshire, UK
Matheran Hill Station, Maharashtra, India
Canadian Rockies
Cadillac Ranch, Amarillo, Texas
Yosemite National Park, California
Honeymoon in the Maldives
Santorini, Greece
British beach vacation
Buddhist temple, Colombo, Sri Lanka
STORY HIGHLIGHTS
Survey says 67% of travelers take pictures on smartphones
For some, it beats lugging around an SLR camera and lenses all day
Winning pics show smartphone skills and technology moving in on pro territory
(CNN) -- Move over, SLR-lugging vacationers -- the smartphone snappers are in town.
The expensive pro-looking camera equipment that certain travelers wield at every sunset or traditionally dressed person in sight is looking a little redundant.
You might even be one of those photographers.
Or secretly admire their slick-looking gear.
Either way, "proper" camera owners (SLR means "single-lens reflex" and is often used as shorthand for cameras with swappable lenses) may no longer be the ones who come home with the best vacation shots.
Smartphone photographers are moving in on their territory, if these selected images from a cellphone travel photography competition sponsored by Celebrity Cruises are any sign.
Increasingly powerful
Smartphone cameras aren't only becoming more sophisticated and powerful, the range of in-camera effects -- from sepia toning to that color-saturated 1950s postcard look -- is steadily increasing.
Certainly, smartphones have the numbers: Celebrity Cruises launched its competition after conducting a survey of more than 1,000 vacationers that showed 67% of them were taking travel pics on their phones.
Judges included professional photographers such as Stuart Franklin, former head of the Magnum photojournalism agency and the man who took the unforgettable image of a protester defying a tank during the protests in Tiananmen Square, China, in 1989.
The gallery above begins with the competition runners-up and finishes with the tightly composed shot of a Buddhist temple in Colombo, Sri Lanka, by the winner, Zoe King.
Are you a skilled smartphone travel snapper? Share your best work with us on Facebook and we'll run a gallery when we've received enough shareable images.