Cooling pump fails on International Space Station; six-man crew OK
December 12, 2013 -- Updated 1912 GMT (0312 HKT)
STORY HIGHLIGHTS
NASA says the space station and crew were never in any danger
A cooling pump shut down after hitting a temperature limit
An emergency spacewalk could be necessary, but it's too soon to tell
(CNN) -- NASA scaled back operations on the International Space Station on Wednesday after discovering a problem with a cooling system.
A pump on one of the station's two external cooling loops shut down after hitting a temperature limit, NASA said.
Teams worked to get the cooling loop back up and running, NASA said. Experts suspect a malfunctioning valve may have caused the problem, but they're still trying to figure out how to fix it.
The station and crew aboard were never in any danger, NASA said.
Officials could determine that an emergency spacewalk is the best way to fix the failed pump -- something they've done in the past.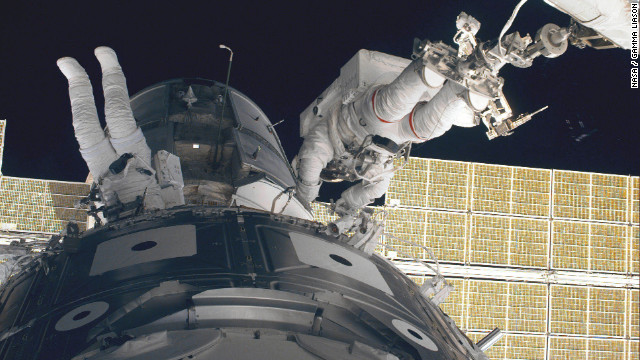 Look back at notable moments in the history of the International Space Station. Here in 1998, the Space Shuttle Endeavour crew attaches the Unity module, initiating the first ISS assembly sequence.
The Space Shuttle Endeavour crew, on mission STS-97, installs the first set of U.S. solar arrays on the station in 2000.
Carrying supplies and equipment in 2001, Leonardo is the first Multipurpose Logistics Module.
In 2006, Space Shuttle Atlantis docks with the ISS, delivering the P3/P4 truss and its solar wings.
Cmdr. Sergei Krikalev tests new hardware in anticipation of the unmanned cargo ship Jules Verne in 2008.
In 2008, Discovery undocks with the ISS after its crew successfully delivers and installs the Japanese-built Kibo lab.
In 2012, the unmanned SpaceX Dragon spacecraft connects to the ISS, the first private spacecraft to successfully reach an orbiting space station.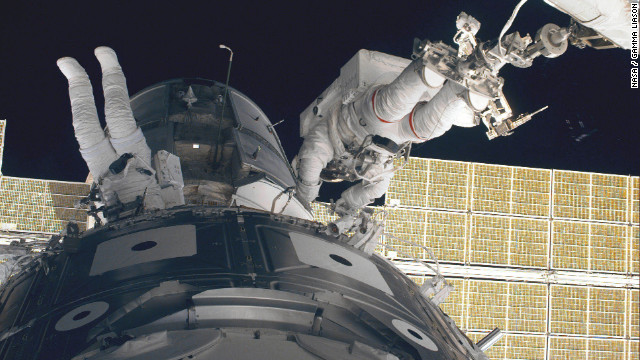 Photos: International Space Station
NASA said Thursday that there has been no decision on the spacewalk, and it may be a couple of days before the decision is made, according to Kenny Todd, the ISS mission management team chairman.
The external cooling loops are systems that circulate ammonia outside the station to keep equipment cool.
International Space Station Fast Facts
Officials discovered the malfunctioning loop was producing too much ammonia Wednesday morning, NASA spokesman Josh Byerly said.
Teams have shut down some noncritical systems on the station as a result of the problem, NASA said.
The space station's life support system is still up and running.
The current mission of the space station, officially called Expedition 38, is scheduled to go until March 2014.
The six-person crew consists of NASA astronauts Mike Hopkins and Rick Mastracchio of the United States; Russians Mikhail Tyurin, Sergey Ryazanskiy and Oleg Kotov; and Koichi Wakata of Japan.
CNN's Drew Iden contributed to this report.