Jameel Prize for art inspired by Islam awarded to female fashion duo
December 12, 2013 -- Updated 1037 GMT (1837 HKT)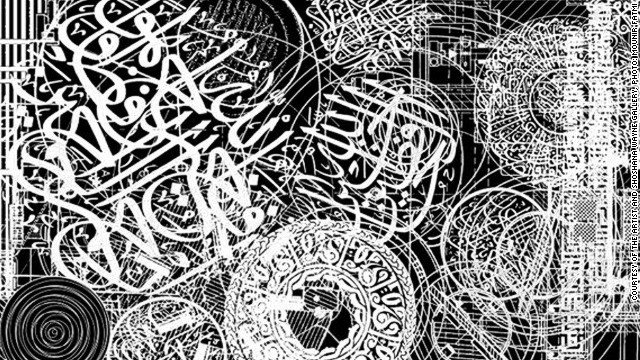 Moroccan multi-media artist Mounir Fatmi uses Arabic caligraphy in novel ways. In the video work
Modern Times: A History of the Machine
(detail shown here) atmi uses these circular compositions literally as wheels, the parts of a noisy locomotive that hurtles forward relentlessly.
The Snow Leopard made from drawloom-woven silk and silver gilt thread.
Textile designer Rahul Jain set up a workshop in Varanasi in India to recreate magnificent silk textiles of the past. The workshop has five drawlooms, at which local Muslim weavers work in pairs. This is a details from
A dress inspired by the Hagia Sophia mosque in Istanbul, made out of embroidered satin and glass, by this year's Jameel prize-winner Dice Kayek.
Detail of the installation, CAPC displayed in Bordeaux, France by Parisian artist Laurent Mareschal. Although it has the appearance of traditional Islamic tiles, the piece is in fact made up of carefully arranged spices, including turmeric, sumac, zaatar, ginger and white pepper.
Kul, he exploits one of the most dramatic forms found in the Arabic script -- the combination of the letters kaf and lam that spell out the word kull, meaning 'all'.
Saudi Arabian calligrapher Nasser Al Salem works in various media. In
Plastic Gold, is a product of her work with women from western Sahara. Inspired by the traditional jewelery worn by these women, Salnot has devised a craft they can practice despite their limited resources.
French designer Florie Salnot's recycled plastic necklace, titled
Concrete Carpet (detail) combines a light-weight form of concrete with Arabic font design.
Japanese furniture and product designer Nada Debs blends Middle Eastern craftsmanship with Japanese minimalism. Her
Faig Ahmed's woolen handmade carpets are based on Azerbaijan's ancient weaving traditions. They are constructed by hand and, for the most part, follow a conventional design. In each case, however, Ahmed reconfigures part of the pattern. With this carpet, titled Pixelate Tradition, much of the pattern has disintegrated into pixels. By disrupting traditional forms, Ahmed aims to show how, "Ideas that have been formed for ages are being changed in moments".
Pakistani artist Waqas Khan trained in the traditional practice of miniature painting, but uses the skills he learned to create drawings on a large scale. He says, "The process is almost architectural, like building something slowly brick by brick.
'Modern Times: A History of the Machine'
'The Snow Leopard'
'Istanbul Contrast'
'CAPC'
'Kul'
'Plastic Gold'
'Concrete Carpet'
'Pixelate Tradition'
'Forming Spaces IV'
STORY HIGHLIGHTS
Turkish fashion label DIce Kayek has been awarded the Jameel art prize
It is the first time a fashion designer has been nominated
The prize honors works of art inspired by Islamic tradition
(CNN) -- Islamic tradition is not often lauded for its influence on couture, but a Turkish fashion label has won a prestigious international art prize awarded to artworks inspired by Islam's heritage.
Dice Kayek, established in 1992 by sisters Ece and Ayse Ege, triumphed over 270 entries from all over the world to claim the Jameel Prize, given biannually by the Victoria and Albert Museum in London.
The sisters, who live and work between Istanbul and Paris, were the first fashion designers ever to be nominated for the art prize, which comes with a $40,000 award. They beat nine other finalists with their collection, named Istanbul Contrast, which was inspired by the Turkish city's architectural tradition.
"Every dress is a symbol and interpretation of Istanbul's diverse architecture. It's a city of contrast, where east meets west and modernity and tradition coexist" explained Ece Ege.
Dice Kayek's garments tell a story of Istanbul's rich history by weaving references to intricate Byzantine mosaics and opulent robes of Ottoman rulers, but their creations also have a modern, international edge. They are sold in 35 countries on five continents, and the label is a member of the prestigious Fédération Française de la Couture, alongside names like Chanel and Balenciaga.
"Every dress is a symbol and interpretation of Istanbul's diverse architecture. It's a city of contrast, where east meets west and modernity and tradition coexist
Ece Ege
The brand's winning collection was created in 2009, and has already been shown in some of the world's leading museums such as Le Musée des Arts Décoratifs in Paris, Amsterdam Museum and Istanbul Museum of Modern Arts.
Martin Roth, Director of the V&A and chair of the distinguished panel of judges, which included Zaha Hadid and Thomas Heatherwick, lauded the designers' ability to translate the spirit of Islamic tradition for the modern era: "We were struck by the way that Dice Kayek's work uses Islamic inspiration in a completely secular context, taking it into a new world, that of contemporary fashion."
Other shortlisted entries included jewelry, textiles, installations, and calligraphy, created by an eclectic group of artists from diverse backgrounds ranging from Saudi Arabia to France.
An exhibition of work by the winner and nine short-listed artists and designers runs at the Victoria and Albert Museum in London until April 21 2014.
Read more: High art meets the high-street at neon-lit Miami Beach
Read more: Beauty from the crypt: Mystery of Europe's jeweled skeletons

Part of complete coverage on
CNN Style
March 4, 2014 -- Updated 1410 GMT (2210 HKT)

Every spring, revelers descend on Piazza San Marco during the world' s most famous masquerade party, showing off extravagant costumes.
March 3, 2014 -- Updated 0953 GMT (1753 HKT)

Take a whirlwind tour of venues which are as pretty on the eyes, as they are dramatic on the ears.
February 17, 2014 -- Updated 1501 GMT (2301 HKT)

Legendary photographer Terry O'Neill looks back on 50 years of capturing the world's most famous women and men.
February 14, 2014 -- Updated 1754 GMT (0154 HKT)

Known as "Sapeurs," these dapper dressers are part of a Congolese subculture devoted to the cult of style.
February 20, 2014 -- Updated 1613 GMT (0013 HKT)

From a floating school in Nigeria to Kate Moss' favorite app and a Lego calendar, CNN takes you on a tour of this year's shortlist highlights.
February 25, 2014 -- Updated 1231 GMT (2031 HKT)

Venezuelan artist uses principles of trigonometry to create beautiful, precise drawings that echo those of Leonardo da Vinci.
February 19, 2014 -- Updated 0502 GMT (1302 HKT)

If your university days were spent in austere classrooms, you will be astounded by these spectacular temples of learning.
February 5, 2014 -- Updated 1411 GMT (2211 HKT)

Step into the eerie, fantastical world of aquascaping, where every fish-tank is a masterpiece which takes months to create.
February 25, 2014 -- Updated 1259 GMT (2059 HKT)

A New York artist recreated 17th century Dutch Masters paintings using pushpins and test-tubes.
February 3, 2014 -- Updated 1428 GMT (2228 HKT)

Corporations believe that creatively designed offices boost productivity, so we look at some of the most outlandish company HQs in the world.
February 18, 2014 -- Updated 1524 GMT (2324 HKT)

Take a worldwide tour of the most extraordinary structures set to be completed this year, including an "invisible" tower, and a vertical city in the sky.
January 22, 2014 -- Updated 1535 GMT (2335 HKT)

Throughout history artists have suffered from mental illness, and scientists now think they have found a link between madness and creativity.
Today's five most popular stories