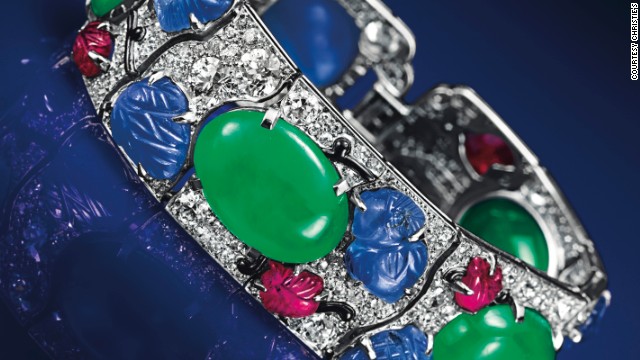 This week, some of the most magnificent gems ever made will be sold at auctions from New York to Dallas for millions of dollars. At Christie's
Magnificent Jewels
auction on December 10, this art deco "Tutti Frutti" bracelet by Cartier sold for $2,045,000
Some of the jewelry on sale belonged to the most beautiful and celebrated women of the 20th century, such as Wallis Simpson, pictured here in 1936 wearing ruby and diamond creole earclips by Van Cleef & Arpels.
This magnificent platinum, 18 karat gold, emerald and diamond ring was sold for $4.6 million at the Sotheby's auction.
Jewelry houses that made many of the objects on sale owed a great deal to a new set of glamorous women who emerged after the First World War. Their glittering social lives required gems that would match it, and they often commissioned valuable pieces from venerated Parisian jewelers. Among them was Daisy Fellowes, captured here by favorite society photographer Cecil Beaton, considered one of the best dressed women of the 20th century.
One of Daisy Fellowes' favorite jewelers was Cartier who created extraordinary bespoke pieces just for her. This elegant platinum and diamond brooch that the house created around 1925 was sold for $365,000 at the Sotheby's Magnificent Jewels auction.
Another famous patron of high-end jewelers was Countess Mona Bismarck, who like most women of her standing at the time, would update the setting for her gems as fashion changed. In this 1936 photograph she is wearing an aquamarine parure by Suzanne Belperron, the most fashionable designer of the period.
South India's Golconda mines yield diamonds of the highest degree of transparency, the best of which were traditionally reserved for kings and rulers. This week Christie's sold this diamond ring for a staggering $10.9 million. It's a spectacular 52.58 carat D-color internally flawless rock.
This picture shows Mona Bismark, photographed in Paris by Cecil Beaton in 1958. She is wearing her emerald and diamond cluster necklace and earclips by Cartier. On her right arm is her jade and diamond bracelet, on her left arm a her pearl bracelet with diamond and emerald clasp.
The roaring 20s saw a craze for all things Egyptian, which also reflected In jewelry design. This magnificent and rare Egyptian-Revival Faience and jeweled brooch made around 1923 was sold for $1 million by Sotheby's.
However, not all jewels worn by the glamorous ladies of the art deco era were new. In the dramatic political landscape Europe after World War I, jewels once belonging to queens and empresses were purchased by wealthy wives of industrialists. Here Lydia, Lady Deterding, wife of Royal Dutch Petroleum Company chairman is wearing a pearl and diamond pendant bought from the Grand Duchess Xenia Alexandrovna of Russia.
The Maharani Sita Devi of Baroda lived the life of indulgent extravagance, and amassed a spectacular collection of jewelry. Here she is with her son at Van Cleef & Arpels in 1960 admiring the famous "Princie" diamond from Golconda mines that was named after him, and sold by Christie's in April for record breaking $39.3m.
This diamond pendant necklace by Leviev sold for $2.8 million at Christie's 'Magnificent Jewels' auction on December 10. It's a pear-shaped diamond, weighing around 22.12 carats.
In the 1950s and 1960s, the grande dame of the opera stage Maria Callas was sometimes lent priceless pieces by Parisian jewelry houses to wear for her performances.
This 18 karat gold, emerald and diamond necklace is from Cartier from 1947. The piece was sold for $1.2 million at the Sotheby's auction.
American socialite Barbara Hutton was one of the wealthiest heiresses of her time. For her wedding, her father gifted her a precious pearl necklace that once belonged to Mary Antoinette, which she is wearing in this photo from 1939.
This magnificent fancy pear-shaped pink diamond ring was sold for almost $3 million at Phillips 'Fall Jewels' auction in New York on December 9.
Auction frenzy
Precious provenance
Jewels of 20th century
Dawn of a new era
One of a kind
Old gems in new times
Beauty from the depth
Elegant splendor
Pharaoh frenzy
Crown jewels
Vivid colors
Exotic opulence
Jewels of 20th century
La Divina
Jewels of 20th century
Jewels of 20th century
Jewels of 20th century
STORY HIGHLIGHTS
In the past few decades some of the world's most fabulous jewels have been auctioned
If a gem belonged to a notable historic personality its could drastically increase its price
Roaring twenties brought more freedom to women who broke from trends of the past
This was reflected in a new style of jewelry, with historic gems put in new settings
Editor's note: Stefano Papi is an author and world renowned jewelery historian. Alexandra Rhodes is senior director of Sotheby's. The are co-authors of "20th Century Jewelry and the Icons of Style", published by Thames and Hudson.
(CNN) -- An object of beauty and desire, a jewel also provides a perfect reflection of the personality, lifestyle and tastes of the owner. Jewelry auctions are not a 20th-century phenomenon, but over the past few decades we have seen a wealth of the world's most fabulous jewels, once owned by some of the most notable personalities of the century, pass through the salesrooms.
Earlier this week, Sotheby's held an auction of "Magnificent Jewels", which raised a rather magnificent $60.5 million. Not to be outdone Christie's, in New York, held a jewelry auction the following day, amassing $65.8 million in sales -- with one diamond ring alone selling for $10.9 million.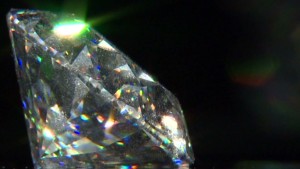 How much is this diamond worth?
Many of these jewels were formerly in the possession of members of royalty, the aristocracy, high society and the stars of the screen.
In each instance, whether it was one piece or a whole collection, the designated jewelry gives us a fascinating insight into the life and times of the owner as well as the opportunity to see some of the finest gemstones and the most stunning jewels created in the 20th century.
The allure of heritage
The increase in price that an important provenance can add to a jewel can be phenomenal, as seen in sales like the Jewels of the Duchess of Windsor which was held by Sotheby's in Geneva in 1987; many pieces exceeded their estimates tenfold or more.
In the 20th Century the glamorous, roaring twenties saw the birth of a glittering social scene after the darkness of the First World War.
Stefano Papi
A major figure of the beau monde of the 1930's, the Duchess of Windsor - previously Miss Wallis Simpson -- built up an incomparable jewelry collection over the years.
In their own right these pieces were some of the most important and sensational examples of the twentieth century jewelers' art, but they were also the jewels chosen by a king -- Britain's King Edward VIII -- to give to the woman for whom he abdicated his throne.
Read more: Green with envy: Why emeralds make some of us mad with desire
Among the many international jewelry sales this week, on December 12, at Sotheby's in London some of the original pieces from the extraordinary 1987 sale will again be on offer.
These include the stylish sapphire bracelet created by Cartier, circa 1945, which she chose to wear on the State visit of Queen Elizabeth II to Paris in May 1972. The Queen had agreed that on this visit she would see her uncle, the Duke of Windsor, who was known to be very close to his death.
For this historic occasion the Duchess chose to wear the sapphire bracelet with a matching brooch; it will be intriguing to see what the importance of both the history and the provenance add to the price of this exceptional jewel.
Dawn of a glamorous era
In the 20th Century the glamorous, roaring twenties saw the birth of a glittering social scene after the darkness of World War I.
Drastic changes in Europe put an end to several monarchies, and powerful figures from the world of business rose to join a reborn social elite.
The royal jewels that had once adorned the empresses and queens of ancient regimes now passed into new hands. Women, more independent and influential than ever before, broke away from restrictive trends of the past: they cut their hair, abandoned their corsets and wore looser-fitting clothes.
This change in fashion led to a new style of jewelry, which peaked in 1925 at the Exposition Des Arts Decoratifs in Paris; the historic gemstones were reset and new jewels were created.
The royal jewels that had once adorned the empresses and queens of ancient regimes now passed into new hands.
Stefano Papi
Read more: Rare Psalm book sells for $14.2 million
These years were conceivably the most glamorous of all for rich and powerful leading women who led hectic, international social lives for which they required designer dresses and designer jewels.
Alluring figures like American socialite and business owner Marjorie Merriweather Post, Parisian fashion icon Daisy Fellowes and Anglo-Indian actress Merle Oberon were such women.
For them, these pieces were not only accessories or statements of social standing, but also had an irresistible attraction that sublimated their intrinsic value.
They could all afford to buy the best, and with their great sense of style built unique and memorable collections alongside the jewels' skilled creators.
Read more: Beauty from the crypt - mystery of Europe's jeweled skeletons
Read more: Princess Diana's favorite fairytale dress could be yours ... for a price