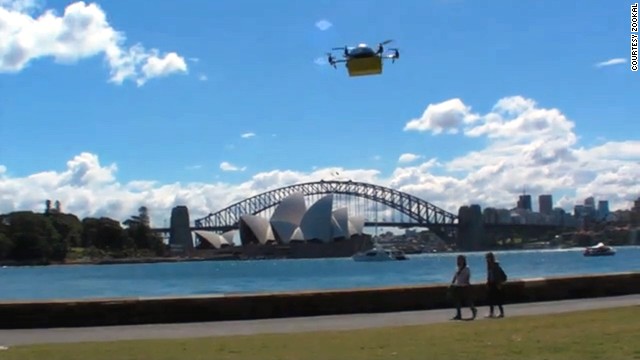 Express delivery:
Australian textbook rental service
Zookal
make good on UAV's (unmanned aerial vehicles) promise to provide lightning-speed personal deliveries. French postal service La Poste claimed to be launching a newspaper delivery drone service in April --
only to reveal it as a hoax
. But Zookal looks to be the real deal, offering Sydney students the chance to have their textbooks dropped at any location.
Airborne aid:
U.S. start-up
Matternet
aims to create a network of drones capable of
transporting potentially lifesaving goods to rural and under-developed areas
. The Bill & Melinda Gates Foundation is backing rural drone transport too -- funding a project that aims to
transport vaccines to hard-to-reach and disaster-struck locations
.
Fast food:
so what if Domino's were only joking when they announced their
Domicopter delivery service
. London's
Yo Sushi restaurant
, California's
Burrito Bomber
, and
an ingenious Shanghai baker
are already capable of putting UAVs to good use, bringing fresh food to hungry mouths.
Drone ranger:
efforts to protect four of the world's last remaining northern white rhinos have been boosted by a $70,000 drone. The Ol Pejeta Conservacy in Kenya is planning to use the UAV to
monitor the location of its wildlife and deter poachers from harming the animals
-- and other conservationists are
following suit
.
Shooting the stars:
one group sure to be seeing more drones in the near future are Hollywood's stars. Whether acting in front of
drone-mounted cameras
or being
chased by UAV paparazzi
, wherever celebrities go, the drones will be watching.
Search and rescue:
need a tireless search party? Why not drones, which could be pre-programmed to scan an area, leaving no stone unturned. Los Angeles County Sheriff's Department began experimenting with the SkySeer Search and Rescue drone
as early as 2006
, and British mountain rescue teams are testing a
crowd-sourcing approach to spotting stranded climbers
.
Lay of the land:
time-draining agricultural tasks such as spraying pesticides could soon be left to UAVs, while surveillance drones are capable of
provide crucial information to help boost harvests
. This French drone is scanning crops to help farmers optimize water levels and fertilizer use. Or you could always use a heat-sensing drone to route out pests,
as one Louisiana hog-hunter has done
.
Capturing the action:
whether you're searching for
the big scoop
, capturing
live sports
, or taking part in the action, drones promise to bring a new angle to the day's events. UAV enthusiasts
brought a unique perspective to this summer's Burning Man festival
with their camera-equipped creations.
Saving the world?
As engineers at the Fukushima nuclear plant
embark on another terrifyingly hazardous mission
to correct damage sustained during the 2011 tsunami, the benefits of disaster response robots are clear. UAV disaster teams, capable of flying into hazardous zones and saving lives, could turn around perceptions of "killer" drones. Oklahoma-based
Fireflight are leading the way
with their wildfire battling bots.
Protect and serve:
after the military, police forces were among the first to declare an interest in drones. In May, Colombian police revealed this surveillance quad-coptor -- designed to protect Latin American heads of state at the VII Pacific Allianz Summit -- and UAVs have been
used in counter-narcotics operations in the country since 2006
.
10 friendly neighborhood drones
10 friendly neighborhood drones
10 friendly neighborhood drones
10 friendly neighborhood drones
10 friendly neighborhood drones
10 friendly neighborhood drones
10 friendly neighborhood drones
10 friendly neighborhood drones
10 friendly neighborhood drones
10 friendly neighborhood drones
STORY HIGHLIGHTS
Tech companies such as Amazon or Google are planning major robotics initiatives
Ryan Calo: Drone technology can revolutionize delivery, agriculture, photography
He says of course there are many technical, legal and social hurdles to overcome
Calo: When drone app store opens, that's when innovation will take really off
Editor's note: Ryan Calo is an assistant professor of law at the University of Washington specializing in the legal and policy aspects of robotics. He is author of the paper, "Open Robotics." Follow him on Twitter: @rcalo
(CNN) -- Amazon, Apple and Google: All of these big tech companies have announced major robotics initiatives or investments in recent months. Amazon, in particular, managed to capture the public imagination when founder Jeff Bezos outlined a plan to deliver packages by drones.
As drones become more mainstream, the prospect of excessive surveillance and other dangers loom. Drones drive down the costs of surveillance to a worrisomely low level. For example, it wouldn't be surprising if Amazon delivery drones were equipped with cameras for loss prevention. So what would stop law enforcement from asking Amazon for all of its drones' footage in a given neighborhood where there had been a crime?
Simultaneously, drone technology has the potential to revolutionize delivery, agriculture, photography and possibly disrupt major industries.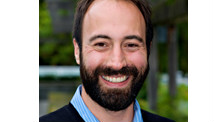 Ryan Calo
Imagine that you're shopping at Barnes & Noble. You ask for a book that the store does not carry. Rather than send you online, Barnes & Noble flies the book over from another store while you shop or take a coffee break.
Or imagine that you're a farmer whose livelihood depends on catching crop disease early. You could use drones to fly over thousands of acres in an afternoon to spot problem areas.
These are exciting uses for drones. But the real innovation will come when companies such as Amazon mix their robotics strategy with their love for open platforms.
What does that mean?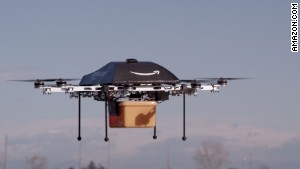 What's next for Amazon drones?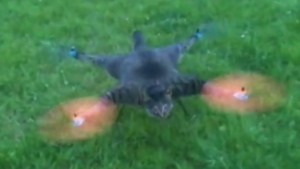 The lighter side of drones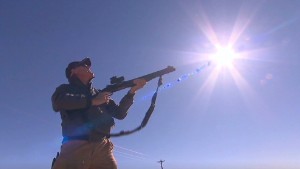 Shooting down drones from your backyard
Recall that the first personal computers did not come to the market until the mid-1970s. Before that, government and industry purchased or leased computer equipment dedicated to a particular purpose such as database management. That's analogous to what Amazon and other companies are doing today.
Amazon paid nearly $800 million for the robotics firm Kiva Systems for the specific purpose of helping to organize its warehouses. The company is now experimenting with drones for the second task of delivery.
The real explosion of innovation in computing occurred when devices got into the hands of regular people. Suddenly consumers did not have to wait for IBM or Apple to write every software program they might want to use. Other companies and individuals could also write a "killer app." Much of the software that makes personal computers, tablets and smartphones such an essential part of daily life now have been written by third-party developers.
As author Jonathan Zittrain points out, it would be hard to name a category of important software -- from word-processing to e-mail -- that some computer hobbyist did not create first at home. Today, popular apps such as Snapchat or Instagram are used by millions of people. Yet, both were created by just two or three people in their 20s.
There are, of course, problems with apps for robots.
You do not necessarily want a live-action version of Angry Birds using drones. And who is responsible should someone get hurt by interacting with robots?
Once companies such as Google, Amazon or Apple create a personal drone that is app-enabled, we will begin to see the true promise of this technology. This is still a ways off. There are certainly many technical, regulatory and social hurdles to overcome. But I would think that within 10 to 15 years, we will see robust, multipurpose robots in the hands of consumers.
Worried about your kid getting to and from the bus? A drone app lets you follow her there by trailing her phone and returning when she waves. Selling your house? An app on a drone will command it to fly around your property and stitch together a panorama of photos for a virtual tour. Same drone, thousands of possibilities.
Put another way, the day when Amazon or Apple opens a drone app store is the day when drone innovation takes off. On an open model, the sky is quite literally the limit.
Follow us on Twitter @CNNOpinion.
Join us on Facebook/CNNOpinion.
The opinions expressed in this commentary are solely those of Ryan Calo.