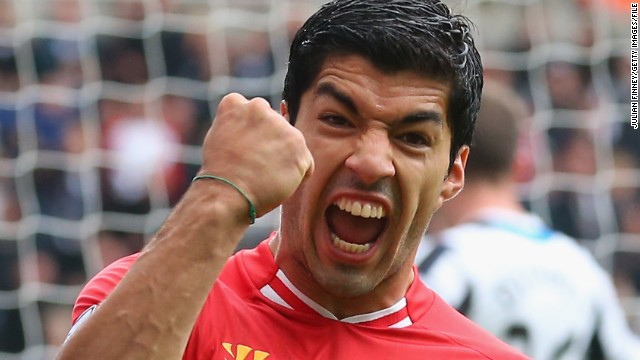 Luis Suarez's goals have fueled Liverpool's title challenge in the English Premier League this season.
The striker has been rewarded with a new long-term contract after bouncing back from a series of controversies which had threatened to lead to his exit from the 18-time English champion.
Suarez -- here celebrating one of his four goals against Norwich in December -- had sought a transfer, but was refused permission to talk to Arsenal despite the London club thinking it had triggered a clause in his contract.
Suarez (back left) watched Liverpool's opening fixture of the season from the stands as he served the fifth game of a 10-match ban dating back to the previous campaign.
The suspension was a punishment for Suarez's clash with Chelsea defender Branislav Ivanovic in April, when he bit the Serbian.
That followed an eight-match ban after being found guilty of racially abusing Manchester United's Patrice Evra during a game in October 2011.
Liverpool's then manager Kenny Dalglish stoutly defended Suarez during the controversy, and it was seen as one of the factors in the club legend losing his job after the 2011-12 season.
Dalglish's replacement Brendan Rodgers has given Suarez the Liverpool captaincy this season in the absence of the injured Steven Gerrard.
Suarez helped Uruguay win the 2011 Copa America, a year after finishing fourth at the World Cup. He will be hoping to impress again at Brazil 2014.
Leading from the front
Earning applause
Stay or go?
Interested observer
A real mouthful
Race row
Demise of 'King Kenny'
Taking responsibility
World Cup mission
STORY HIGHLIGHTS
Luis Suarez signs new deal at English Premier League Liverpool
Uruguayan international on four-and-half-year contract until 2018
Has scored 17 goals in 11 EPL starts this season
Speculation about his future intensified during last transfer window
(CNN) -- Luis Suarez committed his "long term" future to Liverpool Friday by signing a new four-and-a-half year deal with the English Premier League giants.
The 26-year-old Uruguayan international has bagged a league-leading 17 goals in 11 EPL starts this season to lead Liverpool's title challenge.
Suarez was the subject of two bids in the last transfer window from Arsenal, who currently top the standings, two points clear of second-placed Liverpool.
Read: Suarez double fires title push
But after his superb start to the current campaign he has chosen to extend his current contract, which was due to expire in 2016.
"I am delighted to have agreed a new deal with Liverpool and have my future secured for the long term," Suarez told Liverpool's official website.
"We have some great players and the team is growing and improving all the time. I believe I can achieve the ambitions of winning trophies and playing at the very highest level with Liverpool. My aim is to help get us there as quickly as possible," he added.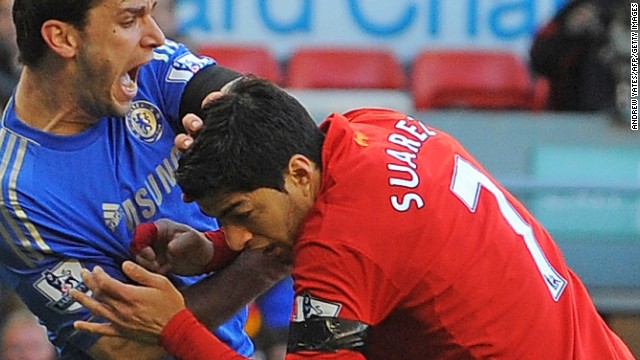 Liverpool's Luis Suarez has been banned for 10 games by the English Football Association for biting Chelsea's Branislav Ivanovic during Sunday's match at Anfield. It was the latest example of a player displaying questionable behavior in front of a vast array of television cameras. As football coverage has grown over the last two decades, so has the scrutiny placed on the stars of the "beautiful game." In this gallery, CNN highlights times when players have seemingly forgotten the eyes of the world are watching...
Suarez's reputation as a pantomime villain dates back to the 2010 World Cup in South Africa. The striker used his hand to block a goal-bound shot in the last minute of extra-time in a quarterfinal tie between Uruguay and Ghana. Suarez was given a red card and Ghana were awarded a penalty. But Asamoah Gyan missed the spot kick and Uruguay won the resulting penalty shootout to reach the semifinals, breaking African hearts in the process. Suarez also has previous when it comes to biting opponents, after he bit PSV's Otman Bakkal while playing for Ajax in November 2010. He was given a seven-match ban.
Manchester United's Eric Cantona suffered a moment of madness during an EPL match at Crystal Palace in January 1995. Cantona had been given a red card for kicking an opponent and, while making his exit from the pitch, the Frenchman jumped over the advertising boards and aimed a scissor kick at a fan who he claimed was shouting insults at him. Cantona was banned for nine months and also served 120 hours community service.
Paolo Di Canio has often courted controversy during his career. The Italian, who recently faced allegations of holding fascist views following his appointment as Sunderland manager, pushed referee Paul Alcock to the floor during a match against Arsenal in September 1998. Di Canio was given a red card and suspended for 11 games.
It is not just acts of violence which can make players unpopular. Brazil's Rivaldo was criticized, and ridiculed, following a group stage match against Turkey at the 2002 World Cup. Rivaldo went to the floor claiming Hakan Unsal had kicked the ball into his face, despite replays showing it had clearly hit him in the leg. Unsal was given a second yellow card and sent off, while Brazil went on to win the match 2-1. FIFA retrospectively punished Rivaldo with a fine, but the playmaker had the last laugh as Brazil went on to lift football's biggest prize for a record fifth time.
Portugal's Joao Pinto drew criticism during the 2002 World Cup after punching a referee in the stomach. Pinto, who had been given a red card during the match against tournament co-hosts South Korea, was suspended for six months by football's global governing body FIFA.
Zinedine Zidane. a world and European champion and a three-time FIFA World Player of the Year, ended his career in infamy at the 2006 World Cup. With the scores level at 1-1 in the final between France and Italy, the playmaker headbutted Italy's Marco Materazzi and was given a straight red card. France went on to lose the match on penalties and Zidane never played again. Materazzi later admitted to provoking Zidane by making remarks about his mother and sister.
Real Madrid defender Pepe has a notoriously short fuse. The Portuguese star was handed a 10-match ban in April 2009 for violent conduct, after kicking Getafe's Javi Casquero in the back while he lay on the floor. Moments before, Pepe had brought down Casquero to concede a penalty.
Belgian midfielder Axel Witsel was banned for eight matches after breaking Marcin Wasilewski's leg while played for Standard Liege against FC Brussels in 2009. Witsel has since joined Russia's Zenit St Petersburg.
Valentin Eysseric, who plays for French club Nice, was hit with an 11-match suspension following last month's match against Saint Etienne. The midfielder broke Jeremy Clement's leg and shattered several ankle ligaments following a shin-high tackle. Saint Etienne's fans have since displayed a banner saying "Support Clement" during their matches.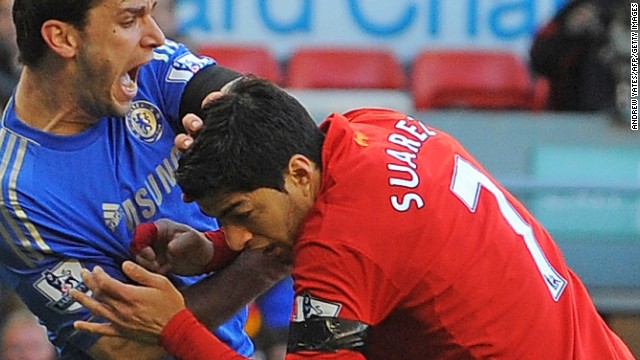 Moments of madness: Soccer stars behaving badly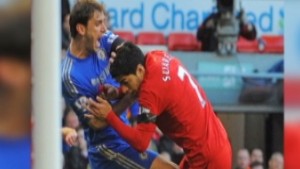 Liverpool stands by biting Suarez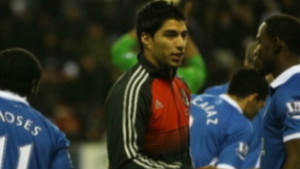 Uruguay outraged over alleged racism
Manager Brendan Rodgers was naturally delighted to persuade Suarez to sign on the dotted line, with the striker integral to his plans for the club.
Read: Luis Suarez: Flawed genius?
"Luis is a world-class talent and securing his services is crucial for what we are trying to achieve here," he said.
"What's most important and most exciting is that, at just 26 years old, his best years are still ahead of him and we now know we'll be seeing him reach that potential in a Liverpool shirt."
Suarez was signed by then Liverpool manager Kenny Dalglish from Ajax Amsterdam in January 2011 and immediately impressed observers.
But his time on Merseyside has also been marked by two highly controversial incidents, resulting in lengthy bans.
He was found guilty by the English Football Association (FA) of racially abusing Manchester United defender Patrice Evra at a match in October 2011 and given an eight-game suspension.
At the end of last season, Suarez appeared to bite Chelsea's Branislav Ivanovic in an EPL game at Anfield and was banned for 10 games by the FA for violent conduct.
Read: Suarez hit with 10-game bite ban
With Suarez set to miss out on the start of the new EPL campaign and reportedly wanting to leave Liverpool, Arsenal tabled a record bid of £40 million ($65.38 million) plus £1 bid, designed to invoke the exit clause in his contract.
It was rejected by Liverpool, who proceeded to make a strong start to the season, boosted by the eventual return of Suarez in late September after his ban.
He has acquired hero status with the Liverpool fans -- desperate for success after seeing arch-rivals Manchester United take over as the most successful club in English football.
Suarez said their support had "influenced his decision."
Suarez, who is expected to star for Uruguay in next year's World Cup where they will meet England in the group stages, added: "We have a special relationship; they have love for me and in return I love them back."