Lindsey Vonn, watched by boyfriend Tiger Woods, can't complete downhill
December 21, 2013 -- Updated 1806 GMT (0206 HKT)
STORY HIGHLIGHTS
Lindsey Vonn misses a gate and can't complete a downhill in Val d'Isere, France
Vonn says she is still injured and will likely only take part in one or two races before the Olympics
Marianne Kaufmann-Abderhalden won the race ahead of Tina Maze
Canada's Erik Guay wins a men's downhill in Val Gardena, one of the classics
(CNN) -- Even if Lindsey Vonn competes at the Olympics in Sochi in February, what kind of form will the four-time World Cup overall champion be in?
Vonn missed a gate in a downhill in Val d'Isere, France on Saturday -- with boyfriend Tiger Woods watching -- and then said her ailing right knee was to blame.
She was seeking to become just the second woman -- behind Austria's Annemarie Moser-Proll -- to win 60 World Cup races.
"I didn't hurt myself more than I'm already hurt," the American told reporters.
"Unfortunately I have no (anterior cruciate ligament) and it gave out on me.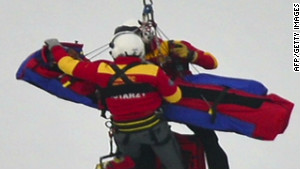 Lindsey Vonn airlifted after crash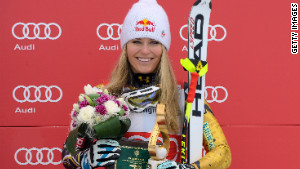 Vonn reflects on an 'amazing' year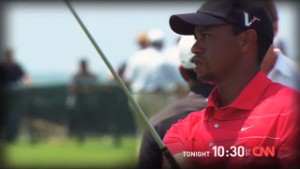 Tiger Woods tonight on Unguarded
"My knee is loose and it's not stable and that's the way it's going to be from here on out. I just have to get used to it."
The reigning Olympic and World Cup downhill champ hurt the knee at the world championships last February -- she subsequently underwent reconstructive surgery -- and aggravated the problem in a crash in training last month.
But Vonn made a quick recovery and placed fifth in a Super-G in Lake Louise, Canada before deciding to skip last week's races in St. Moritz, Switzerland.
"It's certainly not the return I had anticipated," Vonn said. "It was Tiger's first time on a World Cup race and I was really hoping to win my 60th as a present for him."
Vonn added she would probably only race once or twice more prior to the Olympics in Russia.
"I just need to be more careful of how many races I do," she said.
"I'm at risk of doing more damage to my knee and my meniscus. So I'm going to play it safe and race really minimal races."
Marianne Kaufmann-Abderhalden of Switzerland earned a maiden World Cup victory, beating Slovenia's Tina Maze by 0.29 seconds and Austria's Cornelia Huetter by 0.50 seconds.
Kaufmann-Abderhalden trails Germany's Maria Hoefl-Riesch by six points in the downhill standings. Hoefl-Riesch was ninth Saturday.
Oh, Canada
Erik Guay has had knee problems of his own -- undergoing surgery in August -- but the Canadian was the fastest in the 50th running of the downhill in Val Gardena, Italy.
He bettered Norway's Kjetil Jansrud by 0.12 seconds and France's Johan Clarey by 0.24 seconds to claim a fourth World Cup win.
Norway's Aksel Lund Svindal, the current overall leader, and former overall champion Bode Miller of the U.S were fourth and fifth, respectively.
Svindal also leads the downhill standings through three races.

Today's five most popular stories
March 31, 2014 -- Updated 1318 GMT (2118 HKT)

Football has its 18-carat-gold World Cup trophy, and ice hockey the silver and nickel Stanley Cup, but skiing's globes are something else...
March 24, 2014 -- Updated 1822 GMT (0222 HKT)

Austrian skiers Anna Fenninger and Marcel Hirscher reflect on their World Cup triumphs.
October 24, 2014 -- Updated 0945 GMT (1745 HKT)

Christina Macfarlane explores how skiing's coveted Crystal Globe is made.
February 20, 2014 -- Updated 1404 GMT (2204 HKT)

The ghostly lights wind up from the base of the mountain. Heart rates are also rising. This race is held on a notorious downhill ski course -- but in reverse.
January 29, 2014 -- Updated 1846 GMT (0246 HKT)

CNN's Christina Macfarlane looks back at the history of Austria's Kitzbuhel ski race.
January 29, 2014 -- Updated 1849 GMT (0249 HKT)

CNN's Christina Macfarlane explores a new technology that customizes the entire boot to your foot.
February 4, 2014 -- Updated 0515 GMT (1315 HKT)

If you're scared of heights, then this is not for you -- a glass cube perched at the top of a 12,600-foot peak in the French Alps.
December 16, 2013 -- Updated 1127 GMT (1927 HKT)

CNN's Christina Macfarlane goes on patrol with a a seasoned ski rescue team in the French Alps.
December 16, 2013 -- Updated 1125 GMT (1925 HKT)

CNN's Christina Macfarlane meets Giant Slalom world champion Tessa Worley in Lyon, France.
December 13, 2013 -- Updated 1556 GMT (2356 HKT)

From GoPro cameras to avalanche airbags. CNN's Christina MacFarlane puts the latest skiing gadgets to the test.
December 2, 2013 -- Updated 1659 GMT (0059 HKT)

CNN's Christina MacFarlane talks to teenage skiing sensation Mikaela Shiffrin.
December 2, 2013 -- Updated 1659 GMT (0059 HKT)

CNN's Christina Macfarlane finds out how designers and engineers made Beaver Creek race course from scratch.