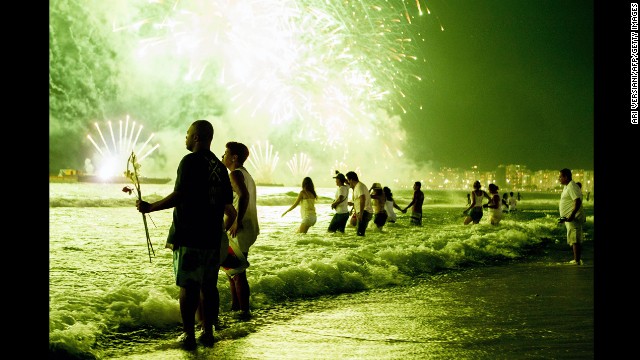 January 1:
People watch New Year's fireworks along Copacabana Beach in Rio de Janeiro, Brazil. Photographers worldwide captured deadly conflicts, devastating storms and other memorable moments throughout the year. Click through the gallery to see 2013 unfold from beginning to end.
January 4: Tammy Holmes and her grandchildren take refuge under a jetty as a wildfire rages nearby in the Tasmanian town of Dunalley, Australia.
January 7: Alabama defensive lineman Alphonse Taylor holds up a newspaper after Alabama defeated Notre Dame 42-14 in the BCS National Championship game. It was the second straight national title for the Crimson Tide.
January 10: Protesters advance on police in De Doorns, South Africa. Farmworkers across the Western Cape were on strike at the time, demanding that their wages of 65 rand a day ($7.50 U.S.) be doubled.
January 19: U.S. Army soldiers in Dover, Delaware, carry the flag-draped transfer case of Army Sgt. David J. Chambers, who was killed in Afghanistan.
January 23: A truck is covered in ice as firefighters extinguish a massive blaze at a vacant warehouse in Chicago.
January 24: A 29-year-old man, convicted of being part of a gang that carried out burglaries, has three fingers amputated in a public square in Shiraz, Iran. The man's sentence also included three years in prison and confiscation of his property.
January 24: This outfit, seen in the Throne Room of Buckingham Palace, was worn by Princess Anne during Queen Elizabeth II's coronation on June 2, 1953. The year 2013 marked the 60th anniversary of the queen's coronation.
January 28: A crowd in Nazare, Portugal, watches as surfing legend Garrett McNamara appears to break his own world record for the biggest wave ever surfed. The wave was estimated to be about 100 feet high.
January 29: A military regiment in China's Heilongjiang province takes part in a morning exercise as temperatures dip to minus 30 degrees Celsius (minus 22 degrees Fahrenheit).
February 1: Kashmiri Muslims stand on a tree as they offer prayers at the Hazratbal Shrine in Srinagar, India.
February 3: Baltimore Ravens head coach John Harbaugh, right, greets his brother, San Francisco 49ers head coach Jim Harbaugh, after the Ravens won Super Bowl XLVII in New Orleans.
February 3: Daily life carries on in Timbuktu, Mali, after the city was freed by the French Army. The city had been under the control of Islamist militants.
February 5: Anaplastologist Hernan Baron displays a prosthetic eye at his studio in Bogota, Colombia.
February 8: People shield themselves from snow as a blizzard arrives in the Back Bay neighborhood of Boston.
February 8: Horses are hoisted in the air by a crane as they are transferred from a cargo ship onto a truck in Surabaya, Indonesia.
February 10: Marching band members wait to perform in the procession that leads to the banks of Sangam, the confluence of three holy rivers, during the Maha Kumbh Mela festival in Allahabad, India.
February 10: People celebrate in clouds of colored dust after the Color Run 5K in Sydney.
February 15: A meteorite contrail is seen over Chelyabinsk, Russia, about 930 miles east of Moscow. More than 1,500 people were hurt, authorities said, and thousands of buildings were damaged after a meteor exploded in the skies with the force of about 30 early nuclear bombs.
February 20: A U.S. Marine drinks cobra blood during a jungle survival program at a base in Sattahip, Thailand.
February 23: A sleeping giant, Boris the polar bear, undergoes a physical exam at the animal hospital of Point Defiance Zoo & Aquarium in Tacoma, Washington. A team of veterinarians, technicians and staff also performed a root canal and some minor eye surgery on the 27-year-old bear.
February 24: Actress Jennifer Lawrence falls during the Academy Awards as she walks up stairs to receive the Best Actress Oscar for "Silver Linings Playbook."
February 25: Ultra-Orthodox Jewish men gather at a yeshiva in Jerusalem during the Purim holiday.
March 2: A six-car bullet train in northern Japan sits in the snow after derailing in blizzard conditions. Nobody aboard the train was injured.
March 6: A crying woman holds a picture of Venezuelan President Hugo Chavez outside the military hospital where he died one day earlier in Caracas, Venezuela. Chavez, who had battled cancer, was 58.
March 10: A Pakistani Christian woman weeps after her home was damaged by an angry Muslim mob during clashes between Christians and Muslims in Lahore, Pakistan.
March 10: A man wearing a Union flag suit dances as he casts his vote on whether the Falkland Islands should remain a British territory. Residents of the islands, which Argentina calls the Malvinas, voted to remain under British rule.
March 11: The One World Trade Center building emerges from the clouds in New York's night sky. Construction on the office complex, which is going up on the site of the original World Trade Center, is set to be completed in early 2014.
March 11: Harry Styles of the boy band One Direction poses with calipers as he is measured for a wax figure by Madame Tussauds.
March 13: A baby is helped to swim in Kiev, Ukraine.
March 18: A Bangladeshi boy looks inside a car vandalized by activists of the Bangladesh Nationalist Party during a general strike in Dhaka, Bangladesh.
March 21: A transgender Hindu devotee dances during Lathmaar Holi celebrations in the village of Barsana, India.
March 23: Soccer star David Beckham falls during a visit with Wuhan Zall, a professional team in Wuhan, China.
March 24: Hooded penitents from the La Paz brotherhood walk to a church in Seville, Spain, to take part in a procession during Easter Holy Week.
April 3: A 2-year-old Florida panther is released into the wild by the Florida Fish and Wildlife Conservation Commission in West Palm Beach, Florida. The panther and its sister had been raised at the center since they were 5 months old. They were rescued after their mother was found dead.
April 5: Natacha Ross is evaluated during an audition for 6-year old ballet hopefuls at the School of American Ballet in New York.
April 7: Hermano Hermes performs exorcism rituals in La Cumbre, Colombia. He says he has helped thousands of people get rid of evil spirits possessing them.
April 8: Russian President Vladimir Putin is attacked by an activist of the Ukrainian women rights group Femen as German Chancellor Angela Merkel looks on in Hannover, Germany.
April 9: A portrait of former British Prime Minister Margaret Thatcher is arranged in a condolence room at the British Embassy in Beijing. Thatcher died the day before at the age of 87.
April 11: A protester aims a rock at a huddle of shielded riot police after students held a march demanding free education in Santiago, Chile.
April 11: An Air Koryo attendant wears a pin showing portraits of the late North Korean leaders Kim Il Sung and Kim Jong Il. Air Koryo is the world's only 1-star airline on Skytrax, a consultancy that has ratings and reviews for more than 681 airlines.
April 13: Indian villager Fatima Begum kisses the head of her 18-month-old daughter, Roona, at their hut in Jirania, India. Roona suffers from hydrocephalus, a disorder causing cerebral fluid to build up in the brain. Doctors had given her just a few months to live, but she recently underwent surgery to improve her condition.
April 15: Police officers stand over marathon runner Bill Iffrig as a second explosion sounds near the finish line of the Boston Marathon. Three people were killed and at least 264 were injured in the terror attack.
April 17: Outside the United Nations office in New Delhi, India, a young girl from Pakistan cries after being flung on the ground by her mother during a protest against alleged human rights violations in Pakistan.
April 19: Boston Marathon bombing suspect Dzhokhar Tsarnaev is seen in a boat at the time of his capture in Watertown, Massachusetts.
April 24: Opponents of same-sex marriage protest in Paris after it was legalized by the country's National Assembly.
April 25: Homes severely damaged by Hurricane Sandy are seen in Mantoloking, New Jersey, six months after Sandy devastated the Jersey shore and New York City and pounded coastal areas of New England.
April 30: A drilling worker takes a break in an unfinished geothermal pool next to the Kenya Electricity Generating Company's two active geothermal plants. Kenya was the first African country to build geothermal energy sources.
May 3: Hong Kong skyscrapers, as seen from the ground floor.
May 3: Farmers transport watermelons on camels on their way to market in Allahabad, India.
May 8: Kathy Brown, Virginia Aguiar and Jane Crook react to a guilty verdict for Jodi Arias outside the Maricopa County Superior Court in Phoenix. Arias was convicted of murdering her ex-boyfriend, Travis Alexander, in 2008.
May 8: The Tungurahua volcano is seen from the village of Cotalo, Ecuador. Tungurahua keeps generating explosions and expelling incandescent boulders that roll down its flanks.
May 9: A man overcome by fumes falls out of a window as a fire burns at the Lahore Development Authority Plaza in Lahore, Pakistan.
May 14: The Soyuz TMA-07M spacecraft, carrying three crew members home from the International Space Station, lands in a remote area near the town of Dzhezkazgan, Kazakhstan.
May 16: U.S. President Barack Obama looks to see if it is still raining as a Marine holds an umbrella for him during a news conference in the Rose Garden of the White House.
May 20: MS-13 gang members languish in one of the three overcrowded "gang cages" in the Quezaltepeque police station in San Salvador, El Salvador. Initially, the cages were designed to be 72-hour holding cells for common criminals and two rival gangs, but many individuals had been imprisoned for more than a year.
May 23: David Lee Estep waits for his parents on a pile of rubble that used to be their home in Moore, Oklahoma. Moore was hit by a massive EF5 tornado that killed 24 people, including seven students at an elementary school.
June 1: A protester is hit by tear gas in the Besiktas neighborhood of Istanbul. Thousands of people gathered to protest the government and its plans to demolish Istanbul's Gezi Park.
June 5: Ajabu, a 2-month-old orphaned baby elephant, is given a dust bath after being fed at an event to mark World Environment Day in Nairobi, Kenya.
June 11: A protester is hit by a water cannon during clashes in Taksim Square in Istanbul.
June 17: A military police officer pepper-sprays a protester in Rio de Janeiro. Millions of Brazilians took to the streets this summer to protest years of dissatisfaction and discontent with their government.
June 20: A reserved sign is placed on a table at Holsten's ice cream parlor in Bloomfield, New Jersey, on the day actor James Gandolfini died of a heart attack in Italy. Holsten's is where Gandolfini filmed the final scene of the final episode of the television series "The Sopranos."
June 22: South Korean soldiers wear North Korean military uniforms as they take part in a Korean War re-enactment in Chuncheon, South Korea.
July 3: Opponents of Egyptian President Mohamed Morsy celebrate in Cairo after Morsy was ousted in a military coup.
July 3: Assistant State Attorney John Guy, left, and Assistant State Attorney Bernie de la Rionda display the hooded sweatshirt worn by teenager Trayvon Martin on the night he was shot by neighborhood watch captain George Zimmerman in Sanford, Florida. A jury found Zimmerman not guilty of second-degree murder.
July 21: Activists from the Orangutan Information Center remove an air rifle pellet from the face of an orangutan that was rescued from a palm oil plantation in Padang Tualang, Indonesia.
July 23: The Duchess of Cambridge holds her newborn son, Prince George, outside St. Mary's Hospital in London. George is third in line to the British throne after his grandfather Prince Charles and his father, Prince William.
July 29: A Palestinian girl plays beside her family's tent in a poverty-stricken area of Gaza.
August 14: A police vehicle is pushed off the 6th October Bridge in Cairo by supporters of ousted Egyptian President Mohamed Morsy.
August 25: Robin Thicke and Miley Cyrus perform on stage during the MTV Video Music Awards in New York. The provocative performance dominated the headlines and had many people discussing whether it was too risque.
August 25: A man threatens to cut the rope of a Greenpeace protester at the Belgian Grand Prix in Spa, Belgium.
August 28: The "Let Freedom Ring" celebration commemorated the 50th anniversary of the March on Washington, a pivotal moment in the civil rights movement.
September 6: A frog is launched in the air as a rocket takes off at NASA's Wallops Flight Facility in Virginia.
September 10: The Tribute in Light, a collection of 88 searchlights next to the site of the World Trade Center, is seen through a fish-eye lens as it rises above buildings in lower Manhattan.
September 12: A pair of waterspouts form on Lake Michigan, southeast of Kenosha, Wisconsin.
September 16: The Remington 870 shotgun used by Washington Navy Yard shooter Aaron Alexis has an etching on it that reads "Not what yall say!" Alexis killed 12 people and injured eight before he was fatally shot.
September 17: A bull charges over a photographer during the Toro de la Vega festival in Tordesillas, Spain.
September 17: The severely damaged side of the Costa Concordia is visible after it was successfully lifted upright in Isola del Giglio, Italy. The cruise ship capsized last year.
September 21: People take cover behind a counter at the Westgate shopping mall after a shootout in Nairobi, Kenya. The Somali terror group Al-Shabaab, an affiliate of al Qaeda, claimed responsibility for a bloody four-day siege at the upscale mall. At least 67 people were killed.
September 25: Police push away a refrigerator as they enter the Madrid apartment of Maria Isabel Rodriguez Romero. Romero and her family of six were evicted by the State City Hall Housing Company. Spain is slowly emerging from a two-year recession, but it still has a high unemployment rate and evictions have rapidly increased as borrowers are unable to pay their mortgages.
September 28: Nikos Michaloliakos, leader of the extreme-right Golden Dawn party, is escorted from police headquarters in Athens, Greece. He faces charges of running a criminal organization following the slaying of an anti-fascist musician.
September 30: A woman in Port-au-Prince, Haiti, suffers an asthma attack after tear gas was used during an anti-government demonstration on the anniversary of the 1991 coup against former President Jean-Bertrand Aristide.
October 2: A police officer is engulfed in flames after being hit by a Molotov cocktail thrown by protesters marking the anniversary of the Tlatelolco massacre in Mexico City.
October 12: Buckshot the horse rolls on rough gravel to scratch an itch at the Wagon Wheel Ranch in Frederick County, Virginia.
October 20: A woman mourns during the funeral of Bahraini political prisoner Hussain Mahdi Habib in the village of Sitra, Bahrain. Habib, 20, escaped from prison on May 19 and was found dead on October 19 after he was allegedly shot near the coastal village of al-Malkiyah.
October 30: A 50-ton southern right whale swims under a boat in Peninsula Valdez, Argentina.
November 13: A member of a governmental forensic team unearths the remains of a mother and her teenage daughter from a shallow unmarked grave deep in the Amazonian jungle in southeastern Peru.
November 16: A woman kisses a police officer during a protest of a high-speed train line in Susa, Italy.
November 18: Tamil farmers transport coconut husks in Jaffna, Sri Lanka.
November 19: A man fans flames in Tanauan, Philippines, a week after Typhoon Haiyan ripped through the country. Haiyan, one of the strongest storms in recorded history, left thousands dead and many more homeless.
November 21: Karis, an 11-week-old lion cub, plays in fallen leaves in her enclosure at Blair Drummond Safari Park near Stirling, Scotland.
November 23: Tribesmen lead their camels through the sand dunes of the Liwa desert in Abu Dhabi, United Arab Emirates.
December 1: Schoolchildren take lessons at a refugee camp on the outskirts of Jalalabad, Afghanistan.
December 3: Scottish First Minister Alex Salmond signs a book of condolence at Glasgow City Chambers for those who died when a police helicopter crashed into a busy pub in Glasgow, Scotland. At least nine people were killed and 14 were seriously injured.
December 4: First lady Michelle Obama reacts as 2-year-old Ashtyn Gardner loses her balance after greeting Sunny, one of the Obamas' dogs, during a holiday arts-and-crafts event at the White House.
December 4: Xiao Wei lies on a hospital bed in Changsha, China, with his hand grafted to his ankle. Wei lost his right hand in a work accident and doctors were able to save it by temporarily grafting it to his ankle, local media reported. The hand was later reattached to his arm after the arm healed enough for surgery.
December 5: A man holds a broken umbrella in Utrecht, Netherlands, as heavy storms move across northwestern Europe.
December 5: An airplane passes the moon, leaving behind a vapor trail over Lahore, Pakistan.
December 9: A Christian man chases a suspected Seleka officer in civilian clothes with a knife near the airport in Bangui, Central African Republic. The Seleka man was taken into custody by French forces, who fired warning shots to disperse the crowds. The Central African Republic is in the midst of a bloody civil war between various proclaimed Christian and Muslim militias and other rebel factions.
December 10: Shepherds make their way back home with hundreds of sheep and horses after heavy snowfall in Van, Turkey.
December 10: Girls dance during the memorial service for former South African President Nelson Mandela at FNB Stadium in Johannesburg. Thousands of South Africans and more than 90 heads of state gathered to honor the revered leader, who died on December 5. He was 95.
December 11: A woman looks out a dusty bus window on the way to see Mandela's casket in Pretoria, South Africa. The anti-apartheid icon's casket arrived in the country's capital for public viewing.
December 11: An impala leaps high into the air to avoid the gaping jaws of a crocodile in South Luangwa National Park in Zambia.
December 11: A Gentoo penguin waddles up to a GoPro camera on Cuverville Island, Antarctica.
December 13: A young boy looks through a fence as he waits in line with thousands of people hoping to board a bus that will take them to view Mandela's body in Pretoria, South Africa.
December 14: Ukrainian protesters, angry about the government's decision to back away from a free-trade agreement with the European Union, rally in Kiev's Independence Square. The government spurned an agreement in November in favor of closer economic ties with Moscow.
December 16: A giant panda plays in the snow at a zoo in Kunming, Yunnan province, in China.
December 17: A Syrian man helps an injured man following an airstrike in Aleppo's Maadi neighborhood. Two children were among at least 13 people killed in new air strikes on a rebel-held district of Syria's main northern city of Aleppo, the Syrian Observatory for Human Rights said.
December 18: A lioness wraps her paws around another lioness at the Moremi Game Reserve in Botswana.
December 18: A baby elephant keeps cool with a shower at the Melbourne Zoo in Australia.
December 20: Workers carve a 117-meter-long, 26-meter-high snow sculpture at the Sun Island Park during the 26th China Harbin International Snow Sculpture Art Expo in Harbin, Heilongjiang province, China.
December 20: Alvaro Quiros of Spain putts on at the 6th green during the Royal Trophy Europe vs Asia Championship at the Dragon Lake Golf Club in Guangzhou, China.
December 20: Chadian troops from a multinational African peacekeeping force drive past the body of a man who was suspected of having been an ex-Seleka militiaman, in Bangui, the capital of the violence-wracked Central African Republic.
December 20: A man stacks bricks at a brick factory in Lalitpur, Nepal.
December 20: President Barack Obama and his family depart via Marine One as they travel to his home state of Hawaii, from the South Lawn of the White House in Washington.
December 21: At sunrise, Egyptian soldiers stand guard outside the temple of Qasr Qarun in Fayoum province, Egypt.
December 21: An isolated polar bear searches for seals in the Arctic Ocean.
December 21: A boy looks out the broken window of a plane that serves as shelter in a makeshift camp housing more than 40,000 people at M'poko Airport in Bangui, Central African Republic. They've displaced by recent violence in the country.
December 22: Camels walk along sand dunes in desert during the Mazayin Dhafra Camel Festival in Abu Dhabi.
December 23: Eve Grayson, a reindeer herder, feeds animals in Aviemore, Scotland. A Swedish Sami reindeer herder introduced reindeer to Scotland in 1952.
December 23: Pope Francis, right, meets with Pope Emeritus Benedict XVI at the Mater Ecclesiae monastery at the Vatican.
December 24: In Karachi, Pakistan, Shiite Muslims pray during a procession observing Chehlum, which marks a period of mourning for the 7th century Imam Hussein, grandson of the Prophet Mohammed.
December 24: Astronaut Mike Hopkins participates in the second of two spacewalks in one week to repair a faulty water pump on the exterior of the International Space Station.
December 25: Waves hit the jetty in the port of A Guarda in northwestern Spain. High winds and heavy rain battered parts of Europe on Monday and Tuesday, with some areas still reeling from the aftermath.
December 25: Doctors prepare to operate on Huang Chuncai, a 36-year-old farmer suffering from a rare facial tumor, in Guangzhou, China.
December 27: A boy carries a cardboard box in Juba, South Sudan, inside a United Nations compound that has become home to thousands of people displaced by recent fighting in the fledgling African nation.
December 27: Egyptian protesters and police clash in Cairo during a demonstration against the government's declaration of the Muslim Brotherhood as a terrorist organization.
December 27: Protesters, demanding Turkish Prime Minister Tayyip Erdogan resign over a high-level corruption scandal, clash with riot police in Istanbul.
December 29: Rain-soaked New England Patriots fans cheer during the third quarter of an NFL football game between the Patriots and the Buffalo Bills.
December 29: Supporters of the ruling Bangladesh Awami League beat a lawmaker and supporter of the main opposition Bangladesh Nationalist Party during a protest in Dhaka, Bangladesh.
December 31: This photo from NASA shows the quiet corona and upper transition region of the sun on the last day of 2013.
2013: The year in pictures
2013: The year in pictures
2013: The year in pictures
2013: The year in pictures
2013: The year in pictures
2013: The year in pictures
2013: The year in pictures
2013: The year in pictures
2013: The year in pictures
2013: The year in pictures
2013: The year in pictures
2013: The year in pictures
2013: The year in pictures
2013: The year in pictures
2013: The year in pictures
2013: The year in pictures
2013: The year in pictures
2013: The year in pictures
2013: The year in pictures
2013: The year in pictures
2013: The year in pictures
2013: The year in pictures
2013: The year in pictures
2013: The year in pictures
2013: The year in pictures
2013: The year in pictures
2013: The year in pictures
2013: The year in pictures
2013: The year in pictures
2013: The year in pictures
2013: The year in pictures
2013: The year in pictures
2013: The year in pictures
2013: The year in pictures
2013: The year in pictures
2013: The year in pictures
2013: The year in pictures
2013: The year in pictures
2013: The year in pictures
2013: The year in pictures
2013: The year in pictures
2013: The year in pictures
2013: The year in pictures
2013: The year in pictures
2013: The year in pictures
2013: The year in pictures
2013: The year in pictures
2013: The year in pictures
2013: The year in pictures
2013: The year in pictures
2013: The year in pictures
2013: The year in pictures
2013: The year in pictures
2013: The year in pictures
2013: The year in pictures
2013: The year in pictures
2013: The year in pictures
2013: The year in pictures
2013: The year in pictures
2013: The year in pictures
2013: The year in pictures
2013: The year in pictures
2013: The year in pictures
2013: The year in pictures
2013: The year in pictures
2013: The year in pictures
2013: The year in pictures
2013: The year in pictures
2013: The year in pictures
2013: The year in pictures
2013: The year in pictures
2013: The year in pictures
2013: The year in pictures
2013: The year in pictures
2013: The year in pictures
2013: The year in pictures
2013: The year in pictures
2013: The year in pictures
2013: The year in pictures
2013: The year in pictures
2013: The year in pictures
2013: The year in pictures
2013: The year in pictures
2013: The year in pictures
2013: The year in pictures
2013: The year in pictures
2013: The year in pictures
2013: The year in pictures
2013: The year in pictures
2013: The year in pictures
2013: The year in pictures
2013: The year in pictures
2013: The year in pictures
2013: The year in pictures
2013: The year in pictures
2013: The year in pictures
2013: The year in pictures
2013: The year in pictures
2013: The year in pictures
2013: The year in pictures
2013: The year in pictures
2013: The year in pictures
2013: The year in pictures
2013: The year in pictures
2013: The year in pictures
2013: The year in pictures
2013: The year in pictures
2013: The year in pictures
2013: The year in pictures
2013: The year in pictures
2013: The year in pictures
2013: The year in pictures
2013: The year in pictures
2013: The year in pictures
2013: The year in pictures
2013: The year in pictures
2013: The year in pictures
2013: The year in pictures
2013: The year in pictures
2013: The year in pictures
2013: The year in pictures
2013: The year in pictures
2013: The year in pictures
2013: The year in pictures
2013: The year in pictures
2013: The year in pictures
2013: The year in pictures
2013: The year in pictures
2013: The year in pictures
2013: The year in pictures
2013: The year in pictures
2013: The year in pictures
2013: The year in pictures
2013: The year in pictures
2013: The year in pictures
2013: The year in pictures