Nuts! Squirrel halts play in English football match
December 23, 2013 -- Updated 1559 GMT (2359 HKT)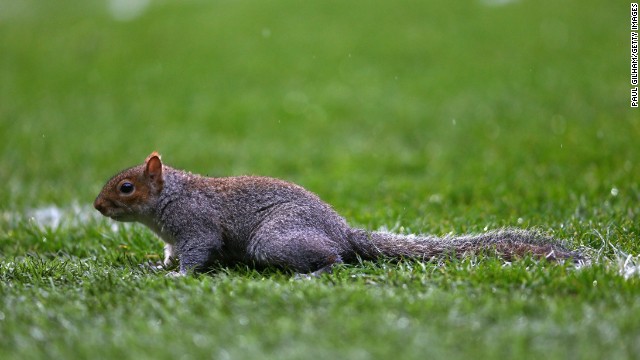 There are an estimated two million grey squirrels in the United Kingdon, but just one was at Loftus Road for QPR's matcg against Leicester City on Saturday.
The squirrel was eventually removed from the pitch and he was soon joined by Joey Barton, who received a red card after being booked twice in a minute.
Squirrels seem to have a liking for English football as one also entered the field of play at Highbury in 2006 during a Champions League clash between Arsenal and Villarreal.
A cat hit the headlines after invading the pitch during Liverpool's game against Tottenham in February 2012.
This bird had a close view of the 0-0 draw between England and Algeria in the 2010 World Cup.
One in two million
Red carded
Over in north London...
The "Anfield Cat"
Bird's eye view
STORY HIGHLIGHTS
Squirrel stops plays at second-tier English football game
Championship match between QPR and Leicester halted for two minutes
A squirrel also invaded Loftus Road pitch in March 2012
(CNN) -- Stoppages due to injuries and fouls are routine in football matches, but it's not often squirrels stop play.
But that's what happened on Saturday at a second-tier English football match between Queens Park Rangers and Leicester City at Loftus Road in London.
The grey squirrel invaded the pitch during Leicester's 1-0 win, forcing the game to be stopped for a couple of minutes.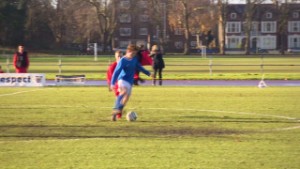 Looking back at 150 years of soccer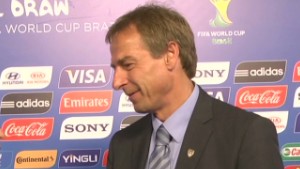 Klinsmann on U.S. World Cup draw
QPR's website said Leicester City forward David Nugent and QPR captain skipper Clint Hill did their best to chase away the rodent, before play resumed.
Squirrels seem particularly fond of the Loftus Road grass -- in March 2012 one turned up when QPR played Everton in an English Premier League game.
Soon afterwards a Twitter account -- @QPRSquirrel1 -- was set up. Including the hashtag -- NUTS -- in its profile and the account now has 214 followers.
Squirrels are not the only animals to have invaded English football pitches in recent years.
A cat popped up at Liverpool's home ground against Tottenham in February 2012.
Nicknamed the "Anfield Cat" it too found Twitter fame -- @Anfield Cat has over 58,000 followers.
Grey squirrels were not native to Britain but spread rapidly across the country after being introduced from the United States and Canada around the start of the 20th century.
Read: Pedro rescues weakened Barcelona