STORY HIGHLIGHTS
The world's newest country descends into violence and chaos
The United Nations scrambles to ease the carnage and protect civilians
150 Marines are positioned in Djibouti to help evacuate Americans
The United States urges opposing leaders to talk instead of fight
(CNN) -- Two weeks ago, South Sudan was best known as the youngest African country, created with much international fanfare in 2011. Today, it is possibly the next Rwanda.
A flash-fire conflict threatening to escalate into full-blown civil war combines trademark elements of African tragedy -- resource wealth coveted by global powers, in this case oil, and longstanding political and ethnic divisions.
Here's a quick primer to get you up to speed on the escalating situation:
1) First things first. Tell me about South Sudan.
South Sudan is a landlocked country of more than 11 million people in central Africa, bordering Sudan, Ethiopia, Kenya, Uganda, Democratic Republic of Congo and the Central African Republic.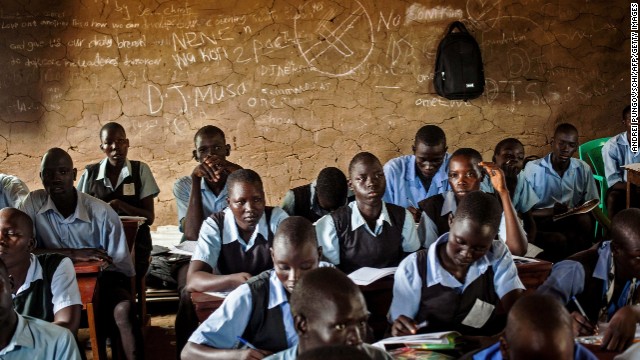 Students take notes during an English language class at the Juba Nabari Primary School in Juba, South Sudan, on Wednesday, April 9. Recent conflict in the country has made resources scarce; many civil servants, including teachers, have not received their pay for several months. South Sudan erupted in violence on December 15 when rebels loyal to ousted Vice President Riek Machar tried to stage a coup. Violence quickly spread, with reports of mass killings emerging nationwide.
Bags of food are dropped from a plane during a World Food Program operation Tuesday, April 1, in Nyal, South Sudan.
Worn-out shoes are seen in an internally displaced persons camp Thursday, March 27, in Juba.
Students play Tuesday, March 25, at the Dr. John Garang International School in Juba.
A man carries a bag on his shoulder at a camp in Malakal, South Sudan, on Wednesday, March 19.
A man recovers from serious injuries, which he sustained in clashes between government forces and rebels, at a Doctors Without Borders hospital in Malakal on Tuesday, March 18.
A South Sudanese man walks in a puddle Saturday, March 15, at a camp for internally displaced people.
Displaced children from South Sudan gather to play soccer at a camp in Khartoum, Sudan, on Wednesday, March 12.
A woman carrying empty cans for water passes an armored vehicle affiliated with the United Nations mission in Malakal on Monday, March 3.
An 8-year-old boy waits in a car during Petroleum Minister Stephen Dhieu Dau's visit to an oil production facility in Paloch, South Sudan, on Sunday, March 2. The boy's father, a member of the Sudan People's Liberation Army, said his son was dressed like a pilot because that's what he wants to be when he grows up.
Catholics pray for peace during a religious ceremony in Juba on Sunday, February 23.
People are silhouetted at dawn on Thursday, February 20, as they walk on the main road to Cueibet, South Sudan.
An inmate sits shackled to a tree Wednesday, February 19, in the courtyard of the central prison in Rumbek, South Sudan.
South Sudanese people from the Dinka ethnic group stand among cattle at a cattle camp in Yirol, South Sudan, on Wednesday, February 12.
A South Sudanese People's Liberation Army soldier patrols in Malakal on Tuesday, January 21.
A woman runs through the street in Malakal as gunshots ring out a few streets over on January 21.
A Sudan People's Liberation Army soldier sits in a helicopter flying over Western Equatoria State on Tuesday, January 14.
A United Nations peacekeeper gestures as South Sudanese students wait to walk back to a camp for internally displaced people after taking an English exam at a United Nations base in Juba on Monday, January 13.
Government soldiers prepare to deploy from Juba on January 13 as fighting continues to rage in South Sudan.
A young man balances a bed on his head as he walks through empty streets and destroyed buildings after government forces retook from rebel forces the provincial capital of Bentiu, in Unity State, South Sudan, on Sunday, January 12.
South Sudanese government forces riding on a vehicle through a still-smoldering town pass a boy after government forces retook the provincial capital of Bentiu on January 12.
A boy carries chickens off a boat arriving in the village of Minkammen in Awerial county, South Sudan, on Saturday, January 11.
A picture shows an aerial view of a camp of internally displaced people in Minkammen, on Friday, January 10.
Internally displaced children carry water in Minkammen on January 10.
A woman covers her face as a U.N. helicopter takes off from Minkammen, where people receive food aid and other items from a recent International Committee of the Red Cross on Wednesday, January 8.
A displaced south Sudanese sleeps in a makeshift shelter at a crowded encampment within the United Nations Mission in South Sudan on Saturday, January 4.
One of the few to have a mosquito net, a displaced family who fled the recent fighting between government and rebel forces in Bor by boat across the White Nile, sit under it in Awerial, South Sudan, on Thursday, January. 2.
A boy rests on the fender of a water truck Tuesday, December 31, at a United Nations compound on the outskirts of Juba, South Sudan. The compound has become home to thousands fleeing the recent fighting in South Sudan.
South Sudanese government soldiers man a tank near the airport in Malakal, South Sudan, on Monday, December 30.
Displaced women wait in line inside a U.N. camp in Malakal on December 30.
South Sudanese refugees carry relief supplies an a U.N. camp in Juba on Sunday, December 29.
Moveable stairs used for passengers to board aircraft are repurposed into makeshift shelters at a U.N. compound in Juba on December 29.
A child plays with a tire next to a large puddle of muddy water inside the U.N. compound in Juba on December 29.
A girl carries a bowl of water after filling it from a truck at the U.N. compound in Juba on December 29.
A man walks in a ward where most patients are soldiers with gunshot wounds inside the Juba Military Hospital in Juba on Saturday, December 28.
South Sudan Vice President James Wani Igga, center left, arrives to visit patients at the Juba Military Hospital on December 28.
A displaced boy carries a cardboard box inside a U.N. compound in Juba on Friday, December 27.
Displaced people bathe and wash clothes in a stream in a U.N. compound in Juba on December 27.
A woman carries items on her head through the U.N. compound in Juba on December 27.
One-month-old Nhial Hoan Malual receives treatment for dehydration and chest pains in a medical tent run by Doctors Without Borders at the U.N. compound in Juba on December 27.
South Korean soldiers provide water at a refugee camp in South Sudan on Thursday, December 26. Hundreds of South Korean soldiers are stationed in the town of Bor as part of United Nations peacekeeping forces.
A mother displaced by recent fighting in South Sudan rests on top of her belongings in a makeshift U.N. shelter on Monday, December 23.
Families seek refuge in U.N. camp warehouse on December 23.
People gather to receive emergency food rations from the World Food Programme at a makeshift camp on December 23.
The United Nations relocates noncritical staff from Juba to Entebbe, Uganda, on Sunday, December 22.
A South Sudanese girl puts her family's laundry out to dry on a barbed-wire fence at a makeshift U.N. camp in Juba on December 22.
The World Food Programme distributes food for displaced people at a U.N. compound in Bentiu, the capital of the oil-producing Unity state, on December 22.
South Sudanese women carry water at a U.N. camp in Juba on December 22.
People take refuge December 22 near a camp of Japan's Ground Self-Defense Force, which is part of the U.N. peacekeeping mission in Juba.
South Sudanese civilians take shelter at a U.N. mission on Tuesday, December 17.
South Sudanese civilians seek shade at the mission's base on December 17.
Tens of thousands of civilians have taken refuge in U.N. bases in South Sudan. These civilians were photographed at one of the bases December 17.
A young child takes shelter at a U.N. base on December 17.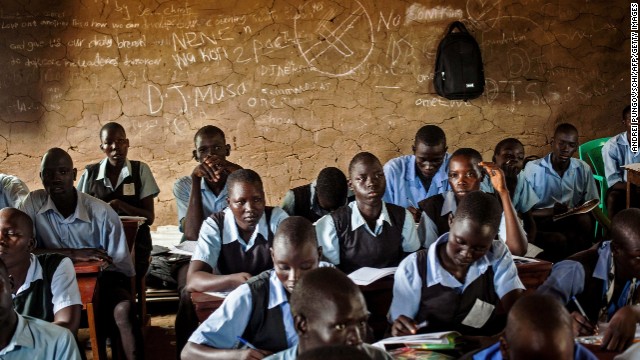 Escaping violence in South Sudan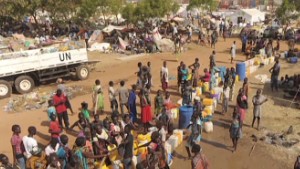 U.S. Marines poised to enter Sudan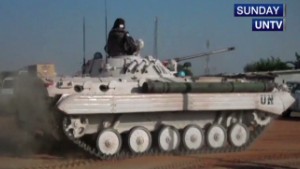 South Sudan on brink of civil war
It gained independence from Sudan on July 9, 2011, making it the world's newest nation after decades of ethnic and political conflict between the Sudanese government in Khartoum and opposition elements in the South.
Two years later, South Sudan remains one of Africa's most impoverished countries despite containing the majority of known Sudanese oil reserves.
2) Who is fighting whom?
The South Sudanese government and military, dominated by the Dinka ethnic group of President Salva Kiir, is fighting rebels allied with former Vice President Riek Machar of the Nuer ethnic group.
At stake for now is control of oil-rich regions responsible for more than 95% of the country's economy, and perhaps leadership of the country.
Mass killings and other violence in the past two weeks have caused tens of thousands of people to seek shelter under protection from U.N. forces in Juba, the capital, and some other cities.
More U.N. peacekeepers from Africa and perhaps elsewhere may be coming soon, and 150 U.S. Marines are on standby in Djibouti to assist if needed in evacuating American government and aid workers from the country.
3) Is this something new?
Yes and no. While the sudden escalation of the conflict in recent days caught many by surprise, the causes were familiar.
South Sudan's independence two years ago followed decades of rebellion by various ethnic and political groups against the Khartoum government in Sudan.
Kiir and Machar were longtime rivals who had an uneasy relationship atop the government, with Machar making clear his presidential ambitions.
The valued oil resources and history of ethnic divisions amounted to a recipe for political mayhem, noted Jon Temin, an Africa specialist at the United States Institute of Peace.
"It didn't start about oil," Temin told CNN on Tuesday, adding that the political rivalry at the top was "no secret to anybody."
4) What triggered the recent violence?
Kiir fired his Cabinet, including Machar, in July in a shuffle considered "not uncommon" for such a fledgling African nation, Temin said. While the move caused concern, a relatively calm aftermath bolstered hopes of continued stability.
However, that unraveled in mid-December with gunfire between security forces loyal to Kiir and Machar. It remains unclear who fired the first shot, according to Temin.
Kiir accused forces backing Machar of launching a coup attempt, and retribution attacks erupted with top allies of Machar detained. Machar has denied any coup attempt occurred.
"It has been surprising in how quickly it spread," Temin said.
5) Where do things stand?
The situation is both dire and uncertain.
Consider this grim report Tuesday from Ravina Shamdasani of the U.N. High Commissioner for Refugees, who said an official saw more than 30 bodies in two mass graves and that the global body was trying to verify the existence of others.
"It is very difficult, and there are reports that some bodies may have already been burned," Shamdasani added.
The United Nations said fighting had spread to five of South Sudan's 10 states, and that it had credible reports civilians were being attacked and killed based on their ethnicity.
Meanwhile, U.N. officials struggled to make accommodations for some 45,000 people crowding its compounds seeking shelter from the violence. Nearly as many people were seeking shelter elsewhere.
The U.N. Security Council voted unanimously on Tuesday to increase the 6,800-strong U.N. force in South Sudan by another 5,500 troops to try to ensure the safety of the displaced, a role that peacekeepers failed to fulfill in the Rwanda genocide of 1994 that killed 800,000 people.
"Even with additional capabilities, we will not be able to protect every civilian in need in South Sudan," U.N. Secretary General Ban Ki-moon warned after the vote, adding that "there is no military solution to this conflict."
On Monday, Ban said in a message to the people of South Sudan that "the U.N. stood with you on your road to independence," and that "we will stay with you now."
6) Where does the United States stand?
The United States was one of the strongest supporters of South Sudan's independence for a few reasons.
A democratic South Sudan could be a regional hedge against the Khartoum regime, which the United States lists as a sponsor of terrorism, and President Omar al-Bashir, who has been indicted on charges of war crimes, crimes against humanity and genocide.
In addition, the possibility exists of future U.S. involvement in South Sudan's oil industry. U.S. oil companies have no role now in South Sudan due to sanctions against Sudan, which still plays a major role in overall oil production.
Secretary of State John Kerry has urged Kiir and Machar to enter peace talks, but there was no clear signal that the fighting would ease. Kerry also dispatched his special envoy to Sudan and South Sudan, Donald Booth, to the country.
In a statement Monday, the U.S. military's Africa Command said it was positioning 150 Marines in Djibouti in East Africa to be able to respond should conditions in South Sudan deteriorate even more.
CNN Pentagon Correspondent Barbara Starr reported Tuesday that 50 of the Marines then proceeded to Entebbe, Uganda, to be even closer to South Sudan if needed.
The decision grew out of last year's experience in Benghazi, Libya, when no U.S. forces were close enough to respond quickly to the attack that killed U.S. Ambassador Christopher Stevens and three other Americans.
According to a senior administration official, 380 Americans and about another 300 third-country nationals have been evacuated.
"Based on registration, there are American citizens in other towns and areas throughout South Sudan," the official said. "We are trying to track down how many may still be there."
CNN's Mike Pearson, Khushbu Shah, Jennifer Rizzo, Marie-Louise Gumuchian, Barbara Starr and Antonia Mortensen and journalist Mading Ngor in Juba, South Sudan, contributed to this report.