Supermaxis under challenge in closely fought Sydney-Hobart classic
December 26, 2013 -- Updated 1555 GMT (2355 HKT)
STORY HIGHLIGHTS
Rolex Sydney-Hobart yachting classic gets underway Boxing Day
628-nautical mile race nicknamed 'Bluewater Classic'
Wild Oats XI favorite for seventh line honors win
New Zealand boat Giacomo challenges supermaxis
(CNN) -- Six-time winner Wild Oats XI was involved in a tense battle for the race lead as the Rolex Sydney to Hobart Yacht race entered its first night Thursday.
Wild Oats XI and fellow 100-foot supermaxi Perpetual Loyal led the 94-strong fleet out of Sydney Harbor on Boxing Day morning in a spectacular and fast start.
But both have close company in the form of Giacomo -- a smaller Volvo 70 class boat -- owned by New Zealander Jim Delegat.
Giacomo -- then named Groupama -- was the 2011-12 Volvo Ocean Race winner and could pose a threat to the supermaxis, given favorable conditions.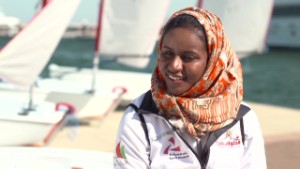 Celebrating a year in sailing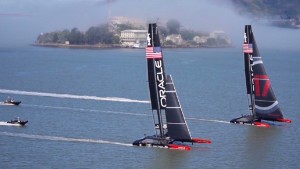 Greatest America's Cup finale ever?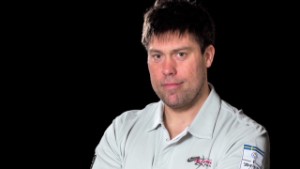 The day that changed everything
Read: Official Rolex Sydney-Hobart website
With the big entry for the 'Bluewater Classic' organizers insisted on a three-line start and in early tussling Perpetual Loyal and arch-rivals Wild Oats XI tangled.
Perpetual Loyal flew a protest flag but decided not to proceed after a team meeting.
"At first we thought we had been fouled," owner Anthony Bell to the race's official website.
He added later: "Pretty light winds (11-12 knots ) so doing our best to keep boat going as fast as we can in non-ideal conditions."
The scene looks set for the closest finish to the 628-nautical mile race for many years with two other 100-footers Ragamuffin (Syd Fisher) -- last year's runner-up to Wild Oats -- Grant Wharington's Wild Thing and the Hong Kong entry Beau Geste -- a black-hulled 80-footer -- also in contention.
Read: Wild Oats XI clinches 2012 edition in record time
Conditions are likely to rule out the race record of one day 18 hours, 23 minutes and 12 seconds -- set in 2012 by Wild Oats XI -- being bettered, while the weather forecast of gale-force winds Saturday night is likely to hit the smaller and slower boats in the fleet.
Six sailors died in the infamous 1998 edition, with five yachts sinking and nearly half the fleet retiring.
This year's is the 69th staging of the Sydney-Hobart, with 22 international entrants battling for line and handicap honors with the Australian challengers.

Part of complete coverage on
MainSail
February 28, 2014 -- Updated 1247 GMT (2047 HKT)

It's an exclusive holiday home for the rich and famous -- and now Richard Branson has opened up his private island for a new photo book.
February 14, 2014 -- Updated 1833 GMT (0233 HKT)

In 1973, a dozen men set out on what would be the longest known raft voyage in human history, from Ecuador to Australia.
January 30, 2014 -- Updated 1409 GMT (2209 HKT)

After witnessing decades of incredible sailing innovations, renowned photographer Onne van der Wal now feels like he's an "astronaut of the sea."
January 24, 2014 -- Updated 1805 GMT (0205 HKT)

The tropical cruise was once the traditional getaway of the elderly retiree -- now it's a haven for metalheads.
January 13, 2014 -- Updated 1244 GMT (2044 HKT)

Having grown a big beard to ward off jellyfish during an epic swim, Sean Conway is now making his home on a rundown wartime vessel.
January 10, 2014 -- Updated 1147 GMT (1947 HKT)

Played by sailors in a brief window of opportunity once each year, this cricket match is never stopped by rain -- but the tide can be a problem.
December 12, 2013 -- Updated 1354 GMT (2154 HKT)

When you've spent 100 days alone on the high seas, battling sleep deprivation and monster waves, it can be difficult to adjust to life on land.
December 10, 2013 -- Updated 1334 GMT (2134 HKT)

From giant yachts in raging oceans to youth regattas, check out the 20 images in contention to win a top photography award.
December 5, 2013 -- Updated 2113 GMT (0513 HKT)

When Enric Sala dips his toes in a pool of water, he does so in the knowledge he may well be the first man on the planet to do so.
November 28, 2013 -- Updated 1118 GMT (1918 HKT)

Alex Caizergues smashes the World Sailing Speed Kitesurfing record over 500 meters, reaching an average speed of 56.62 knots (104.8 kph).
November 22, 2013 -- Updated 1348 GMT (2148 HKT)

Venice is one of the most beautiful cities in the world -- and it wants to stay that way, so it is cracking down on cruise ships.
September 17, 2013 -- Updated 1058 GMT (1858 HKT)

MainSail takes a sneak peak inside the Wally workshop in Monaco, which has built some of the world's most expensive boats.
August 23, 2013 -- Updated 1704 GMT (0104 HKT)

At just 22 meters long, the new America's Cup yacht is 3m shorter than its predecessor. But that hasn't stopped it making big waves.
Today's five most popular stories