Alpine skier Anna Fenninger wins for a third time on lucky day
December 28, 2013 -- Updated 1619 GMT (0019 HKT)
STORY HIGHLIGHTS
Anna Fenninger wins a giant slalom in Lienz, Austria on Saturday
Fenninger has now triumphed three straight times on a December 28th
She reversed a 0.02-second first-run deficit to defeat Jessica Lindell-Vikarby
Fenninger moves into second place in the overall standings behind Tina Weirather
(CNN) -- Anna Fenninger probably wishes every race was held on December 28th.
The Austrian alpine skier won for the third straight time on that day, taking a women's giant slalom at home in Lienz.
Fenninger overturned a 0.02-second first-run deficit Saturday to follow victories in a giant slalom in Lienz in 2011 and Semmering -- also in Austria -- in 2012.
Sweden's Jessica Lindell-Vikarby finished 0.50 seconds behind Fenninger, with reigning slalom champion Mikaela Shiffrin of the U.S. a further 0.01 second adrift.
"I can't explain why I am successful on that specific day," Fenninger told the website of alpine skiing's governing body, the FIS. "It's just amazing to win again. I have good memories of my fist victory here and it helps a bit for sure.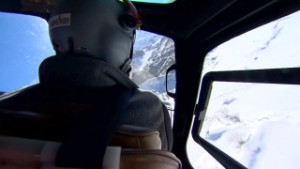 Pro rescue team keeps ski slopes safe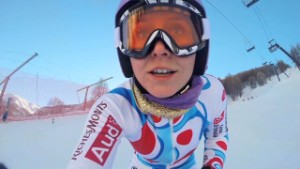 A masterclass in giant slalom
"I really love Lienz and the slope."
Fenninger moved into second place in the overall standings behind Tina Weirather, who was a distant 17th Saturday.
"I was a bit disappointed with my last giant slalom results," said Fenninger, on the podium for the first time in five giant slalom races this season.
"We had a lot of speed events recently and I didn't get much time to train my giant slalom skills. I didn't know I could be able to win today but I was ready to give it all. It is just great it turned out to be such a big day for me.
"Winning in front of a home crowd makes it very special for sure."
Lindell-Vikarby extended her advantage in the giant slalom standings.
"I am glad to be on the podium and to keep the giant slalom red bib," she said. "In Val d'Isere (last week) I finished sixth and was a bit frustrated with myself because of the mistakes I made. Today was different. I am very happy."
Meanwhile, warm weather caused organizers to cancel a men's and women's slalom in Zagreb, Croatia next week.

Today's five most popular stories
March 31, 2014 -- Updated 1318 GMT (2118 HKT)

Football has its 18-carat-gold World Cup trophy, and ice hockey the silver and nickel Stanley Cup, but skiing's globes are something else...
March 24, 2014 -- Updated 1822 GMT (0222 HKT)

Austrian skiers Anna Fenninger and Marcel Hirscher reflect on their World Cup triumphs.
March 24, 2014 -- Updated 1823 GMT (0223 HKT)

Christina Macfarlane explores how skiing's coveted Crystal Globe is made.
February 20, 2014 -- Updated 1404 GMT (2204 HKT)

The ghostly lights wind up from the base of the mountain. Heart rates are also rising. This race is held on a notorious downhill ski course -- but in reverse.
January 29, 2014 -- Updated 1846 GMT (0246 HKT)

CNN's Christina Macfarlane looks back at the history of Austria's Kitzbuhel ski race.
January 29, 2014 -- Updated 1849 GMT (0249 HKT)

CNN's Christina Macfarlane explores a new technology that customizes the entire boot to your foot.
February 4, 2014 -- Updated 0515 GMT (1315 HKT)

If you're scared of heights, then this is not for you -- a glass cube perched at the top of a 12,600-foot peak in the French Alps.
December 16, 2013 -- Updated 1127 GMT (1927 HKT)

CNN's Christina Macfarlane goes on patrol with a a seasoned ski rescue team in the French Alps.
December 16, 2013 -- Updated 1125 GMT (1925 HKT)

CNN's Christina Macfarlane meets Giant Slalom world champion Tessa Worley in Lyon, France.
December 13, 2013 -- Updated 1556 GMT (2356 HKT)

From GoPro cameras to avalanche airbags. CNN's Christina MacFarlane puts the latest skiing gadgets to the test.
December 2, 2013 -- Updated 1659 GMT (0059 HKT)

CNN's Christina MacFarlane talks to teenage skiing sensation Mikaela Shiffrin.
December 2, 2013 -- Updated 1659 GMT (0059 HKT)

CNN's Christina Macfarlane finds out how designers and engineers made Beaver Creek race course from scratch.