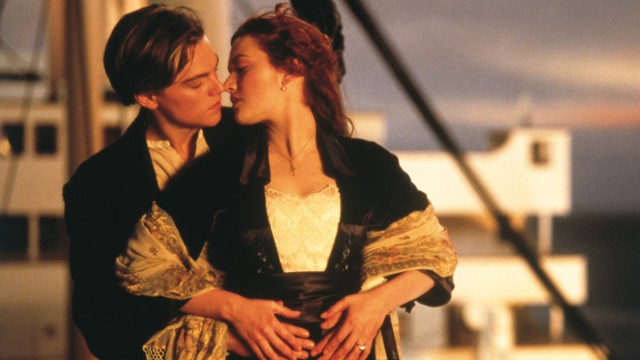 Due to expiring licenses, more than 80 movies and TV shows will vanish from Netflix's streaming lineup on January 1. Among them are this 1997 epic, "Titanic", starring Leonardo DiCaprio and Kate Winslet. "Titanic" was the biggest box-office hit ever until it was passed by "Avatar" in 2009.
"Top Gun" -- This fighter-jet action movie made Tom Cruise a global superstar while personifying the hawkish politics of the '80s.
"Being John Malkovich" -- This comedy fantasy, with Catherine Keener and John Cusack, was one of the most inventive films of the '90s.
"Braveheart" -- Mel Gibson's bloody 1995 epic about Scottish warrior William Wallace won five Oscars, including Best Picture.
"Do the Right Thing" -- Spike Lee's 1989 masterwork chronicled racial tensions on a sweltering summer day in Brooklyn. Danny Aiello, center, played the owner of a pizzeria.
"Eternal Sunshine of the Spotless Mind" -- Winslet and Jim Carrey starred in this 2004 sci-fi romance. The script, by "Being John Malkovich's" Charlie Kaufman, won an Oscar.
"Flashdance" -- Hard to believe it's been 30 years since this '80s hit about a steelworker (Jennifer Beals) who longs to be a professional dancer. It spawned several hit songs ("What a Feeling") and fashion trends (leg warmers).
"Roman Holiday" -- This 1953 classic starred Audrey Hepburn as a pampered princess visiting Italy and Gregory Peck as the reporter who charms her.
"Platoon" -- Oliver Stone's searing Vietnam War drama starred Charlie Sheen (not pictured), Tom Berenger and Willem Dafoe. It won the Oscar for Best Picture of 1986.
"Dark Shadows" -- Netflix is pulling the 1960s TV series from its streaming lineup. This photo is from the 2012 film starring Johnny Depp.
"October Sky" -- In one of his first films, Jake Gyllenhaal plays a coal miner's son who longs to be a rocket scientist, to the dismay of his father (Chris Cooper).
"The Odd Couple" -- Walter Matthau and Jack Lemmon played a mismatched pair of roommates in this 1968 comedy hit. It later became a popular TV show and inspired the "Grumpy Old Men" movies.
"The Mask of Zorro" -- Antonio Banderas starred in this 1998 swashbuckler.
"As Good as It Gets" -- Helen Hunt won an Oscar for her performance opposite Jack Nicholson in this unorthodox 1998 romantic comedy.
"Mr. Bean" -- Comedian Rowan Atkinson plays the clueless title character in this popular British TV series.
"The Kids in the Hall" -- This TV series starring a Canadian sketch-comedy troupe was a late-'80s and early-'90s hit in Canada and on CBS and HBO in the United States.
Netflix no more
Netflix no more
Netflix no more
Netflix no more
Netflix no more
Netflix no more
Netflix no more
Netflix no more
Netflix no more
Netflix no more
Netflix no more
Netflix no more
Netflix no more
Netflix no more
Netflix no more
Netflix no more