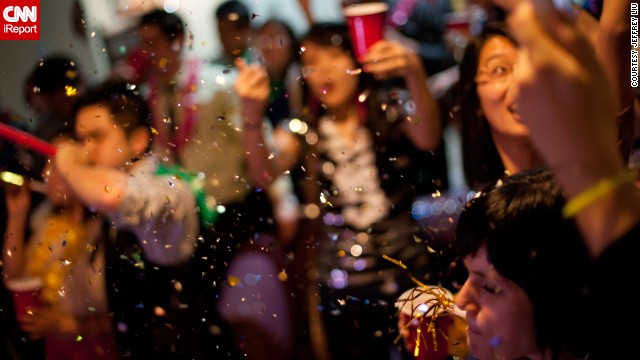 27-year-old
Jeffrey Liu
attended a New Year's reunion of bloggers for the online journal "Xanga" in 2011. "We all came from all parts of the country - California, Texas, New York, Canada, Massachusetts and Maryland," she said.
James Tworow
enjoys taking photographs of public events, and took this photo of friends getting ready for a group shot -- and a cheeky kiss -- in the Olympic Plaza in Calgary, Canada.
Freelance photographer
The Chabot Space and Science Center
in Oakland, California, hosts an annual New Year's Eve Balloon Drop. "It's an exciting atmosphere as all of the children are eager to pop the balloons and the parents elbow for camera positions,"
Chris Hovey
, who attended the event last year, says. "When the balloons come down it's bedlam."
Sarah Akinaka saw in 2013 with a big seafood fest consisting of fresh lobster and prawns. She was celebrating in her home in Honululu, Hawaii. "It was the kind of weather that many people in Hawaii say, 'Lucky we live in Hawaii', especially when so many of our friends and family on the mainland are bundled up in parkas and watching the snow fall."
Flood Gondekowa's
family, New Year's Eve means the announcement of the parent of the year. She says her 11-year-old son Joey came up with the parenting contest in 2008. Every month, he and his younger sister determine who got the most points. Gondekowa thinks she wins every year because the kids are worried about hurting her feelings, "even though Daddy does all the driving."
In iReporter
Celine Kim
was having a great time with her friends on New Year's Eve in 2009, when she took this photo. "Most of my friends just graduated school, we felt young and free," she said. This year, she says, will be a little bit different. "It will be relatively quiet, our baby will be tucked in bed and I will be very happy if I can spend some quality time with my husband."
Photographer
Adler Planetarium
on NYE 2012. "'
Entrepreneur's Eve
' is a night to pay tribute to the entrepreneurial spirit of the world's trail blazers," explains Robin Wilson, who shared this photo on
Instagram
. "It applauds those pursuing the American dream and toasts the starters igniting the community around them with ideas, passion and a drive for change."
Entrepreneurs, innovators, civic leaders and doers alike, gathered for an upscale night out in Chicago's
Carol VanHook
, whose family owns a karaoke business. "We had a house full of karaoke friends and had a great buffet from one end of the kitchen to the other," she says. "The house was filled with laughter and friendship, and anyone who wanted to sing karaoke could do so in the music room."
The New Year's Eve of 2008 brings back special memories for
This photo was taken outside of a waterfront restaurant in San Francisco. "I am so lucky that my friend Anthony was able to capture not one but TWO fireworks in the background," says Callyan, pictured in the glasses.
Meaghan Mountford
started decorating cookies 15 years ago. "I've always enjoyed drawing and doodling and crafting and baking, and all of those forces collide when decorating cookies and marshmallows," she says.
What a sweet countdown!
Nicole Murray and her co-workers kickstarted 2013 in the retirement home they are working in. "Knowing how many New Years these elderly people have celebrated made it that more specia," Murray says. "The residents enjoyed it very much, they love seeing us youngsters get up and dance and show them a good time."
Niena
welcomed 2013 with her family in Cebu City, Philippines. "What was special about it was it was my last night with them because my flight back to Jeddah, Saudi Arabia was on the next day."
iReporter
Friends will be friends
Countdown to your New Year's parties
Balloon drop
Faroe Islands festival
Lobster and champagne
Parent of the year
Sparkling future
Aiming for the stars
New Year's karaoke party
Looking ahead
Sweet countdown
Enjoying life
New Year's in the Philippines