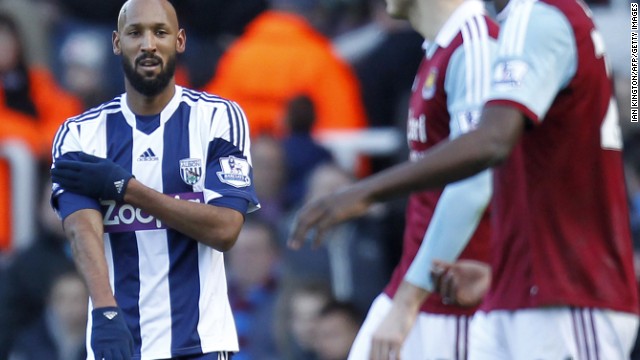 West Brom player Nicolas Anelka was banned and fined by the English Football Association for making an allegedly anti-Semitic gesture. The striker denied intending to cause any offense but the French government has criticized him.
In the early part of his career, the controversial French footballer -- who has played for top clubs such as Real Madrid, Chelsea, Arsenal and Juventus -- was nicknamed "Le Sulk."
The "quenelle" gesture has been popularized by the anti-establishment French comedian Dieudonne, who has been condemned in France for anti-Semitism. Here people perform the "quenelle" in front of Dieudonne's theater, while protesting against French interior minister Manuel Valls who has called for Dieudonne's performances to be banned.
Supporters of Dieudonne argue that the issue of "freedom of speech" in France is at stake after Valls called for the comic's performances to be banned. Here a man poses with one of his drawings showing a Jewish character covering the mouth of another character with a gag reading "freedom of speech."
In November, Dieudonne M'Bala M'Bala was fined 28,000 euros ($38,591) for defamation, insults, incentive to hate and discrimination for remarks he made and a song broadcast in two videos on the internet.
Liverpool defender Mamadou Sakho is another footballer who has been photographed performing the gesture. Sakho said he was tricked into performing the signal and wrote on his Twitter account: "This photo was taken six months ago, I did not know the meaning of this gesture, I got trapped!"
Manchester City midfielder Samir Nasri, who was also photographed making the "quenelle" gesture, insisted he used it to symbolize "being against the system." He tweeted: "It has absolutely nothing to do with being anti-Semitic or against Jewish people. I apologize for causing any hurt to anyone."
Over in the U.S., NBA superstar Tony Parker has been forced to apologize after a picture from three years ago surfaced of him doing the "quenelle."
According to the French Interior Ministry, there were 1,539 racist and anti-Semitic attacks in 2012, a rise of 22%.
Located in the northeastern suburbs of Paris, Drancy concentration camp was used mainly as a holding place for Jews awaiting deportation to other concentration camps. Approximately 70,000 prisoners passed through Drancy between August 1941 and August 1944. Most of the Drancy inmates were Jews except for some members of the French resistance.
What's in a gesture?
What's in a gesture?
What's in a gesture?
What's in a gesture?
What's in a gesture?
What's in a gesture?
What's in a gesture?
What's in a gesture?
What's in a gesture?
What's in a gesture?
STORY HIGHLIGHTS
French footballer Nicolas Anelka has caused a storm by using the "quenelle" gesture as a goal celebration
The gesture was created by controversial French comedian Dieudonne M'Bala M'Bala
The quenelle has been linked to rising anti-Semitism in France
Figures from 2012 show a 59% rise in anti-Semitic attacks
(CNN) -- What's in a gesture?
A gesture of support for a friend, a gesture that is "anti-system," says French footballer Nicolas Anelka, who chose to celebrate his goal-scoring performance in an English Premier League game last weekend with a movement that has sparked controversy not just in the sporting world but also the political.
Known as the "quenelle," it involves pointing the right arm straight down and touching that arm with the left hand.
Anelka explained that Saturday's celebration was nothing more than a nod to his friend, controversial French comedian Dieudonne M'Bala M'Bala, who has popularized the gesture in France.
But others believe the gesture is a Nazi salute in reverse, and it has been linked to rising anti-Semitism in France -- a charge over which Dieudonne faces an investigation by the Paris prosecutor's office.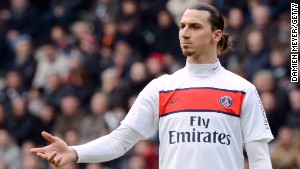 Soccer clubs to strike over tax hike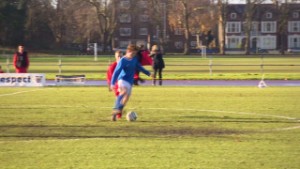 Looking back at 150 years of soccer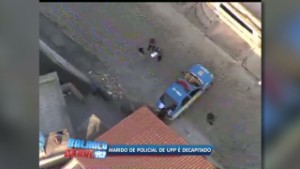 Brazilian soccer star decapitated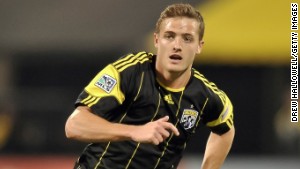 Soccer star: Gay but lived stereotype
During a performance, Dieudonne said of a prominent Jewish journalist: "Me, you see, when I hear Patrick Cohen speak, I think to myself: 'Gas chambers ... too bad (they no longer exist)."
Whatever you think the "quenelle" is, Anelka and Dieudonne are provoking huge controversy on both sides of the English channel.
There have been demands that English football's governing body severely punishes the former France international forward. In France, Dieudonne's right to perform his controversial show has become a touchstone for "freedom of speech" advocates.
Fractured society
"This gesture was just a special dedication to my comedian friend Dieudonne," Anelka explained on his Twitter page as accusations of anti-Semitism seethed around him following the match between his club West Bromwich Albion and West Ham.
"(The) meaning (of) quenelle: anti-system. I do not know what the word religion has to do with this story!
"Of course, I am neither racist nor anti-Semitic."
Anelka is not the only sports star to be embroiled in controversy as photographs emerged of other French athletes -- basketball superstar Tony Parker plus footballers Samir Nasri and Mamadou Sakho, who like Anelka play in England -- making the "quenelle." All three have apologized for any offense caused.
But the furore has shone a light on signs of an increasingly fractious French society.
Daniel Makonnen, spokesman for LICRA -- International League Against Racism and Anti-Semitism -- which is fighting fighting racial discrimination, told CNN that there was a 59% rise in anti-Semitic attacks in 2012.
According to the French Interior Ministry, there were 1,539 racist and anti-Semitic attacks in 2012, a rise of 22%.
He also explained that Anelka's use of the "quenelle" blurred the lines between what is anti-establishmentarianism and anti-Semitism.
"It is a way of Anelka boosting his image as a controversial person," Makonnen said.
"In France people are taking sides. Are you for or against establishment? The fact that Anelka is doing the quenelle...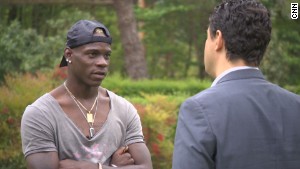 Racism in Football: Part 1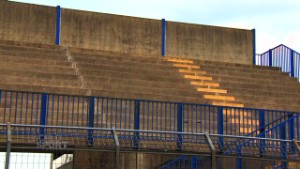 Racism in Football: Part 2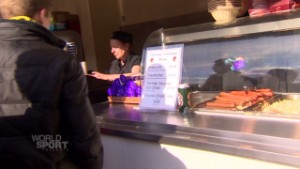 Racism in Football: Part 3
"Originally it was used by Dieudonne in his first shows. But the 'quenelle' has been used in front of Auschwitz and in front of the (Jewish) school in Toulouse," added Makonnen, referring to the Ohr Torah school where three children and a teacher were murdered last year.
"If you look closer these people say they are willing to fight the system, but it's a system they say is controlled by Jewish people."
Powder keg
Philippe Auclair, the England correspondent of France Football magazine, said that Anelka and Nasri's support for anti-establishment views were very much in vogue in France.
"The idea that you are against the system invariably means that you are against anyone who disagrees with your point of view," he told CNN. "It has little to do with social or ethnic origin. You have young, white middle-class men and women saying the same thing.
"When I go back to France it is like there are two parallel universes; a government that is widely perceived as incompetent, with a social situation that is like a powder keg.
"Ultra-nationalism is on the rise and it has become completely acceptable to be openly anti-Semitic and to say that there is a global Zionist conspiracy."
Anelka also received short shrift from another French sports writer Erik Bielderman.
"Anelka portrays himself as an anti-establishment hero but this is an anti-establishment hero who is pictured emerging from his Rolls-Royce at the entrance to London Heliport and has appeared in an advert in France for the hamburger restaurant chain Quick," wrote Bielderman in Britain's Daily Mail newspaper.
Dieudonne congratulated Anelka on Twitter for using the "quenelle" to celebrate his goal against West Ham, which has a zero-tolerance policy on anti-Semitic chants at its stadium -- prompted by racist abuse the club's fans aimed at the supporters of London rival Tottenham in 2012.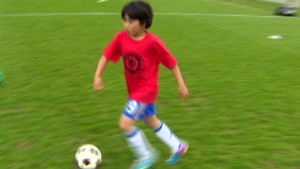 Why so few South Asian footballers?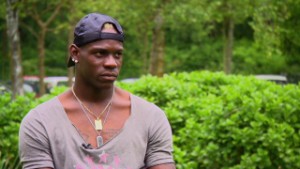 Balotelli: Racism makes me feel alone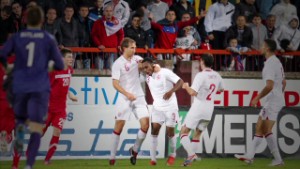 Tackling racism in the stands
Read: Football grapples with anti-Semitism storm
The 46-year-old Dieudonne, who ran in the European elections as an anti-Zionist, has been fined several times in France for anti-Semitic commentary. The French government said this month it wants to ban his live performances.
"Dieudonne uses anti-Semitic discourse in his shows in the sense of fighting Zionism," Makonnen explained.
"He says he has Jewish friends. He is against Zionists who he says have power.
"He releases videos on YouTube and gets millions of views in 24 hours. YouTube is subject to American law. If those videos were published under French law those videos would be deleted.
"Dieudonne is very popular. He is very smart. People say it is hard to speak your mind in France because political power is too strong."
Meanwhile Anelka must wait to hear what the English Football Association decides to do.
"The club fully acknowledges that Nicolas' goal celebration has caused offense in some quarters and has asked Nicolas not to perform the gesture again. Nicolas immediately agreed to adhere to this request," his employer West Bromwich Albion said on Monday.
What's in a gesture? Anelka could yet find out to his cost.