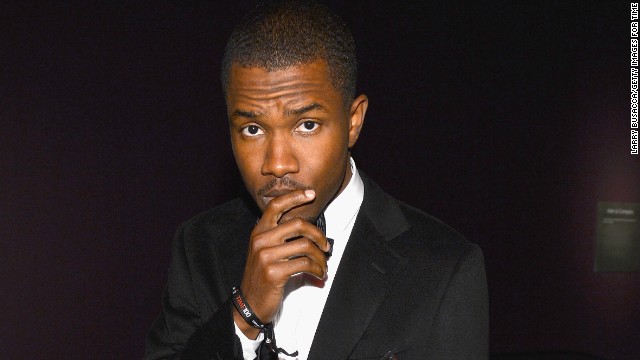 Frank Ocean
: The "Superpower" track on Beyoncé's surprise self-titled album is great and all, but we need more than that from Frank Ocean. As in, a brand-new album. Luckily, the acclaimed musician has said that
he's already compiling tracks
for his next project, and that we can expect
new music in 2014
. (
TBD)
Bruce Springsteen's "High Hopes." Has there ever been a more appropriate title for an album? He definitely has fans' wishes sky-high with his latest release, arriving on January 14.
If you're sick of your 2013 playlists, we're here to help. Consider this your guide to some of 2014's "don't miss" offerings, starting with
"That Girl," Jennifer Nettles
: The belle of "Sugarland," Jennifer Nettles, is stepping out on her own with "That Girl." The country star tapped super-producer Rick Rubin to help her concoct this 11-track solo debut album. "The result is an album that plays to my roots -- country, '70s radio, gospel and singer-songwriter," Nettles told
Rolling Stone
. (
January 14
)
"The Outsiders," Eric Church
: Country star Eric Church is back with a new album that stretches the definition of country rock. The titular first single, Church has told
Billboard
, is a prime example of what to expect on the album. "We were pushing the envelope and doing things that we hadn't done, creatively and artistically." (
February 11)
"Oxymoron," ScHoolboy Q
: As Black Hippy crew member ScHoolboy Q
said in the clip
revealing his next album's release date, everyone's been "hot" to know when "Oxymoron" was going to drop. Finally, the disc -- which will feature standout track "Man of the Year" -- is on its way. Mark your calendars if you haven't already. (
February 25
)
"Out Among the Stars," Johnny Cash
: When you're done reading
Robert Hilburn's extensive biography on Johnny Cash
, you'll want to check out the release of "Out Among the Stars." The album consists of 12 newly uncovered songs that were recorded between 1981 and 1984. (
March 25
)
"Louder," Lea Michele: "Glee" star Lea Michele has been at work on her solo debut for a while, but after the July 2013 death of her co-star and boyfriend, Cory Monteith, the actress and singer needed to take a moment to regroup. As she did, Michele found healing in the creative process, and re-worked her album "Louder" to feature tracks like "Cannonball," which speaks to the inner strength the 27-year-old has cultivated. (March 4)
"The Art of Letting Go," Mariah Carey
: Mariah Carey will be the zen master of "letting go" by the time her album's released at some point this year. After delaying her latest offering "indefinitely" for fine-tuning,
Carey's said
that her faithful Lambs can expect to see the album arrive in the spring. (
TBD)
"In the Lonely Hour," Sam Smith:
After Disclosure's "Settle" took over our headphones during 2013, it's an understatement to say that we're excited to hear collaborator Sam Smith's debut album. If you're not in the U.K., keep in mind that you can also check it out via
his Webstore
. (
May 26)
"Ultra-Violence," Lana Del Rey
: It looks like Lana Del Rey's
"fickle muse"
finally got her act together. The "Young and Beautiful" singer at last has a title for her follow-up to "Born to Die," which, fingers crossed,
will actually make an appearance in 2014 as rumored
. (
TBD)
U2:
Expect U2 to announce the details about its long-awaited new release during the Super Bowl this year. According to
Billboard
, the band has been working with Danger Mouse for this follow-up to 2009's "No Line on the Horizon," and are anticipating an April arrival. (
TBD)
Kanye West, "Watch the Throne 2":
With a new baby and a wedding to plan, Kanye West already has a very busy 2014. But he wouldn't be Yeezus if he wasn't also reaching for a few new albums. Jay Z
said in August 2013
that both he and 'Ye wanted to release solo albums before dropping a sequel to 2010's "Watch The Throne." Jay's Chi-town partner in crime has been more evasive about the project, but he did say in late 2013 that the pair are always working. That goes doubly for Kanye,
who's also hoping to have a sequel to 2013's "Yeezus"
ready to roll for summer 2014. (
TBD)
New
Lily Allen:
Lily Allen's return to the music scene in 2013 with the single
"Hard Out Here"
didn't exactly go over well thanks to the music video, but we still have high hopes for her comeback album. According to the
U.K.'s Telegraph,
the album could appear as early as March. (
TBD)
Adele:
Speaking of Brit songbirds, the rumor mill is anxiously awaiting a confirmation that Adele might bless us with a new album this year. Whispers that the "21" chart-topper is
at work on a new album
destined to drop in mid-2014 have been circulating for months -- Adele, please don't let this be wishful thinking! (
TBD)
Foo Fighters
: The Foo Fighters, at least, have confirmed that fans
should anticipate an album from them in 2014
-- although they've neglected to offer any other details. The one exception is their promise that it'll be "badass": "We're doing something that nobody knows about, it's f*****g rad,"
Dave Grohl told Rolling Stone.
(
TBD)
Albums to watch for in 2014
Albums to watch for in 2014
Albums to watch for in 2014
Albums to watch for in 2014
Albums to watch for in 2014
Albums to watch for in 2014
Albums to watch for in 2014
Albums to watch for in 2014
Albums to watch for in 2014
Albums to watch for in 2014
Albums to watch for in 2014
Albums to watch for in 2014
Albums to watch for in 2014
Albums to watch for in 2014
Albums to watch for in 2014